Don't let the early sunsets deter you from seizing the day, your parks are brimming with feel-good happenings and thought-provoking wonder. There's an art exhibit on Alcatraz encouraging visitors to examine life after incarceration, an annual day of service commemorating the great Martin Luther King Jr., a season-wide call for planting native plants, and so much more.
From January-March 2019, count yourself in on these opportunities to give back to the Golden Gate National Parks: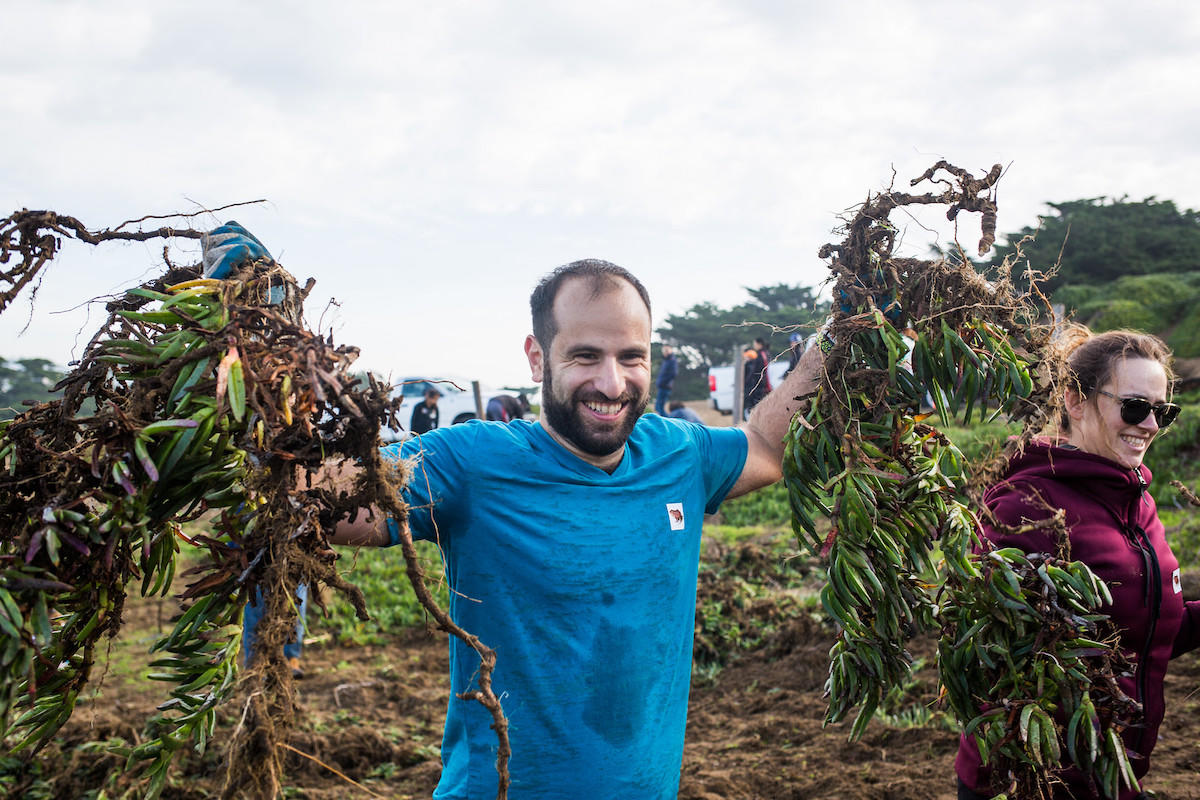 A victorious volunteer at MLK Day of Service 2018
Maria Durana/Parks Conservancy
Time in nature has many salutary benefits, from increased physical activity to improved mental, emotional, and community health. In honor of the legacy of Martin Luther King, Jr. and his dedication to service, join us for our first volunteer extravaganza of 2019: the MLK Day of Service.
We have volunteer opportunities all across the Golden Gate National Parks. Find one that's perfect for you and your loved ones.
Idle hands begone! Hands-On Tam is a winter workday where volunteers give back to the natural wonderland that is Mt. Tam. It's One Tam's first big volunteer event of the year, happening on Groundhog Day (Saturday, February 2).
It's a chance to restore and give back to critical natural areas from the Marin Headlands to Bolinas Ridge. Come out and explore beautiful areas while assisting in invasive plant removal, outplanting of native plants, and seed collection.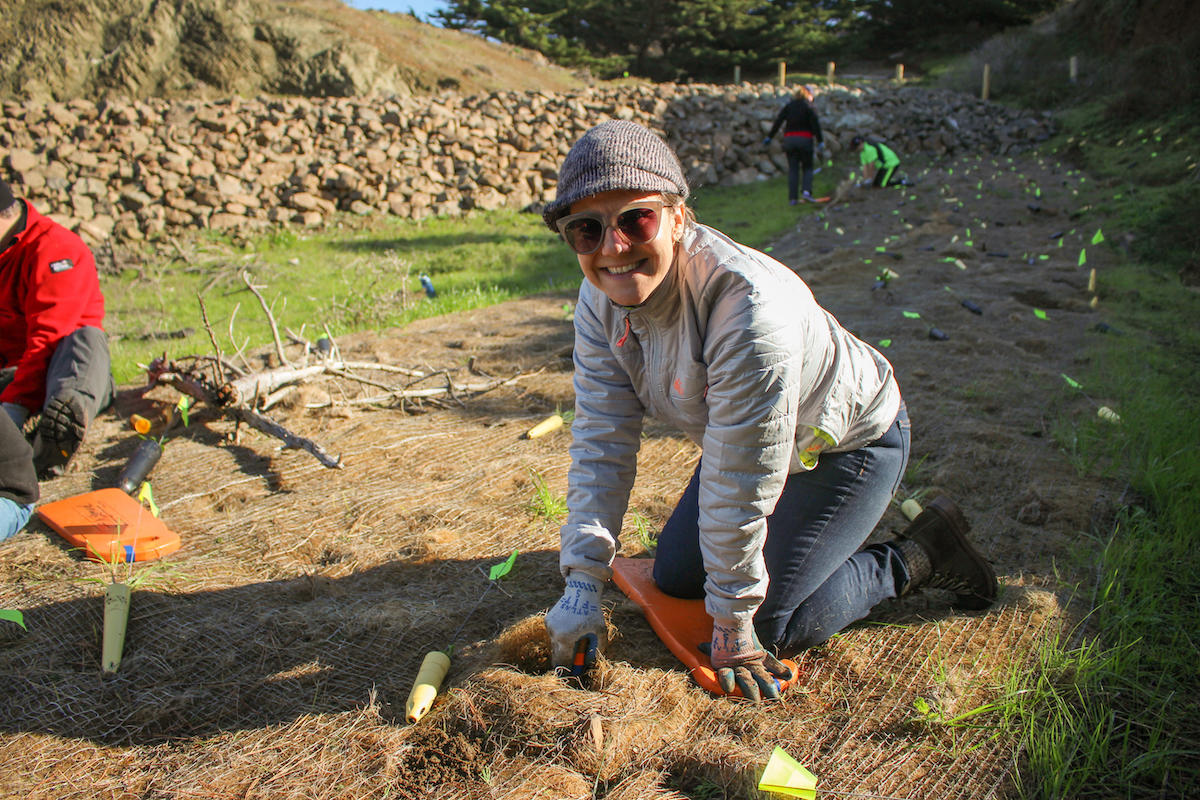 Volunteer planting at Milagra Ridge
Parks Conservancy
If conditions continue to yield seasonal precipitation, the saturated soil these wintry months will be ripe to rear native plant seedlings. A trove of thousands of native plants are just waiting for you to help them find a new home and continue their journey to restore habitats at various sites all across the coastal parks.
The parklands to the south, Rancho Corral de Tierra, Mori Point, Milagra Ridge, and other San Mateo-based park sites, especially need your help this year. You can join a drop-in weekly program or plan a group volunteer work day.
And while you're making plans for the new year, here's a reminder: A volunteer activity is a fantastic way to spend quality time in the outdoors with loved ones.
Become a volunteer superhero at parksconservancy.org/volunteer.
As a special benefit for Parks Conservancy members, our membership event series offers monthly hikes and events with park experts throughout the Golden Gate National Parks. Meet your park-supporting peers, scout new locations with local experts and scientists, and get to know more about us, the nonprofit supporting your Golden Gate National Parks.
Here's a smattering of the member events ahead of you this winter season:
2/11 | 5-6:30 p.m. | Lincoln Park Lost Cemetery Walk
2/20 | 3:30-4:30 p.m. | Presidio Tunnel Tops Preview
2/22 | 3-5 p.m. | Fort Point History Walk
3/9 | 10 a.m.-12 p.m. | Military Intelligence Service (MIS) Historic Learning Center Tour
3/21 | 3-5 p.m. | Fort Scott Bluffs and Batteries Walk
3/31 | 6:45-11:15 a.m. | Muir Woods Sunrise Tour
Registration for winter events opens in January. Stay tuned to parksconservancy.org/memberevents to reserve your spot!
Miss your chance to attend a member event? Become a sustaining member of the Parks Conservancy and help us preserve these special parklands for the enjoyment and delight of future generations.
Attend the Future IDs exhibit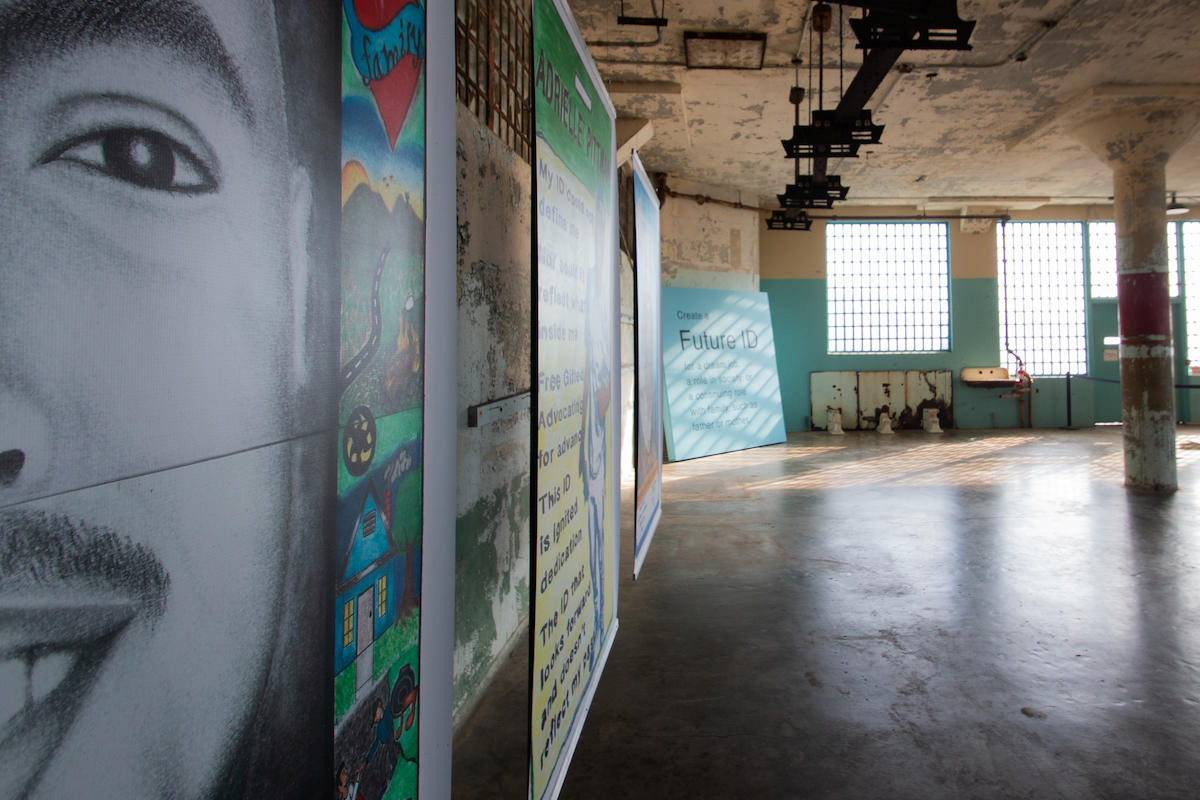 Future IDs at Alcatraz
Curran White/Parks Conservancy
Future IDs at Alcatraz is a yearlong installation featuring ID-inspired artwork by individuals with conviction histories, in conjunction with lead artist Gregory Sale, as they conceive and develop a vision for a future self. Future IDs at Alcatraz aims to amplify the voices of individuals returning to society after incarceration in the context of the historic prison-turned national park.
Look for this Art in the Parks project, opening winter of 2019, in the New Industries Building on Alcatraz Island. Entry is included with the purchase of an Alcatraz ticket. Check back to the project's web page for more details.
Did you know that we offer classes for park interns, staff, volunteers, and Parks Conservancy members? Park Academy has classes scheduled all year round taught primarily by our knowledgeable park staff. A wide array of topics are covered, from advanced photography tips to identifying and propagating native plants, to yoga on The Rock—there's something for everybody in our suite of classes.
December 14, 2018