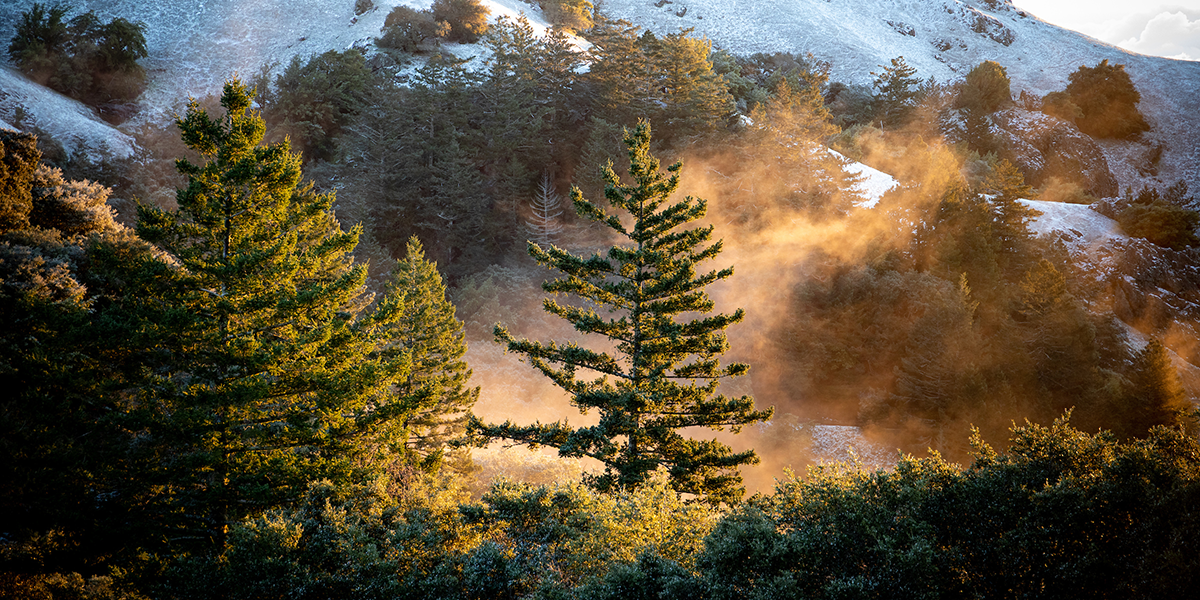 A light dusting of snow on Mt. Tamalpais
Paul Myers
We get more mild winters here in the Golden Gate National Parks then some of our friends at parks like Yosemite or Yellowstone—but we certainly do have subtle seasonal changes to enjoy. Dramatic early sunsets behind the Golden Gate Bridge, a wintery palette of coastal vegetation, and the (very) occasional dusting of snow on Mt. Tam are a few that come to mind. To fully enjoy this winter scenery, we've put together this list of activities in the parks that will provide a warm contrast to the chill of winter.
Hot cocoa and whale watching from Mori Point
Different species of whales can be seen migrating past the Bay Area year-round, but beginning in December, multiple species will be traveling past our park shores at the same time. These include gray whales, orcas and sperm whales. Come prepared with hot cocoa, a cozy beach blanket, a folding chair, your favorite beanie, and some binoculars and you won't even miss your home's small but mighty space heater. Before you go, check out these expert whale watching tips from NPS ecologist, Dr. Sarah Allen.
Get moving with a bike ride along the Crissy Field Promenade
A bike ride along the Crissy Field Promenade is one scenic way to get moving and stay warm on a crisp and clear winters day. With views of the bridge, Alcatraz, the Marin Headlands, and so much of the Bay, you'll have plenty of sights to enjoy as you cruise along the water. Located right next to Crissy Field Marsh, Sports Basement offers daily bike rentals. 
Winter shopping at the Parks Conservancy store
You'll feel good about this winter shopping spree for many reasons. First, you can visit our online store from the comfort of your own home. Second, the store is loaded with all sorts of cozy cool weather gear like sweaters, jackets, beanies, gloves, and mugs. Third, proceeds from any purchases you make will go right back to supporting the parks. Win, win, win. Should you want to see the items in person, pay us a visit at the Golden Gate Bridge Welcome Center, and maybe take a winter stroll along the bridge.
Hike in protected Tennessee Valley
Hide from the wind with a hike along Tennessee Valley Trail, which is sandwiched between two protective ridgelines in the Marin Headlands. The mostly level, partially paved trail is also a good option when other paths might be a bit muddier from recent rains. From the Tennessee Valley Parking Lot, the trail is 1.7 miles to the breathtaking and hidden Tennessee Beach. For those using wheelchairs, the parking lot contains four accessible parking spaces.
Go on a scavenger hunt to discover art across the parks
Vibrant natural backdrops set the stage for current art exhibits displayed throughout the parks. The installation at Fort Mason of two of Giuseppe Penone's large-scale bronze sculptures will be extended into 2021. Works by Andy Goldsworthy are scattered throughout the Presidio, including Spire, Tree Fall, and Wood Line. Find the works that speak to you with an outdoor museum day at these sites. You can also find inspiration from past installations and programs through our online Art in the Parks Archive.