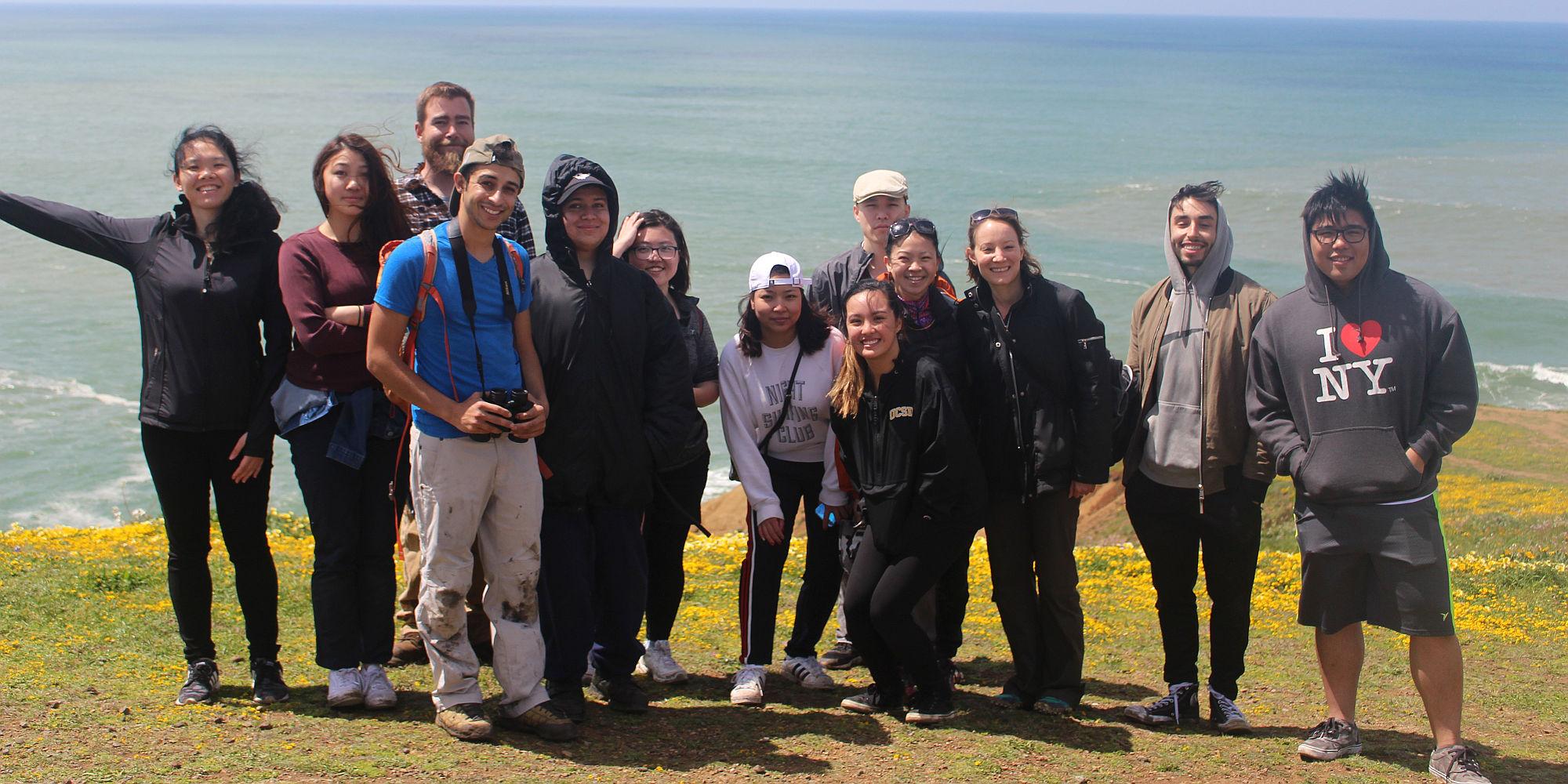 City College of San Francisco students enjoy the wildflowers and sweeping views at Mori Point at the end of a fun program weeding
Rosie Frederick
Are you interested in supporting the natural world while learning about nature's relationships, getting to know your fellow classmates, and having fun in your local national park? Join us for a day of stewardship and conversation to help build a resilient home for the park's many local plants and animals. You can either meet us in the park or take the free shuttle from the CCSF Science Hall (limited spots available). 
Below are the opportunities available for Spring Semester 2023, including a little description of the site.
____________________________________________________________________________________
City College of San Francisco (CCSF)
 
Upcoming Volunteer Days
Please follow these steps to register for a project:
Browse the schedule of upcoming volunteer days below.
Click here to register - you'll need to select your desired project from the drop-down menu.
Please note that 2 options are listed for each day - please select the Shuttle from CCSF option to sign up for the shuttle (limited spots available) OR the I'll get there myself option if you plan to get to the worksite on your own.
 
Saturday, February 11th - Rodeo Beach, 10 am-1 pm 
Winter is planting season in the bay area! Come join us to support planting a wetland at a brand-new restoration site overlooking beautiful Rodeo Beach.
 
Saturday, February 25th - Ocean Beach, 10 am-1 pm
Come join us right on the beach to marvel at the wonders of plants that can grow in sand and to improve the home of an adorable (and federally threatened) local bird, the Western Snowy Plover.
Saturday, March 11th - Bothin Marsh Lands End*, 10 am-1 pm  *Updated meeting location!*
Join us to maintain a healthy home for local plants and animals at Lands End and learn about the coastal scrub ecosystem -- all while enjoying incredible ocean views.
Saturday, April 8th - Mori Point, 10 am-1 pm
Come enjoy incredible ocean views and participate in a service project to support a healthy home for the endangered California red-legged frog and the endangered San Francisco Garter Snake.
 
Saturday, April 22nd - Presidio of San Francisco, 10 am-1 pm 
Join us at the Presidio Tunnel Tops to participate in a pollinator community science project and a stewardship project at a nearby wetland.
Saturday, May 13th - Location TBD, 10 am-1 pm
Project details coming soon!
_____________________________________________________________________________