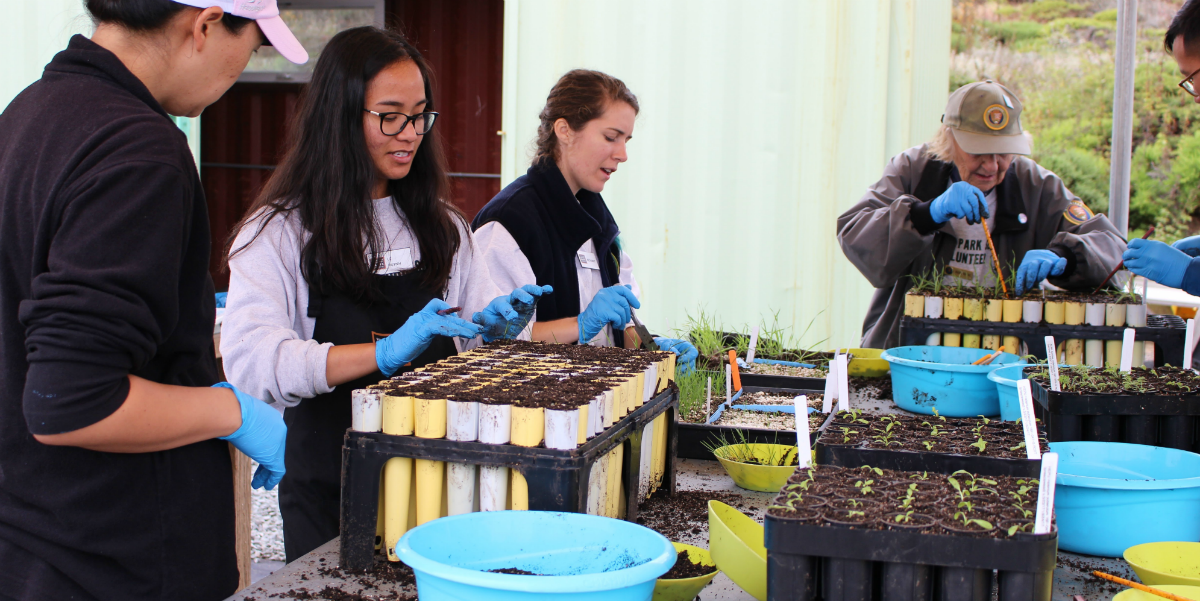 Volunteers transplant native plants at the Fort Funston Nursery
Parks Conservancy
COVID-19 Response: Latest on Volunteer Programs
In compliance with Bay Area shelter-in-place orders, the Parks Conservancy, along with our partners at NPS and The Presidio Trust, will not be offering volunteer programming at this time. We will resume coordinating volunteer activities when public health recommendations allow.
In the meantime, we encourage you to keep an eye on our website for announcements. You can also follow us on our social channels like Instagram, Facebook, and Twitter, or sign up for email updates here.
We sincerely look forward to the day when we can gather and care for our parks together again. Please reach out to volunteer@parksconservancy.org with questions or concerns.
When: Saturdays, 9:30 am–12:30 pm
Where: Fort Funston Nursery
Established in 1980, the Fort Funston Nursery was the first of its kind in the Golden Gate National Parks. The nursery is tucked away behind the Ranger Station at Fort Funston, surrounded by shifting sand dunes and beautiful native plants.
Over the years, the nursery has grown plants for a variety of park sites including Lands End, Fort Funston, Mori Point, Phleger Estate, and Rancho Corral de Tierra. Habitats ranging from coastal bluffs to grasslands have been rehabilitated with the plants grown at this nursery.
Currently, the Fort Funston nursery has the capacity to grow 25,000 plants per year for our parklands. This would not be possible without our dedicated volunteer base. Volunteers at Fort Funston participate in a variety of activities, including seed collection, transplanting, pruning, weeding and nursery maintenance.
Join us to help grow your national park!
Groups
Groups of five or more may require special arrangements and must be confirmed in advance. Fill out the Group Project Request Form.
Age, Skills, What to Bring:
Volunteers of all ages are welcome. Read our Youth Policy Guidelines (PDF) for youth under the age of 15. 
Bring your completed Volunteer Agreement Form (PDF). Volunteers under the age of 18 must have the parent/guardian approval section signed.
We'll be working rain or shine. Wear clothes that can get dirty. Long pants and closed-toe shoes are required. Bring layers for changing weather and rain gear if necessary.
Bring a personal water bottle and sunscreen.
No experience necessary. Training and tools will be provided. Fulfills community service requirements.
The Golden Gate National Parks Volunteer Program is a cooperative parkwide effort of the Golden Gate National Parks Conservancy, the National Park Service, and the Presidio Trust.