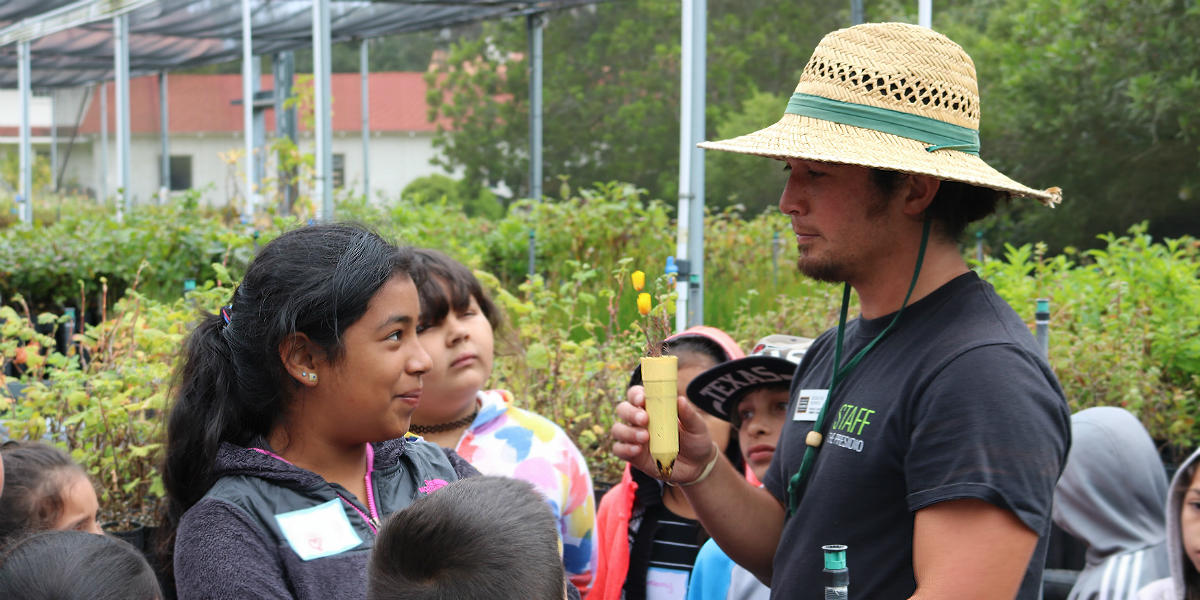 Students check out a California poppy being grown at a nursery.
Parks Conservancy
--PROGRAM CURRENTLY ON PAUSE-- 
How are people, plants, and pollinators connected to each other?  
Green Thumbs Up awakens the restoration ecologist in your students as they delve into pollination at one of the park native plant nurseries in the Presidio, Fort Funston, or Marin Headlands. Students explore the concepts of co-adaptation, biodiversity, and ecology as they follow a plant's journey of being grown for habitat restoration. Learning is put into action through a service activity that directly benefits the park ecosystem. Students can take their learnings with them to help plants, pollinators, and people in their own communities. 
Grades: 4-5 
Structure: 
Classroom preparation (60 minutes) – lesson in the classroom facilitated by Conservancy staff 
Field session (3-3.5 hours) – the nursery experience where students engage in hands-on activities as well as explore a nearby park site 
Classroom follow-up (60 minutes) - lesson in the classroom facilitated by Conservancy staff  
NGSS Standards: 4-LS1.A, 4-LS1-1, 5-LS2.A, 5-ESS3.A, 5-ESS3-1