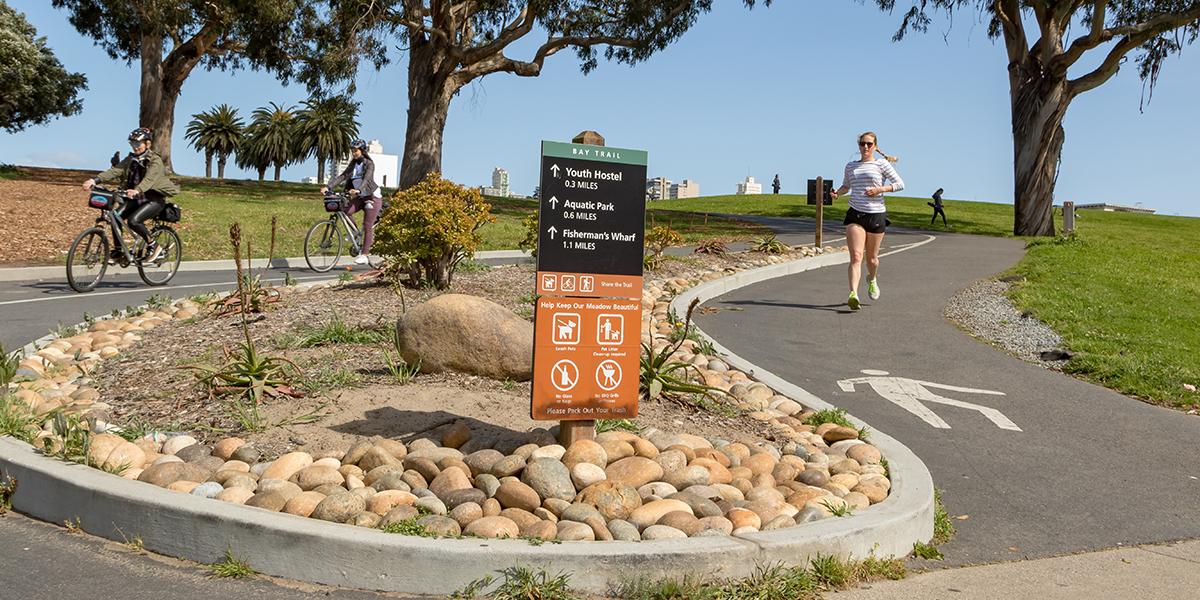 Numerous improvements have been made to the pinch point in the Bay Trail at Fort Mason known as the "squeeze"
Kirke Wrench/National Park Service
Paved, accessible stretches of the Bay Trail connect upper and lower Fort Mason. However, the path narrows and sharply turns where it meets the heavily trafficked Laguna Rd., creating a dangerous situation for the thousands of pedestrians, joggers, and bikers who pass though that spot each day.
The Parks Conservancy has worked closely with the National Park Service to widen this trail "squeeze," improve the multi-use trail, and install protective railings to enhance pedestrian and bicyclist safety and traffic flow. The project also restored landscape vegetation and created an interpretive kiosk at the site.
Project highlights include:
Relocated a light pole and consolidated it with signal light for safer pedestrian and bicycle passage
Installed a new railing to separate pedestrian and vehicular traffic at the curb
Expanded the sidewalk/trail at the northeast corner of Bay and Laguna streets by six feet
Installed a new park interpretive kiosk with information about the Fort Mason Historic District
Planted native vegetation along the trail
Replaced the dilapidated fence at the entrance to the historic MUNI tunnel
The National Park Service has revisited the site since completion of this project in 2009 to make additional improvements related to accessibility and traffic flow.
Thanks
In addition to donations from thousands of individual Parks Conservancy members, this project has received support from the following:
Association of Bay Area Governments
Blazing Saddles
Bike and Roll
Bay City Bike