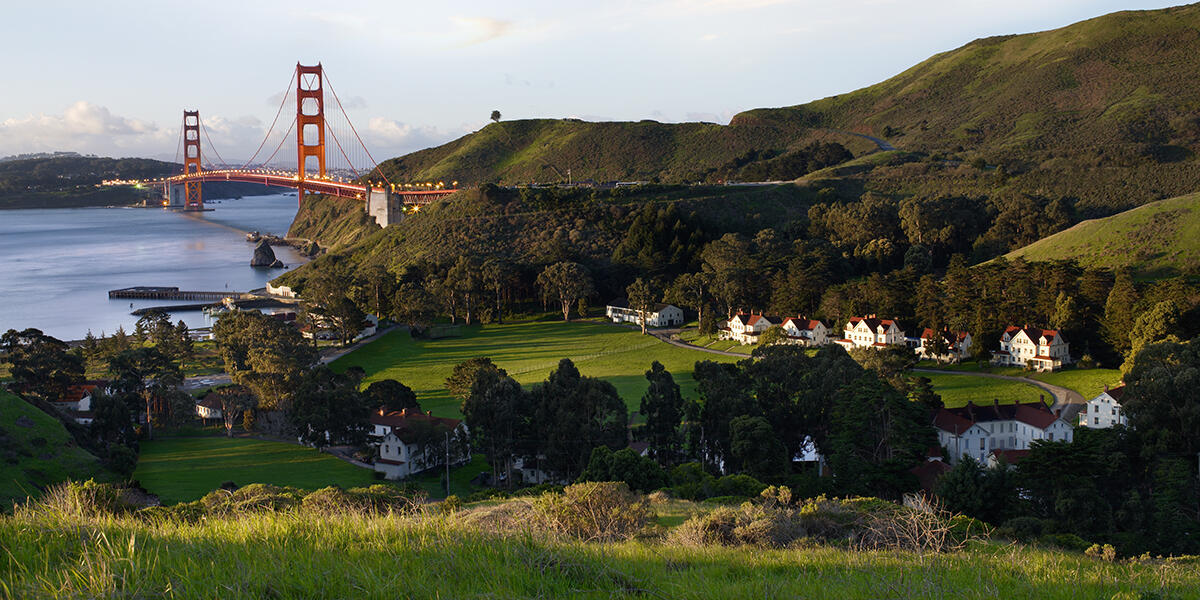 Nestled against the Marin Headlands, Fort Baker features stunning views of the Golden Gate Bridge and beautifully restored historic structures
Michal Venera/Parks Conservancy
Located just northeast of the Golden Gate Bridge, Fort Baker is a former Army base that was repurposed for a bold 21st century vision.
When the site was decommissioned as part of the Base Realignment and Closure Act of 1995, its reuse presented a number of challenges. As a former military installation, it had dozens of historic buildings to be preserved and restored to their former glory. It also included incompatible modern buildings scattered throughout the site in various states of disrepair, several subterranean layers of outdated infrastructure that had been incompletely mapped, truckloads of contaminated soil requiring removal, and critical natural habitat in need of restoration—as well as a mandate for the park site to be financially self-supporting.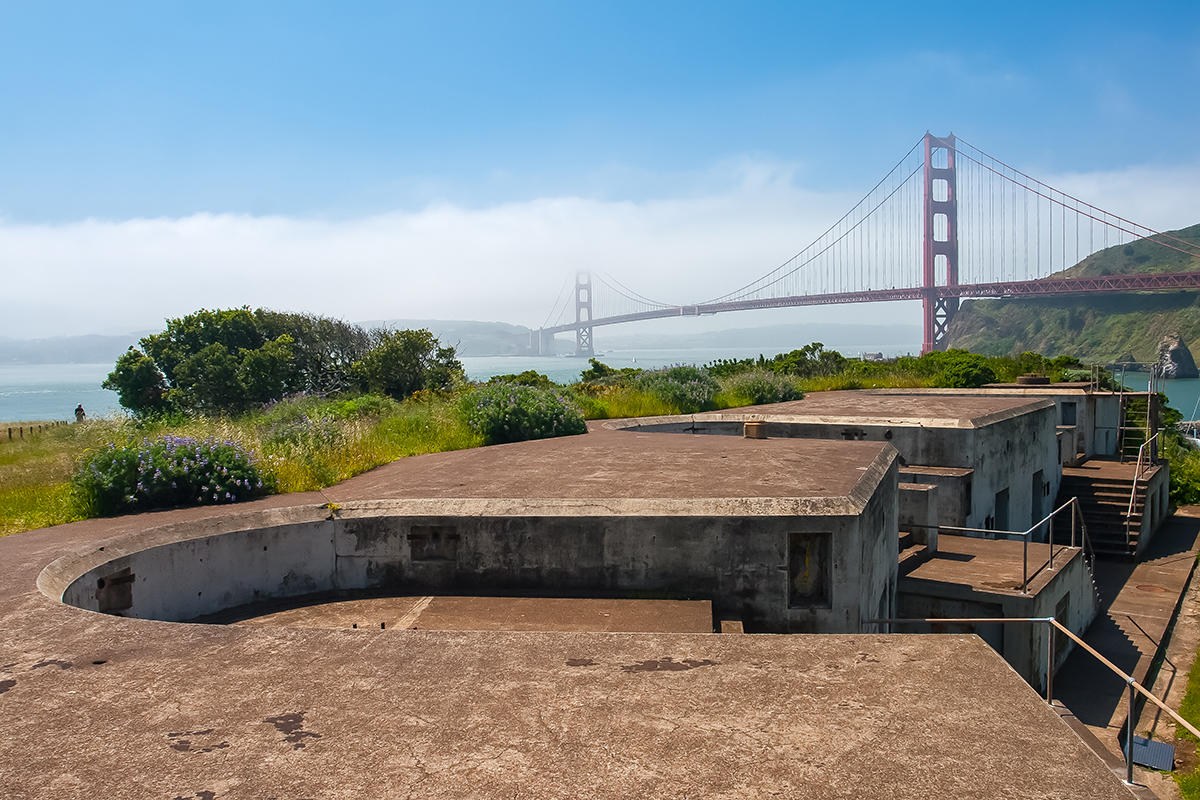 The revitalization of Fort Baker included the restoration of Battery Yates, one of the site's unique historic resources
Doug Atmore/National Park Service
Through a unique private-public-nonprofit partnership, Fort Baker was transformed into a vibrant national park site. The National Park Service and Parks Conservancy led the site restoration, and the Fort Baker Retreat Group was selected through a competitive bidding process to develop and operate a new, environmentally sustainable resort and conference center: Cavallo Point-The Lodge at the Golden Gate. In the future, potential options for the sea wall at Fort Baker will be explored, with a focus on sea level rise adaptation and resilience.
Highlights of the Post-to-Park Revitalization
Protected 350 acres of national parkland, including the 14-acre Parade Ground at the heart of Fort Baker
Restored 10 acres of critical habitat for the endangered Mission blue butterfly
Preserved and restored 33 National Historic District buildings
Restored historic Battery Yates, which tells the story of Fort Baker's key role in defending the coast and the Golden Gate
Constructed and rehabilitated over two miles of trails
Established Cavallo Point-The Lodge at the Golden Gate, a world-class lodge built to LEED Gold environmental sustainability standards
Launched the Institute at the Golden Gate, a program of the Parks Conservancy in partnership with the National Park Service that leverages parks to meet social and ecological challenges (link to main IGG page)
Renovation efforts at Fort Baker also restored over 10 acres of habitat for the endangered mission blue butterfly (shown here on its favorite host plant, the silver lupine

Jessica Weinberg-McClosky/Parks Conservancy
Awards
The Post-to-Park transformation of Fort Baker has received the following awards and recognition:
Governor's Award for Environmental and Economic Leadership, 2009
National Trust for Historic Preservation award, 2009
Governor's Historic Preservation award, 2009
Association of Partners for Public Lands Partnership Program/Project award, 2009
Thanks
In addition to donations from thousands of individual community members, the revitalization of Fort Baker was made possible thanks to support from:
Fort Baker Retreat Group
Marin Community Foundation