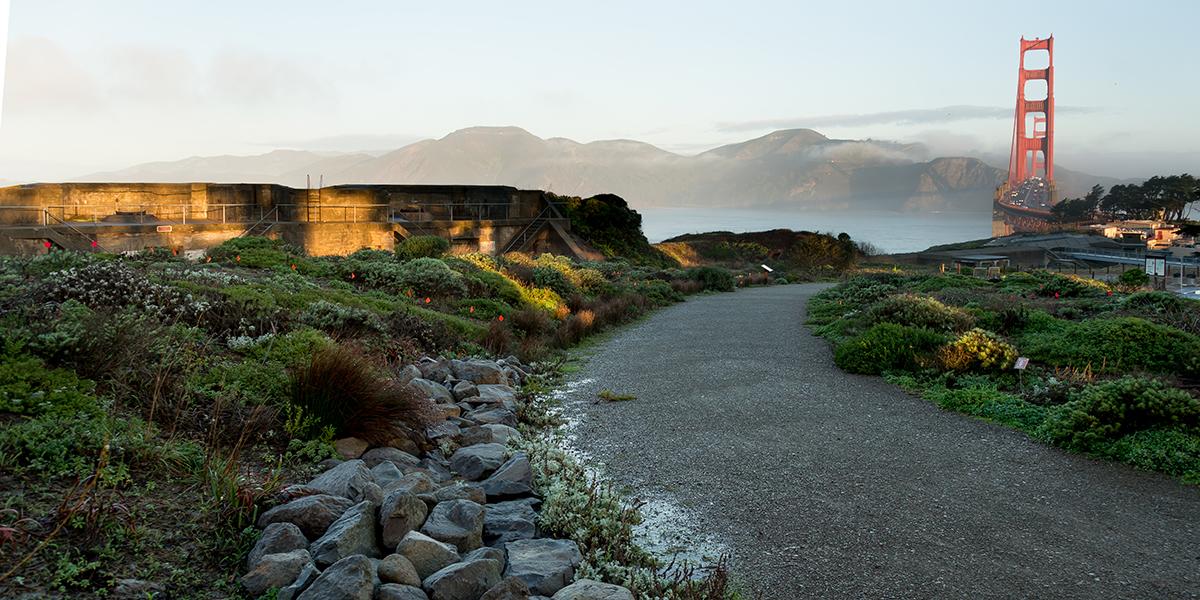 New trails and habitat restoration compliment the Golden Gate Overlook's spectacular views
Alison Taggart-Barrone/Parks Conservancy
Two recently completed scenic overlooks along the Presidio's western coastline provide places to take in stunning views of the Pacific Ocean, coastal batteries, green serpentine rock formations, and the many wildflowers and birds that live along these cliffs.
The new Pacific Overlook offers park visitors a beautiful spot along the California Coastal Trail to take in panoramic views of the Marin Headlands and the Pacific Ocean, as well as a unique perspective of the Golden Gate Bridge. Built to reflect its natural surroundings, the overlook preserves a willow grove just below the plaza and uses reclaimed cypress from a Presidio reforestation project for its rustic wooden benches.
Farther north lies the Golden Gate Overlook. This project was completed just in time for its namesake's 75th anniversary celebration in 2012. Constructed of stone compatible with the adjacent historic batteries, the overlook offers a dramatic sight-line through the two bridge towers. A new path takes visitors from the Merchant Road parking lot along a hillside planted with native vegetation—thanks to the support of hundreds of Park Stewardship volunteers and the Presidio Native Plant Nursery.
Thanks
In addition to donations from thousands of individual community members, this project has received support from the following:
Evelyn And Walter Haas, Jr. Fund
Donors to The Presidio Trails Campaign