Food at Presidio Tunnel Tops
Presidio Pop Up: Food trucks, carts, and tents all weeklong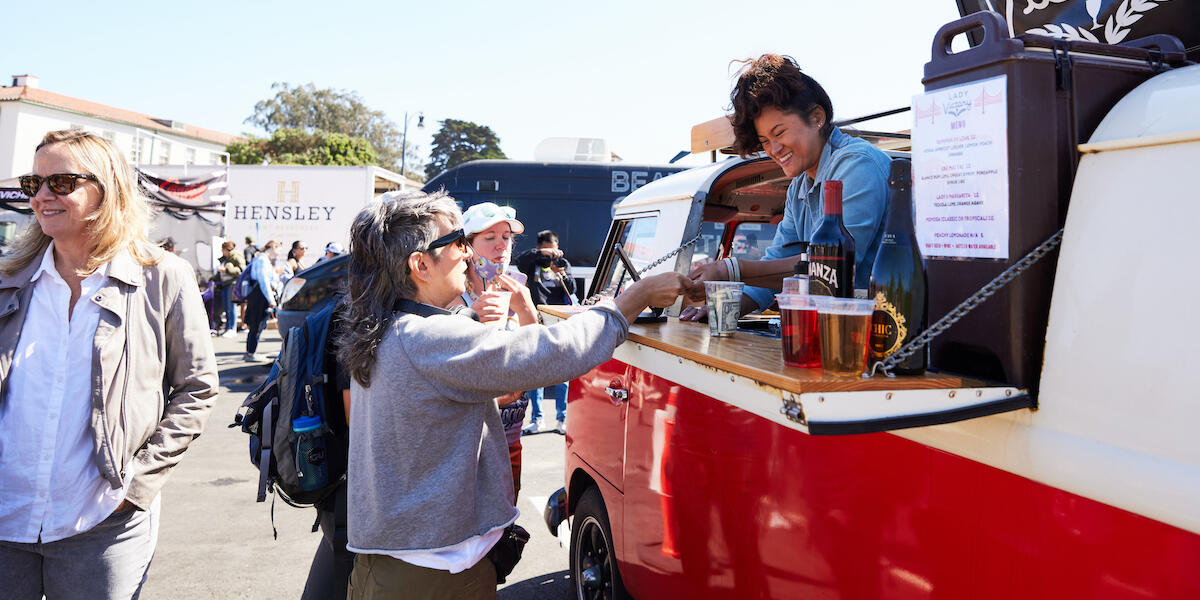 Food trucks at the Presidio Tunnel Tops.
Rachel Styer / Partnership for the Presidio
Delicious food at approachable prices celebrating the Bay Area's diverse cultures and cuisines is offered by mobile trucks, carts, and tents at Presidio Tunnel Tops on a rotating schedule seven days a week.
Here's an updated schedule for this week's Presidio Pop Up vendors.
list of vendors
Authentic India – Classic South Asian dishes such as chicken tikka masala and lamb kabob reimagined in eat-as-you-go naan wraps.
Borsch Mobile – Serving traditional Ukrainian fare such as borscht, pyrizhky, varenyky potato dumplings, and more.
California Kahve – Organic coffee, espresso, and matcha.
The Chairman SF - Voted Best Food Truck by San Francisco Magazine, serving bold and unique ingredients in baos (steamed and baked buns) inspired by the street food of Asia.  
Cochinita - Mexican salbutes, panuchos, tacos, and burritos wrapped in handmade fluffy tortillas.  
Curry Up Now – Innovative Indian Street food from one of SF's beloved food trucks.
Curveball - Serving the Bay's best handcrafted sliders using custom ground beef and local, natural ingredients. Did anyone say garlic fries?  
D'Grobak - Contemporary Indonesian Street food featuring bakso—their famous traditional beef ball soup—and other dishes from the motherland.  
El Fuego - A choice of fiery Mexican birria, fish or veggie tacos, healthy bowls or torta sandwiches.  
Estrellita's Snacks - Specializing in craveable El Salvadoran pupusas, tamales, fried plantains, and tostadas. A long-time vendor in the Heart of the City Farmers Market, with a kiosk at the La Cocina Municipal Marketplace.  
Fort Point Beer - San Francisco's hometown beer company, known for putting unique spins on classic styles, brews right here in the Presidio. Try cold, fizzy beer, and bites from their newly-launched seafood menu, like the Dungeness Crab Roll, Fish Dip, and Shrimp Cocktail.  
Jolly's Old-Fashioned Teas Cream – Where the ice cream parlor meets the tea house. Serving creative tea-infused ice cream.
Kabob Trolley - Hearty halal Afghan fusion street food like gyros, cheesesteaks, or rice bowls, with plenty of veggie options.  
Kayma – Serving hearty, halal Algerian dishes such as couscous and chicken bowls and grilled ras el hanout marinated lamb baguette sandwiches. Kayma also accepts restaurant meal program EBT. A La Cocina Marketplace business.
Kuker – Bulgarian cuisine featuring the famous street food staple banitsa – a filo-pie filled with feta and Mediterranean herbs.
Lahore Di Khushboo - Women-owned Pakistani food truck serving Pakistani favorites like biryani, paratha rolls, samosas, and the traditional falooda dessert.  
Lady Victory – From the women-owned, popular bar Victory Hall, a 1967 VW bus serving up creative cocktails, including several with ube, because a great cocktail is a celebration of everyday victories.
Media Noche – Serving mouth-watering, hot-pressed Cubano sandwiches including the media noche on eggy brioche.
Poke a Go Go – Healthy, fresh poke over grain bowls, burritos, and nachos. Don't forget the warm soft pretzels.
Porchetta Toscana - Celebrating Tuscan culinary traditions, centered around the prized porchetta - a slow-cooked and savory boneless pork roast with crackling skin.  
Rye on the Road – Craft cocktail service.
Satay By the Bay SF – Classic Singaporean favorites such as satay with peanut sauce and chili crab fries.
YoSoyCeviche – Traditional Peruvian fish and shellfish ceviche complete with house made plantain chips, and Andean corn nuts.
For more nearby dining options, check out all the restaurants in the Presidio.
Today's Hours: 9:00 am-3:00 pm
Sun:
9:00 am-4:30 pm

Mon - Fri:
9:00 am-3:00 pm

Sat:
9:00 am-4:30 pm