at the Golden Gate Bridge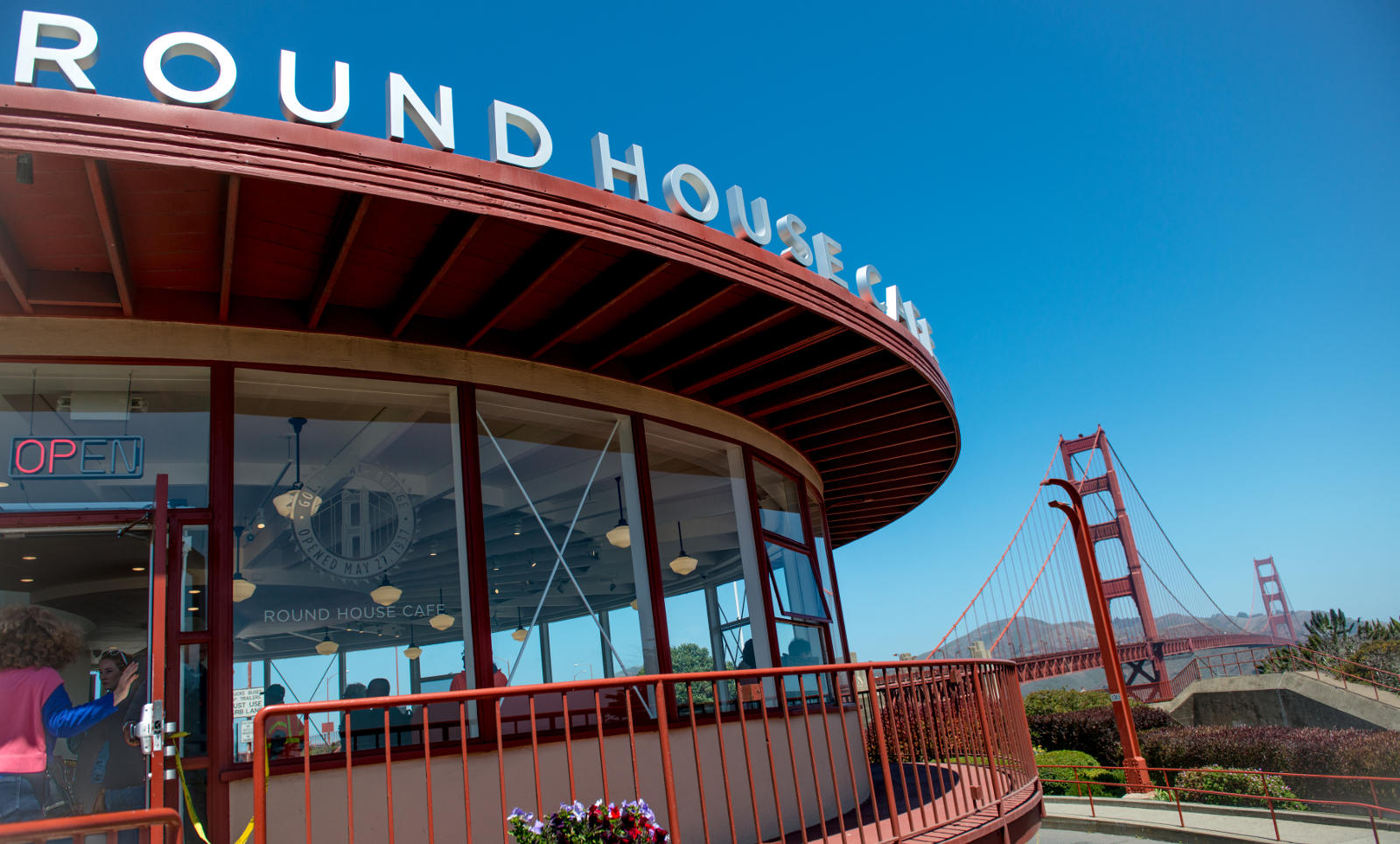 Round House Cafe
Paul Myers/Parks Conservancy
Ambiance: Escape the wind and fog at this warm, dry, and spectacularly scenic quick service café. Enjoy hot food and drinks while taking in the best views in the Bay Area! 270-degree panoramic views of the GGB, Alcatraz, SF skyline, Marin Headlands, and the SF Bay.
Sample menu:
HOT FOOD:
100% beef, antibiotic free, locally sourced hot dogs – on their own or with toppings of chili, sauerkraut, or housemade cole slaw
Clam chowder or chili served in Boudin sourdough bread bowls
Fresh cookies, pastries, and brownies from local bakeries
Daily special sandwiches and/or salads
HOT DRINKS:
Latte, cappuccino, espresso, Americano, macchiato
Made-to-order real hot chocolate made with Ghirardelli chocolate and steamed milk with whipped cream swirled on top
Enhance your coffee drink with a delicious Torani syrup: hazelnut, caramel, or vanilla
Our signature drink – the Fog Cutter! (Ghirardelli chocolate syrup, 2 shots of espresso, steamed milk, topped with swirled whipped cream and a sprinkling of chocolate pearls)
SNACKS AND COLD DRINKS:
Chips
Iced tea in variety of flavors
Lemonade
Low-sugar colas and fruit juices
Sparkling water
Coconut water
And more!
Location:
Golden Gate Bridge Plaza, south end of Golden Gate Bridge.
Just a few steps up the roadway from the plaza parking lot and restrooms.
Just off the bike and pedestrian route over the GGB. Warm up and fortify yourself on your way over or back from the Bridge.
Social:
Leave a tip on Yelp or Foursquare.
Sun - Sat:
9:00 am-5:30 pm