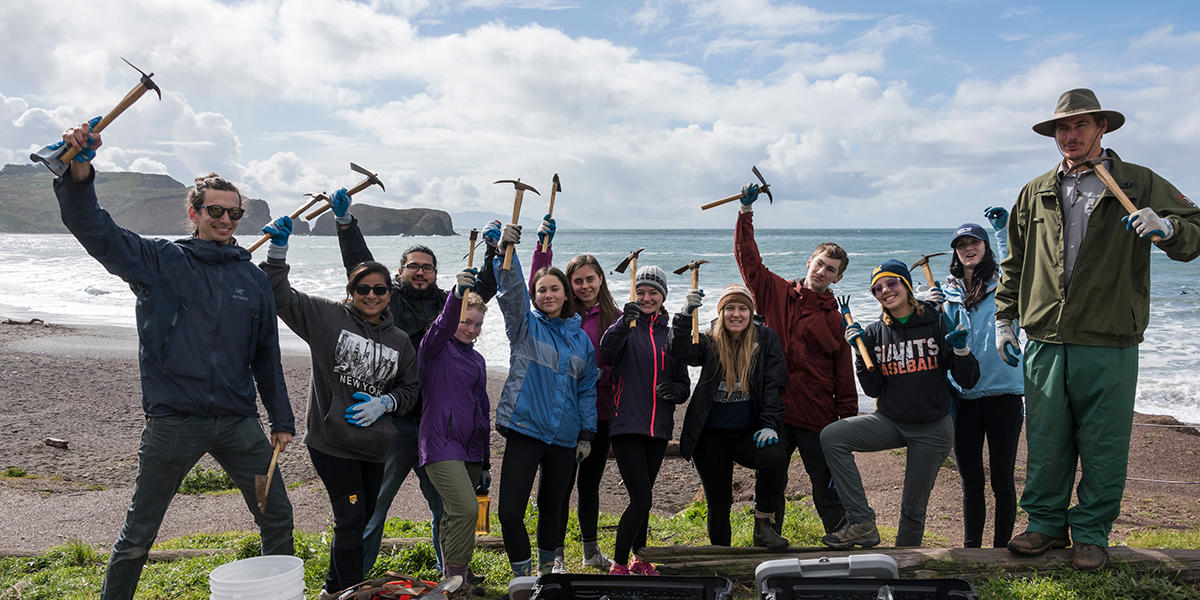 Volunteers celebrate at Rodeo Beach
Chuck Barnes/National Park Service
When: Friday, January 13th, 2023 - Monday January 16th, 2023
Where: Project locations vary throughout the GGNRA. See below for more details and view park closure information.
Registration: Scroll down to browse project options and to register. Registration is required.
Martin Luther King Jr. Day of Service is on Monday, Jan. 16, 2023, and we'll be celebrating the Civil Rights leader's life and legacy all weekend with volunteer projects starting on Friday, Jan. 13. Observed each year on the third Monday in January as "a day on, not a day off," MLK Day is the only federal holiday designated as a national day of service to encourage all to volunteer to improve their communities. Join on your own, grab a friend, or bring some family to help grow and restore these spectacular parklands! Check out the options below and sign up to get more details.
VOLUNTEER PROJECTS
Friday, January 13th
10am-noon, San Francisco Habitat Stewards (Crissy Field) - Register Here

CANCELLED 10am-1pm, Rancho Corral de Tierra Habitat Stewards 

CANCELLED 9am-noon, Habitat Restoration at Fort Baker 
Saturday, January 14th
9am-Noon, Presidio Habitat Stewards - Register Here

CANCELLED 10am-1pm, Presidio Nursery 

CANCELLED 9am-noon, Lands End Landscaping and Habitat Restoration (SF)
Sunday, January 15th
9am-Noon, Fort Mason Maintenance - Register Here (Project is FULL - sign up to join the waitlist)

10am-1pm, Habitat Restoration Team (Marin) - Register Here
Monday, January 16th
10am-1pm, Baker Beach Habitat Restoration - Register Here (Project is FULL - sign up to join the waitlist)

GROUPS
Groups of five or more require special arrangements and must be confirmed in advance. Please review the List of Available Projects and fill out the Group Project Request Form.
Looking to learn more? Check out the list of resources below. 
COVID-specific Guidelines
Stay home and DO NOT attend if you:

Have any illness symptoms
Have tested positive for COVID-19
Suspect you have had contact with a COVID-19 positive case

Face coverings and social distancing are encouraged, but not required.
The Golden Gate National Parks Volunteer Program is a cooperative parkwide effort of the Golden Gate National Parks Conservancy, the National Park Service, and the Presidio Trust.
UPCOMING EVENTS