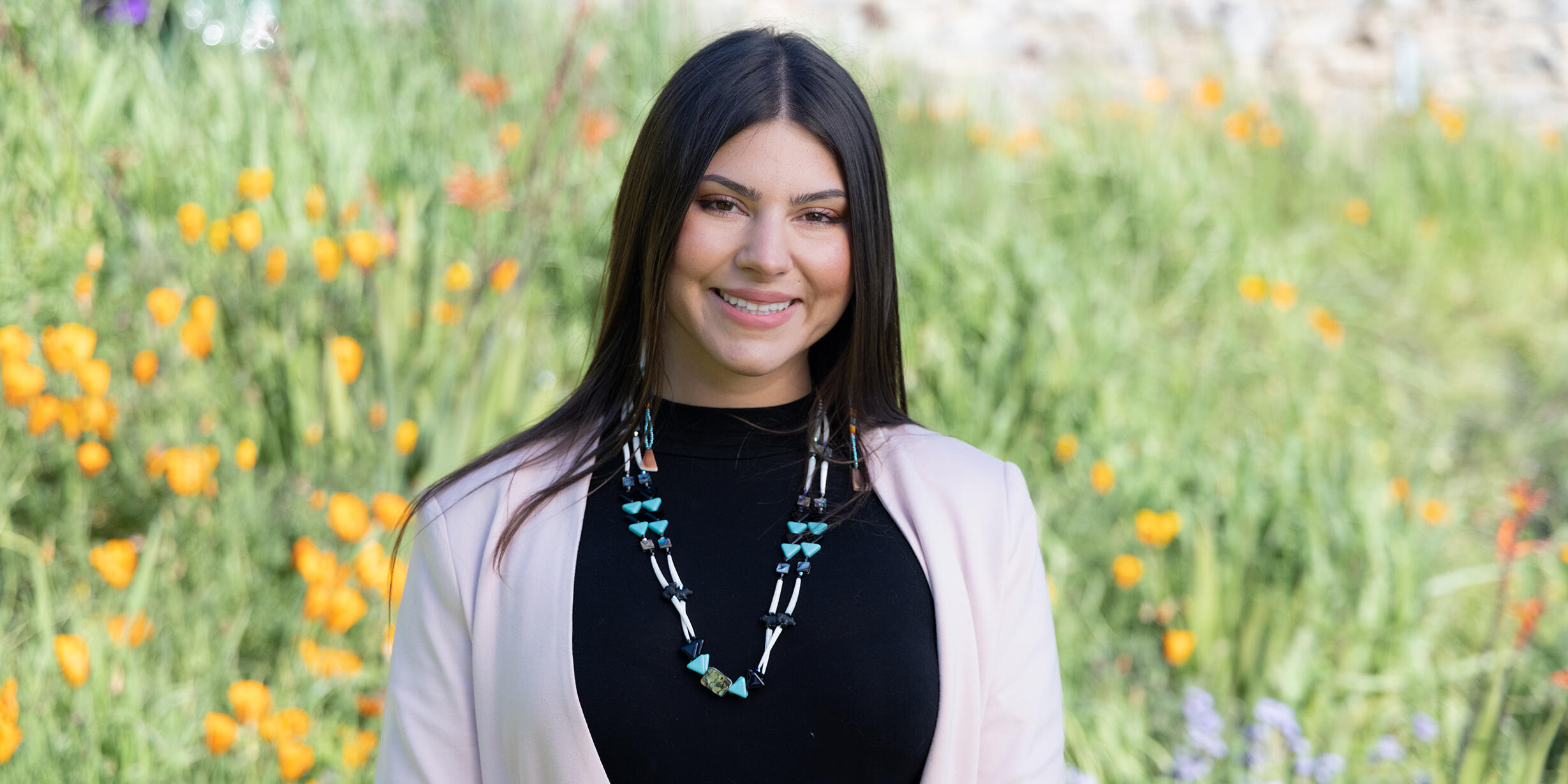 Sharaya Souza, Executive Director of the American Indian Cultural District, at Black Point historic gardens
Alexandra Grant/Parks Conservancy
Editor's note: This article is part of our 2023 Annual Report to the Community, where you'll find all we've accomplished together in the past year, along with interactive postcards from the park sites of the Golden Gate National Recreation Area. Check it out >> 
Sharaya Souza (Taos Pueblo, Ute and Kiowa) has no first memory of interacting with the land. Not because she wasn't interacting with it, but because for her, it's innate. 
"Land isn't land," she says. "Land, to me, is our mother that provides for us as long as we care for and provide for her. We rely on earth, we are part of it, it is part of us, and we have a responsibility to steward it, to protect it no matter where we are, no matter where we are from."
"I think how I grew up is a lot of what shapes and what makes me so in love with non-developed areas and recreational areas in the city and parks," she says. "I didn't grow up urban, I grew up surrounded by nature so having those open spaces gives you new appreciation and love for that peace of mind and reflection."
Souza serves as the Executive Director of the American Indian Cultural District (AICD) in San Francisco. As an organization, AICD is dedicated to honoring and building resiliency in past, present and future generations of American Indians, creating more visibility and resources for American Indians in the Mission and building out vital community connections and opportunities throughout the city. 
"Community members have wanted an AICD for decades," says Souza. "The cultural district came about because it was once a thriving mecca of American Indian businesses, organizations, history, and culture and it was all connected. Community members mapped out the events and history of the city, and because of the people and the organizations and businesses that have existed in the area, and movements like the Occupation of Alcatraz, it's clear the urban American Indian community has always been here, always wanted a place to call home, and because of that we were able to bring it forward."
Throughout San Francisco you can see AICD banners on street poles throughout the cultural district. These are a part of their Indigenize Project, an ongoing citywide "placemaking and placekeeping initiative" celebrating and recognizing the contributions of American Indian people, history, and culture throughout the city of San Francisco. Along with the pole banners, the project includes artwork and murals, street signs, digital walking tours, and a localized Genocide Mapping Project.
In partnership with the Parks Conservancy, AICD hosts regular gardening days with elders and community members at Black Point historic gardens and together we are growing coastal strawberry, angelica, and mugwort in our Presidio Native Plant Nursery.
"As a non-urban person who's grateful to be living in an urban area, the value of these partnerships and these opportunities for Native People is just so significant," says Souza. "I want to continue building out these partnerships from a place of culture and a place of community. And I really want to make sure they're put together in a sustainable way so people can continue to access them for the future, and we can continue to build out shared use and carry on the voices of our people as long as we can."
It's healing to be together outside in the gardens. It's also an act of reclamation and an opportunity to look at the whole history of this land, good and bad. Black Point was purchased by John C. Fremont in 1860, just 14 years after he had participated in the mass murder of Wintu people, including women and children, in the Bear Flag Revolt, a violent event that led to the United States taking control over what is now California. Information like this can be found in AICD's Genocide Mapping Project. By looking critically and honestly at our past, we can move toward a better and more honest and inclusive present.
"I want people to recognize past and present Native American contributions, for our community to have a seat at the table and have greater access to local resources, land use for access for ceremonies, and for us all to come together and celebrate American Indian culture and people," she says. "I hope to bring more opportunities to elevate the local urban Indian voice and visibility to our people so our future generations don't have to say 'we're still here.' We are American Indian, these are our homelands, we've always been here."
The City of San Francisco is the traditional territory of the Yelamu, a local tribe of the Ramaytush Ohlone peoples of the San Francisco peninsula. The Yelamu understood the interconnectedness of all things and maintained harmony with nature for millennia. Beginning in the 18th century, Spanish, Mexican and American colonization displaced and eradicated Native peoples across California, including the Yelamu; however, a few Ramaytush Ohlone families did survive. We honor the original peoples of this land and work to uncover the truths of the past that shape our present and future.
May 19, 2023