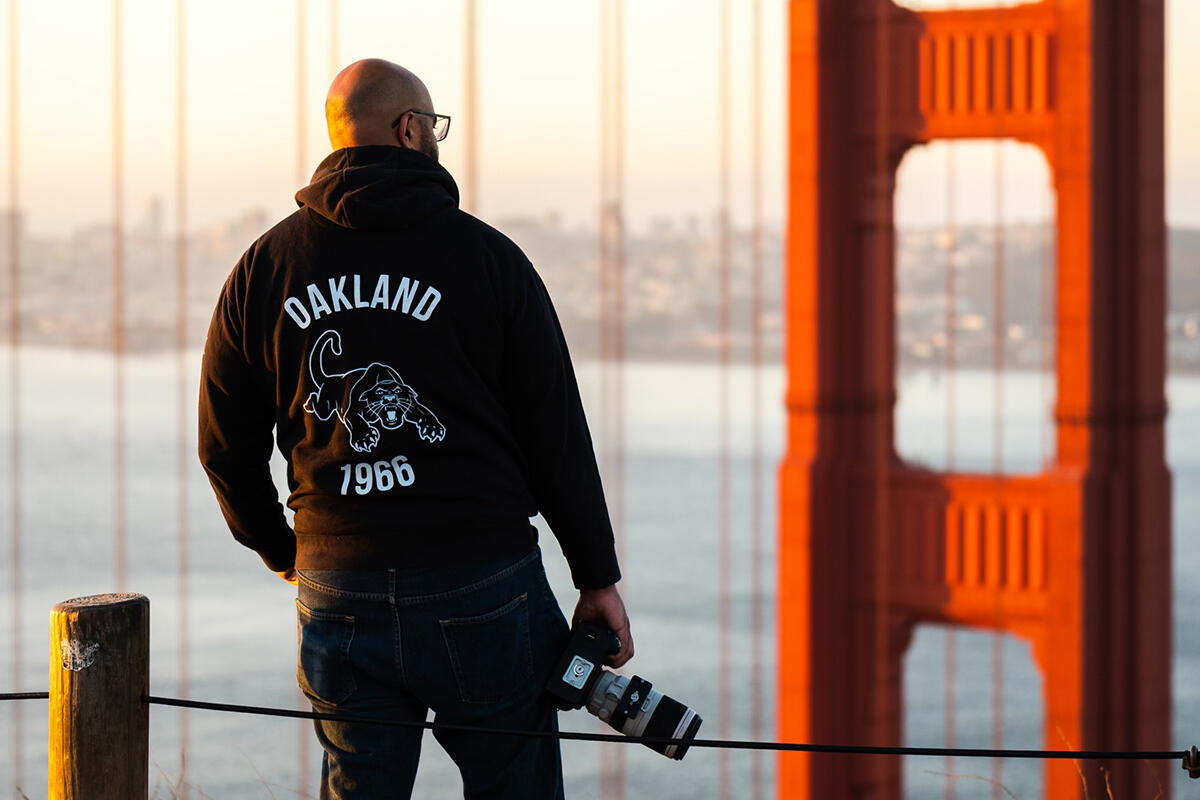 Photographer Brandon Nesbitt at Golden Gate Bridge
Photo by James Lyons
It's 4 a.m. and photographer Brandon Nesbitt is scanning through the public webcams oriented toward the Golden Gate Bridge from his computer at home. Slightly groggy but adequately caffeinated, he's trying to get an early glimpse of the morning fog conditions.
Thick fog may obscure a view of the bridge entirely. Crystal clear skies wouldn't give him the moody framing that he's hoping for. Today, he's aiming to capture low fog billowing around the base of the bridge during sunrise, with the towers still visible.
He drives an hour through an awakening city to the Marin Headlands. Winding through the pre-dawn light he's thinking about how he'll frame his shot, and what lens he might use.
After parking, he approaches one of his favorite lookouts on Hawk Hill to assess the view.
The fog is so thick, he could cut a slice and eat it for breakfast. Foiled, he returns to his car and heads home.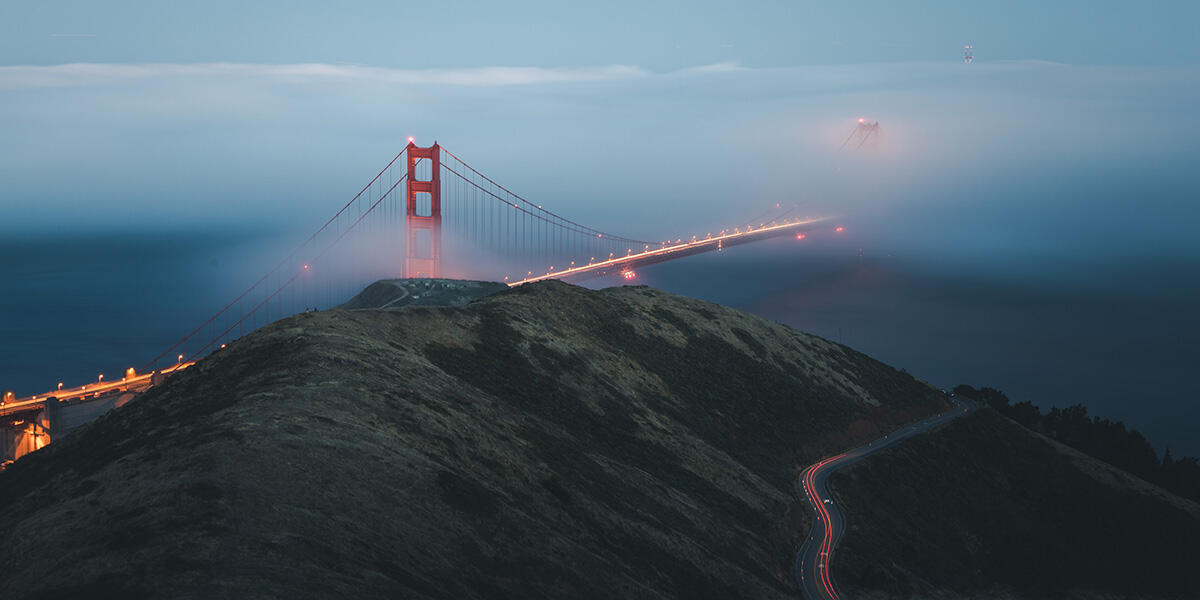 Foggy Golden Gate Bridge
Brandon Nesbitt
"You do your best with looking at the webcams, but when it's pre-sunrise, they're almost all dark anyway, so you just kind of guess and go out there," said Brandon of mornings like these. "You really never know, the fog is its own thing. That's really what kept that photo chase going for me." 
On its own, the Golden Gate Bridge is an architectural marvel with its striking color and design. However, anyone that has gazed on at this iconic landmark from one of the many viewpoints that encircle it can tell you that its ever-changing surroundings are part of what make this bridge so captivating.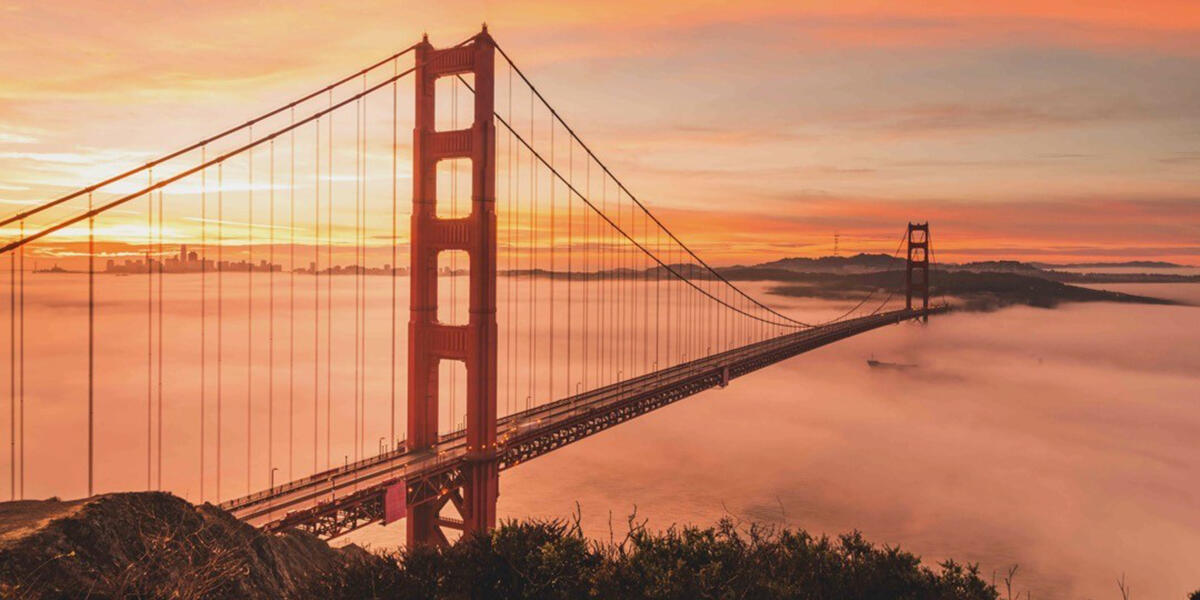 Golden Gate Bridge during sunrise
Brandon Nesbitt
The capricious weather of the Bay shrouds the Bridge in swaths of shifting fog one day, then unobstructed blue skies the next. Seasonally, the national park lands that meet the bridge on each side are also changing in color and texture as plants transition through their yearly cycles.
"I moved to San Francisco in July 2016. My stuff hadn't arrived yet. So the first thing I did was charge up my camera and head out to the bridge," said Brandon. "I got a lay of the land that year. Once I figured out where I liked my photos from, it really became about chasing the different types of weather."  
For Bay Area landscape photographers, capturing a new perspective of the Golden Gate Bridge is a badge of honor. Why? "Goldie" as Brandon affectionately refers to the Bridge, is one of the most photographed landmarks in the world. Millions of yearly visitors, professional photographers and phone photographers alike, snap their own pictures from a myriad of vantage points. With all this coverage, one might assume that every unique photo of the Bridge has already been taken. 
That is an assumption that Brandon Nesbitt is unwilling to make.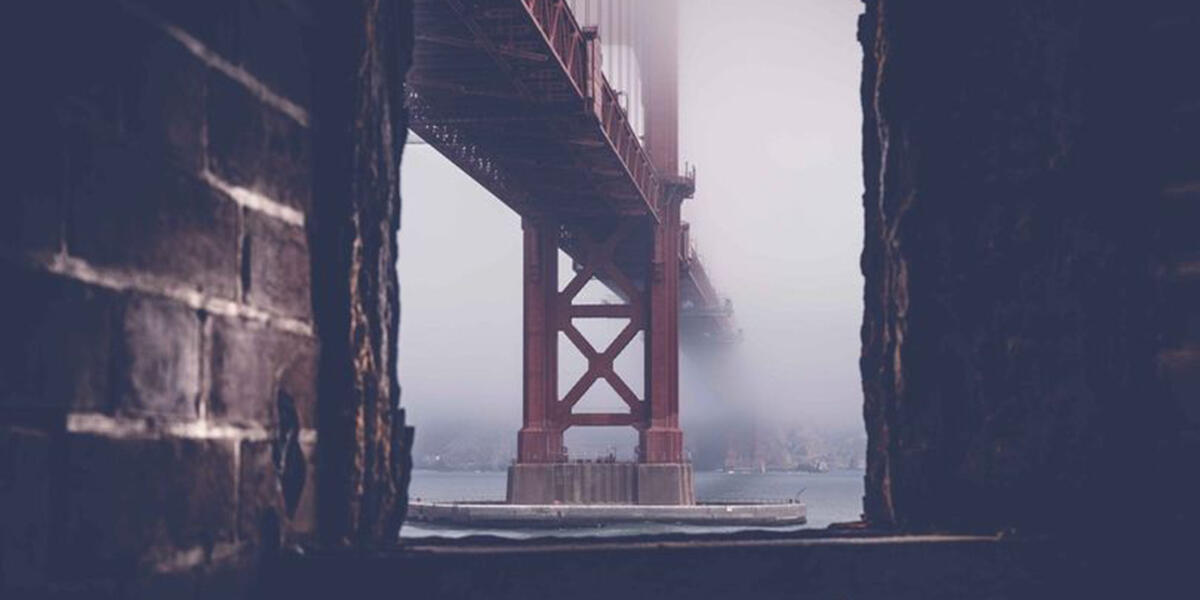 Golden Gate Bridge through an old window
Brandon Nesbitt
"It's always different, right? The fog is low, the fog is medium high, the fog is really high, there's no fog at all. There's an amazing sunset, an amazing sunrise. Sometimes you catch the ships going under it. There's like 17,000 viewpoints to hike down to, to hike up to, to drive to," said Brandon. "The amount one person zooms in will make a difference in how that photo looks, or if they tilt down even a half an inch on their tripod." 
On another one of Brandon's missions to Hawk Hill, he was after a very particular shot. There was to be a full moon rising in the East, on the other side of the Bridge from the Headlands. Shouldering his gear, he hiked down the backside of Hawk Hill to set up his tripod and camera. Happy with his framing and settings, he patiently waited for the full, beaming moon to rise over the South Tower as sunset purples and blues stretched through the sky.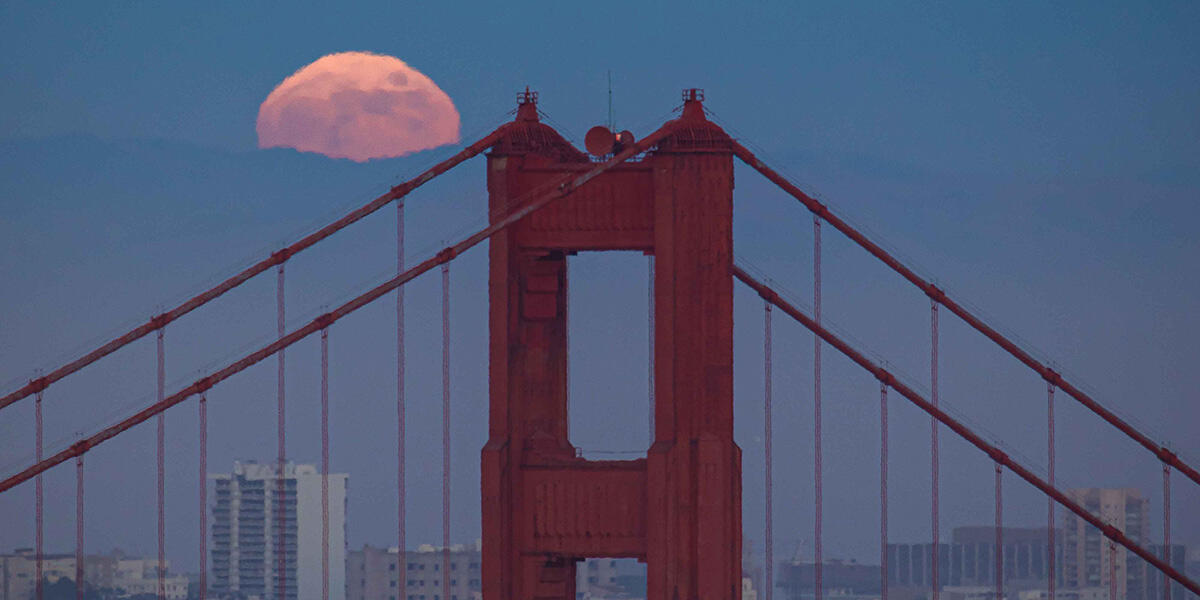 Full moon rising over Golden Gate Bridge
Brandon Nesbitt
You can see more of Brandon's work and purchase prints at imagesbybrandon.com. His prints are also for sale at the Golden Gate Bridge Welcome Center. 
October 3, 2022