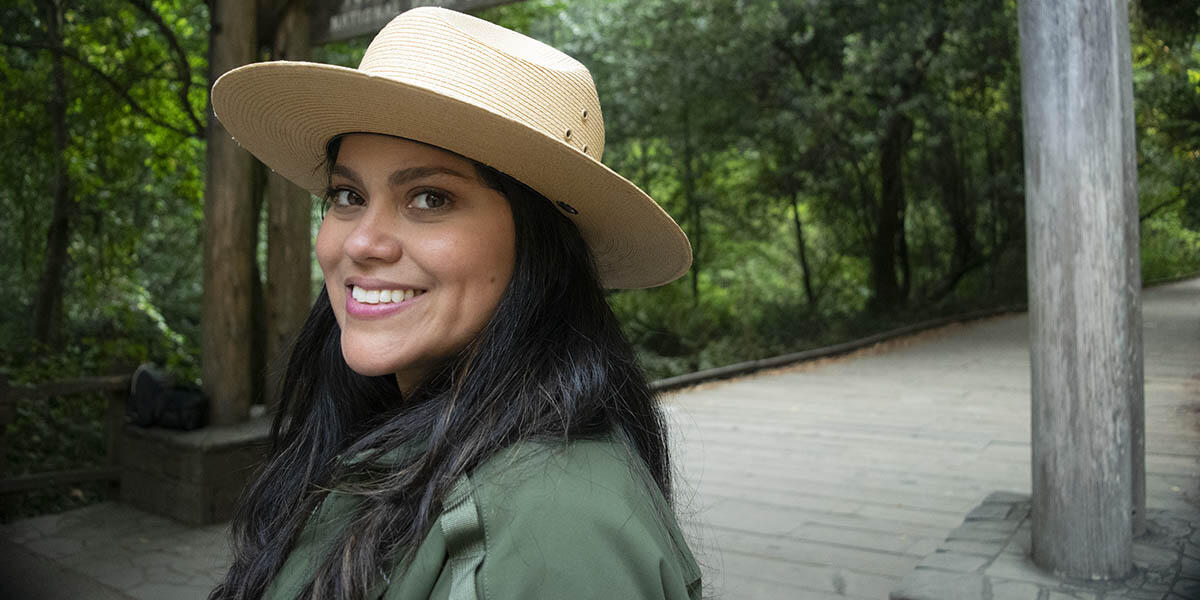 Park Ranger Giessell Aguilar at Muir Woods.
Connor Henzel / National Park Service
Editor's note: This article is part of our 2021 Annual Report to the Community, where you'll find all we've accomplished together in the past year, along with interactive postcards from some favorite park sites and "postcard videos." Check it out >>
For our 2021 Annual Report to the Community, we caught up with National Park Service Ranger Giessell Aguilar, who works closely with the Parks Conservancy at Muir Woods National Monument. Ranger Giessell is doing fascinating work uncovering untold stories at Muir Woods, and using her own history to connect with the wide range of visitors to the redwoods. 
Here's our conversation with Ranger Giessell: 
Why did you want to become a park ranger? 
I grew up in South Lake Tahoe, going to a creek that was a 5-minute walk from my house. That's where my passion for nature and protecting it, and being so connected to our Earth came from. We did a lot of exploring, we would look at the macro invertebrates underneath the rocks, and study epiphytes growing on trees we would climb, and that propelled me to want to be a biologist.  
Eventually my family and I moved to New Orleans, and when I was 16, we unfortunately experienced Hurricane Katrina, and that devastated my entire community. It made me think about what was happening for us to have these extreme events. I started picking up books from my high school library to learn more about climate change and how it was impacting the entire planet. I knew I wanted to be a part of fixing this crisis.  I wanted to bring awareness to others and advocate for disappearing wetlands.  The way for me to do that was to do habitat restoration with my biology degree, educate people, and that's how I got connected to the Park Service.  
How do you interpret climate change issues for Muir Woods visitors? 
Pre-Covid, we offered 15-minute tree talks and my focus was on how climate change is impacting the redwood forest. I highlighted actions our visitors can take at a community level, to not only protect their national parks, but to also come together to protect their local ecosystems, local parks, and native trees that might be endangered or threatened by climate change. It was also very important for me to highlight environmental justice within my talk. I mentioned solutions that are accessible to everyone. When we talk about climate change, we often focus on solutions such as buying electric vehicles, installing solar panels, and buying locally, but not everyone has that privilege. My solutions include everyone, to make sure all of us feel encouraged to become stewards and advocate for nature.  
I tell visitors, that by visiting national parks, they're already doing a lot. They're learning and taking in the healing power of nature. When people visit their national parks, they experience a strong connection with nature. When people fall in love with nature, they naturally want to protect and save it.  
What has your experience been like as a Latinx* park ranger? 
Creating an inclusive space for all to feel welcomed at their parks is one of our main priorities. When visitors see a ranger of color, that matters a lot, because representation matters. As a Latinx park ranger, wearing the flat hat means changing the status quo. It's inspiring and important to see all visitors find refuge and community in their parks. It's as important for everyone to hold space and feel like they belong in their national parks. 
I remember standing in Founder's Grove, and a Latinx seasonal park ranger was shadowing me, and at the end of the tree talk we usually stand there to see if anyone has questions.  A Latinx woman and her three children approached us and  said "can I take a picture of you? Because I've never seen this before. I've never seen one, yet alone two Latinx park rangers, and a female ranger at that." I felt proud to be there in that moment, and it justified why I work for the National Park Service. 
What stories of history are most important for you to interpret? 
I'm indigenous of Nicaraguan decent. My ancestors come from the Sutiaba tribe. Although I'm not Native American, I still identify with my Indigenous roots. When I learned about the Huimen Coast Miwok at Muir Woods, I was automatically inclined to interpret their long history of harmonious land management practices and their inspiring way of life. Interpretive rangers at Muir Woods started a Coast Miwok study circle to learn more about Huimen Coast Miwok culture and traditions so that we can accurately and respectfully educate our visitors.  
What do you love about welcoming visitors to Muir Woods? 
Muir Woods is such a destination national park. Hearing all kinds of different languages go through the entrance arch, it's really amazing. 
I enjoy seeing visitors' faces light up when they see a redwood for the first time. Redwoods have a magical presence about them, they're the tallest living things on earth and they also live a long time. Their resilience is awe-inspiring. We can all learn a thing or two from redwoods. I feel lucky to connect people to this magical ecosystem, it's what inspires me to keep doing this work.
(*Editor's note: Latinx is a gender-inclusive term for people who identify as being from Latin American cultures and backgrounds.) 
Read more from our 2021 Annual Report to the Community >>
May 11, 2021