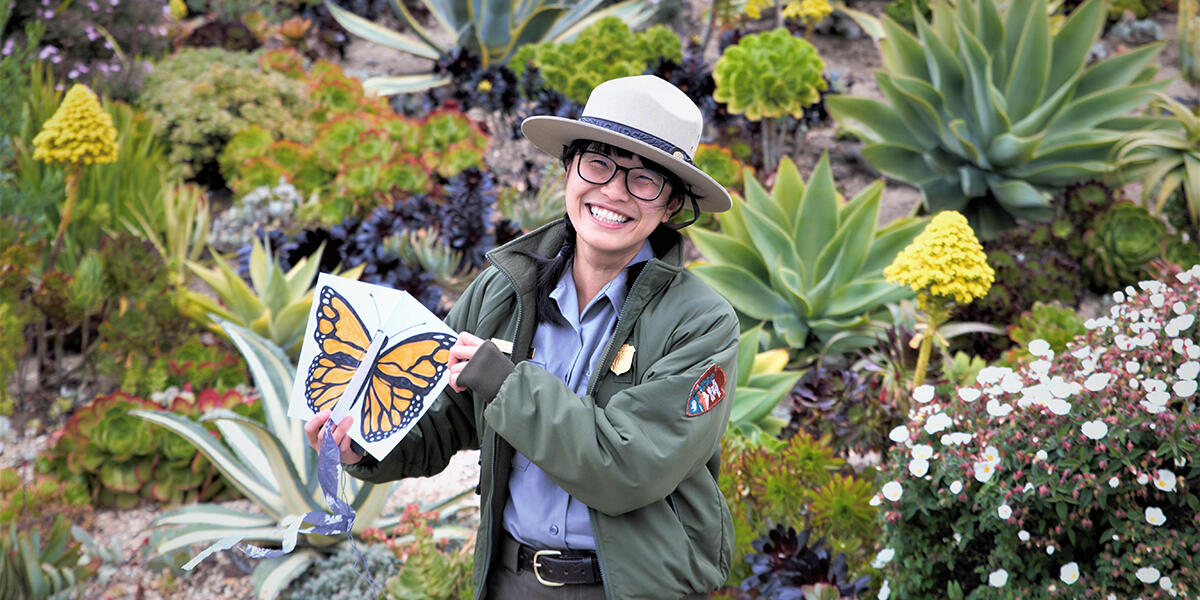 Ranger Rebecca Au
Alex Sobiloff/NPS
In 2016, Park Ranger Rebecca Au, a former art teacher with a Master's degree in museum education, drove from Massachusetts to California. She estimates she visited around 10 national parks along the way, including Badlands, Grand Tetons, and Bryce Canyon. It was the NPS centennial, and the grand fanfare around the unique beauty of the parks was a call to find her place within them.
"I grew up playing at the National Mall. My mother was a hot dog vendor in D.C. and she would take me to work with her," says Ranger Rebecca. Rebecca was born in Vietnam and immigrated with her parents to the East Coast as a child. "To my parents, traditional parks and the outdoors are seen as scary and dangerous places. What they, and I, didn't know at the time, was that national park sites can also be urban places, such as the National Mall, or Fort Mason, where I'm duty stationed."
Ranger Rebecca works as the Volunteer and Youth Programs Coordinator for the Golden Gate National Recreation Area, Fort Point National Historic Site, and Muir Woods National Monument. Her team helps manage and support the Volunteers-In-Parks and many Youth and Internship programs for the entire park. Previously, she worked on the volunteer and service team at the Parks Conservancy.
"There are so many different experiences that people may have with parks, especially people who come from other countries, such as myself and my family," she says. "These communities view parks and open spaces through many different lenses, and I believe that there's a way to connect those dots through curiosity, nature, art, and a desire to take care of the land. There's an opportunity to engage communities in service and stewardship. What it means to take care of something is universal."
October 21, 2021