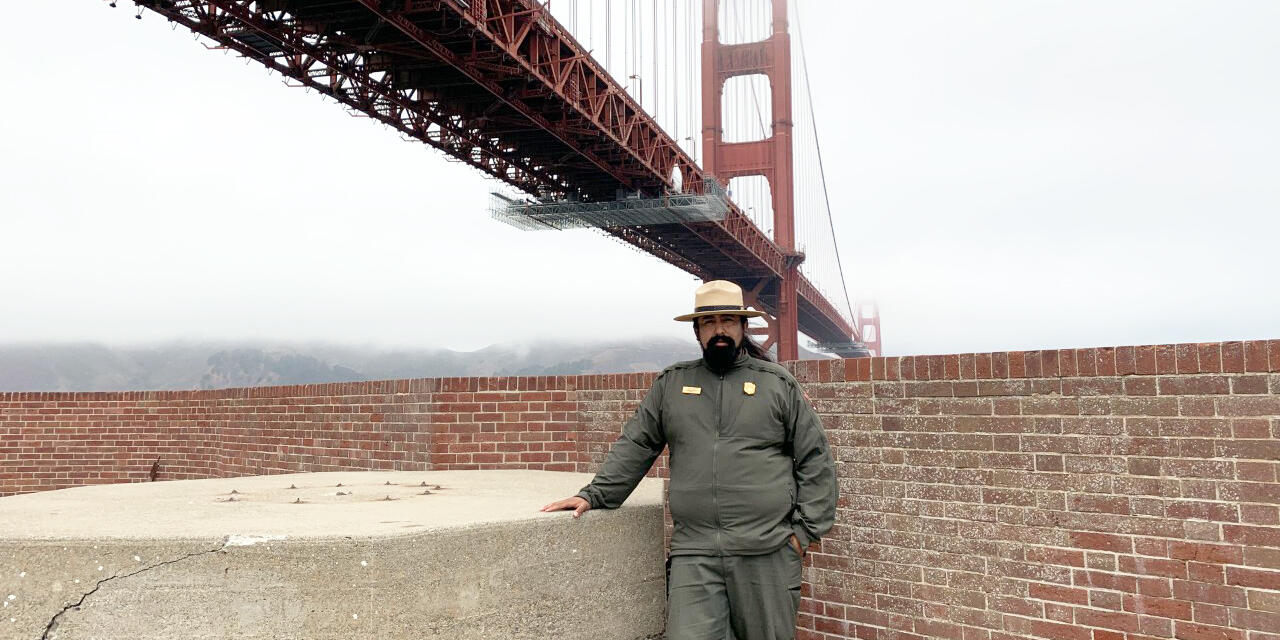 NPS Ranger Erick Cortes at Fort Point National Historic Site.
Xotchitl Garibay/NPS
This year, Park Ranger Erick Cortes celebrates his four year anniversary with the National Park Service and his third year as a ranger. We caught up with the South Central Los Angeles native to learn about his time in the parks and how he fosters unique connections with visitors at Fort Point National Historic Site, while using his work to act as an agent of change.
When did you know you wanted to be a National Park Ranger?
I didn't really think I could be a park ranger until 2017, when I started my internship with the Education Park Rangers at Crissy Field. As an intern, I met former Park Ranger Kelsi Ju who made me feel like I could do the job. She showed me how to be a ranger and that a ranger could be anything. 
How does your background inform how you see and interact with people in the parks?
I grew up in South Central Los Angeles going camping with my family. From August to December, my dad would take me out almost every weekend and on major holidays [our family] would go camping.
I camped with my family in state and national parks, but I didn't really see anybody who looked like me while we were out. Wearing the uniform is an opportunity for people who don't necessarily identify themselves with a dominant narrative to see me and see that if I can do it, they can do it.
why is it important to broaden perspectives at fort point?
Every day we're open, we have a local who is visiting Fort Point for the first time. A huge portion of our visitors don't know what Fort Point is and that's a huge opportunity. We can tell a more complete and cohesive story when we expand the types of narratives we share.
Fort Point is filled with history, and it can be a place to explore interconnected histories of the Bay Area. That includes Indigenous history, Spanish and Mexican colonization, and the US military period.
What do you hope people get out of coming to Fort Point?
As a park ranger, I try to have fun and create a memorable experience with visitors. I want people to leave thinking about what Fort Point is and what it means that it's here. It can be a connecting point for learning not just what happened at Fort Point but what happened around the fort. If I can create a spark that makes people want to learn more, that's awesome.
August 19, 2021