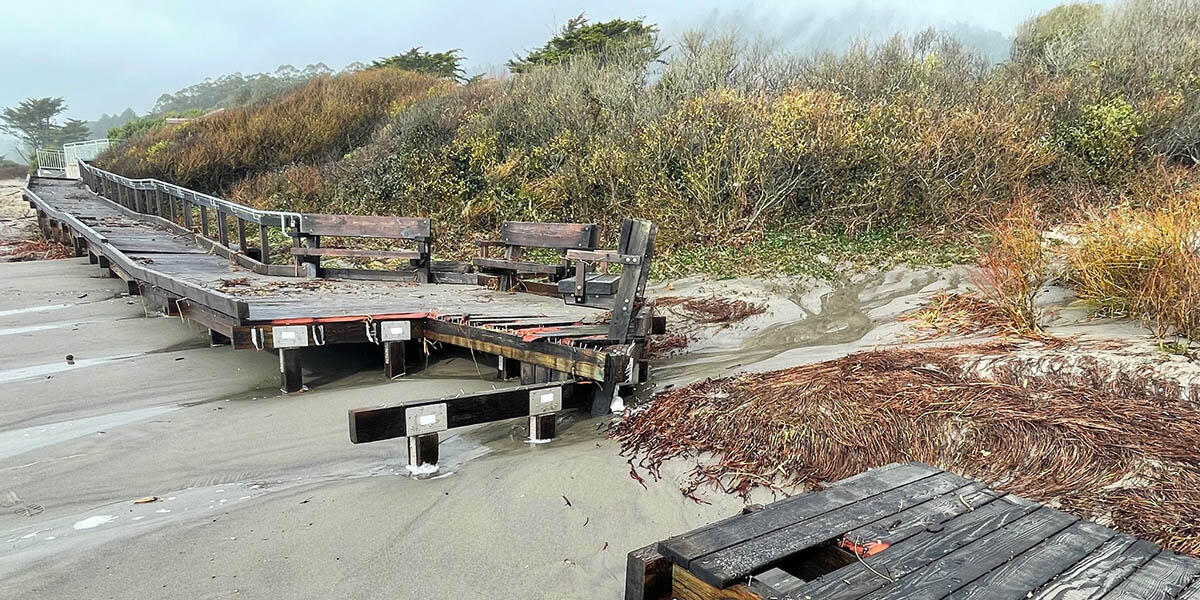 Stinson Beach damage following storms in early 2023.
National Park Service
You never know what will be revealed in the wake of a storm: It might be a shipwreck, a message in a bottle, or a message about the future.
When massive rainstorms swept through the Bay Area in early 2023, they left behind downed trees, mudslides, and damage to structures like the boardwalk at Stinson Beach. While the beach escaped major damage, it highlighted the need for adaptive solutions to promote climate resiliency along the coastal areas of the Golden Gate National Recreation Area (GGNRA).  
At Stinson Beach, the National Park Service (NPS) is in the middle of the Stinson Beach Parking Area Rehabilitation Project, which aims to provide sustainable visitor access and flood protection within the natural habitat of the beach. The project is currently in the design phase, and parkgoers can learn more on the NPS website. 
At nearby Tennessee Valley, the lower section of the Tennessee Valley Trail was closed for more than a month in early 2023. NPS is moving forward with plans to make the trail more accessible by removing an earthen dam that has been in place near the trail for 60 years, and has been deemed a risk to fail and flood Tennessee Beach, which is why the trail is often closed during storms. 
There are many places around the parks where we're exploring adaptations and solutions with our partners. At Bothin Marsh in Marin County, the Parks Conservancy and the partners of One Tam are working on the Evolving Shorelines Project, developing nature-based approaches to adapt marsh habitat and the Mill Valley-Sausalito Pathway (Bay Trail) to a changing climate. At Ocean Beach, the NPS is partnering with the San Francisco Public Utilities Commission and other city agencies on the Ocean Beach Climate Change Adaptation Project, a series of short-term and long-term coastal protection measures focused on the south end of Ocean Beach.
The Parks Conservancy is committed to supporting projects that help boost the climate resiliency of the parks. Thank you for supporting a greener future across the GGNRA and beyond! 
February 23, 2023