The Golden Gate National Parks Conservancy sends an annual report to the community. It is our most important document, celebrating the impact we've made in the last year. Find our most recent annual report and past reports below.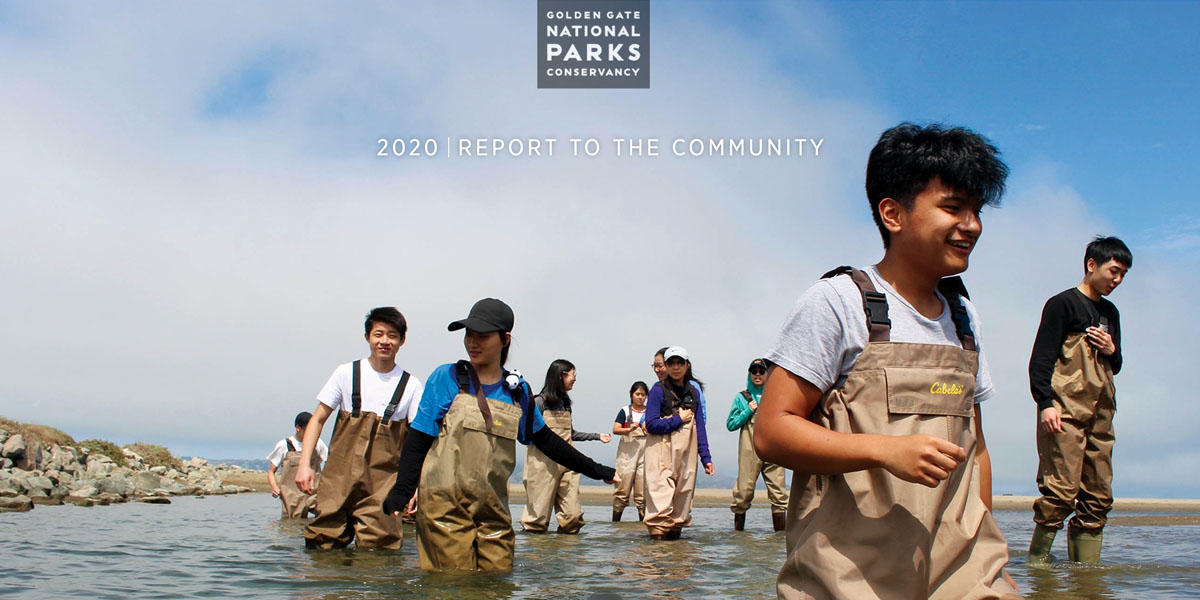 Youth wade into Crissy Field Marsh during Project WISE in fall 2019.
Francis Taroc / Parks Conservancy

2020 Annual Report to the Community
Throughout this Report to the Community, we shine a light on our major accomplishments of 2019. We had no idea what was just around the corner. We believe in the power of national parks to inspire and heal. The events of early 2020 somehow strengthened that conviction. When we lose something, we miss it more than ever. And, we learn a powerful lesson in not taking it for granted. The silence of a redwood grove. The spark of imagination from a historical fact shared by a park ranger. Hopefully you've been able to tap into park moments like this in new and creative ways.
Check out our full 2020 Report to the Community here, including personal videos, an interactive graphic that highlights "many parks, one Parks Conservancy," and the stories of people who have dedicated themselves to these parks.
2020 Report to the Community online presentation >>
Download the PDF >>

Past Annual Reports
Read about the work we all do to preserve our natural and cultural resources for future generations, cultivate an enduring community of stewards, and ensure that our national parks are wholly accessible, inclusive, and relevant for all.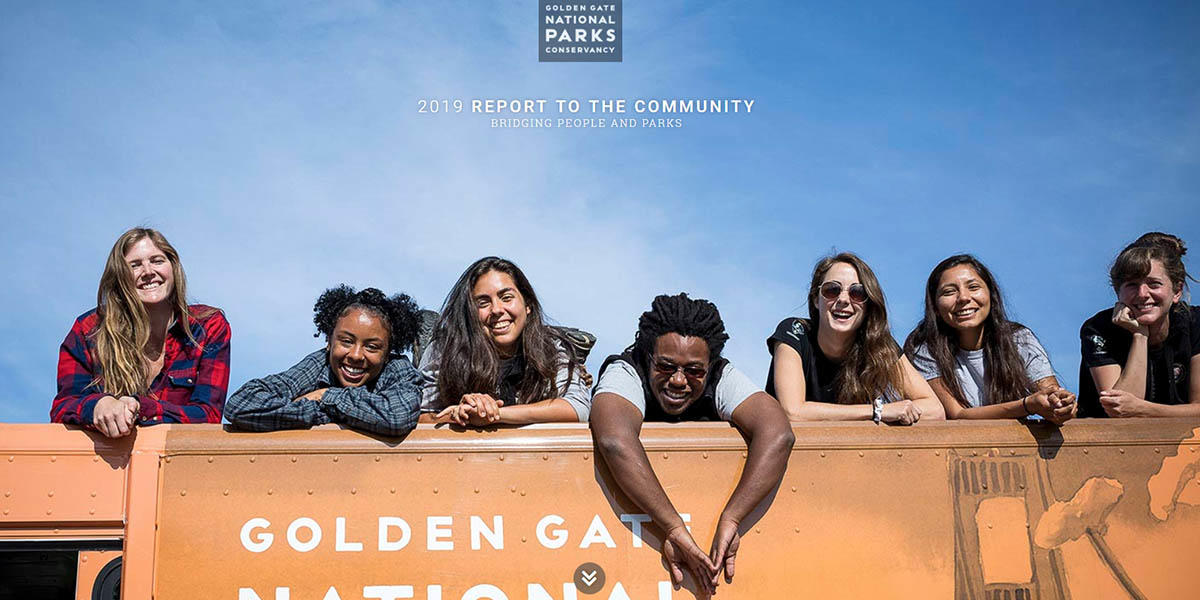 Cover of the Golden Gate National Parks Conservancy's 2019 Report to the Community: 'Bridging People and Parks'
Paul Myers / Parks Conservancy

Past annual reports:
2019 Annual Report (online) >>
2019 Annual Report (PDF) >>
2018 Annual Report (online) >>
2018 Annual Report (PDF) >>
2017 Annual Report (online) >>
2017 Annual Report (PDF) >>
2016 Annual Report (online) >>
2016 Annual Report (PDF) >>
2015 Annual Report (online) >>
2014 Annual Report (online) >>
2014 Annual Report (PDF) >>
2013 Annual Report (PDF) >>
2012 Annual Report (PDF) >>
2011 Annual Report (PDF) >>
2010 Annual Report (PDF) >>
2009 Annual Report (PDF) >>
2008 Annual Report (PDF) >>
2007 Annual Report (PDF) >>
2006 Annual Report (PDF) >>
2005 Annual Report (PDF) >>
2004 Annual Report (PDF) >>