The Golden Gate National Parks Conservancy sends an annual report to the community. It is our most important document, celebrating the impact we've made in the last year. Find our most recent annual report and past reports below.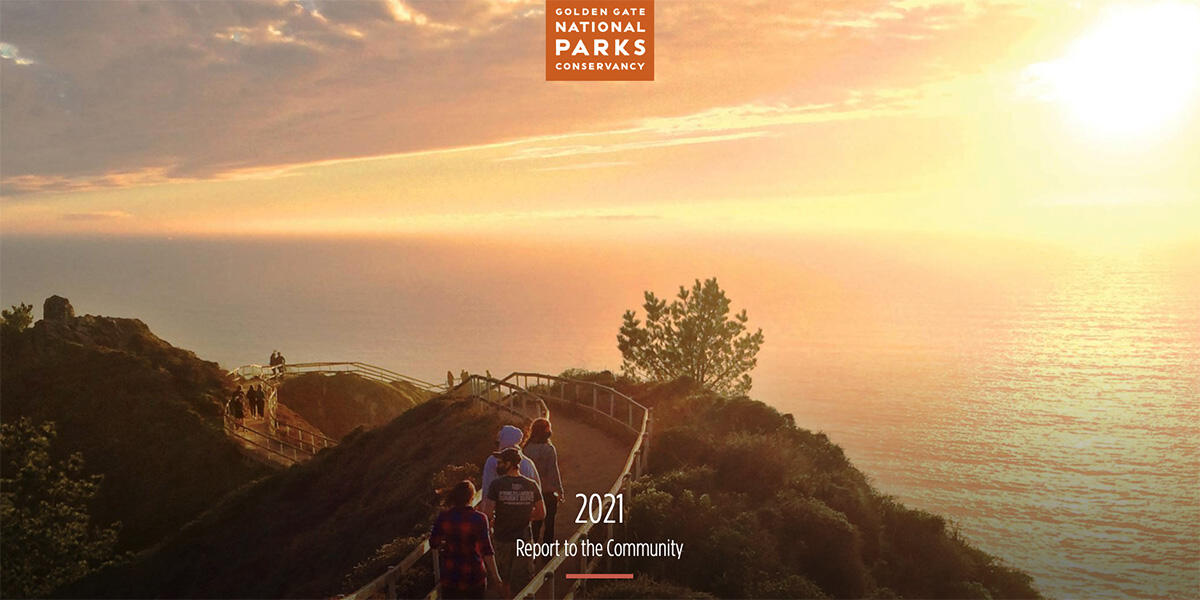 Sunset at Muir Beach Overlook on the cover of the Parks Conservancy's 2021 Annual Report to the Community
Mike Hsu / Parks Conservancy

2021 Annual Report to the Community
In the face of a global health pandemic in 2020, people found refuge in our national parks to experience the expansiveness of Ocean Beach or the wonder of towering redwoods in Muir Woods. Our vision for the future is deeply informed by what we saw, heard and experienced in 2020. As we celebrate our 40th year and consider our next 40 years, the Parks Conservancy recognizes now is the time to place the spotlight on the "for all" part of our Parks For All Forever vision, with a greater emphasis on park connections.
Check out our full 2021 Report to the Community here, including interactive postcards, short "postcard" videos, and stories that will introduce you to a park ranger, the youth of the Crissy Field Center, and Parks Conservancy members. All are champions of the parks, and we have deep gratitude for your support of parks through the years!
2021 Annual Report to the Community online presentation >>

Past Annual Reports
Read about the work we all do to preserve our natural and cultural resources for future generations, cultivate an enduring community of stewards, and ensure that our national parks are wholly accessible, inclusive, and relevant for all.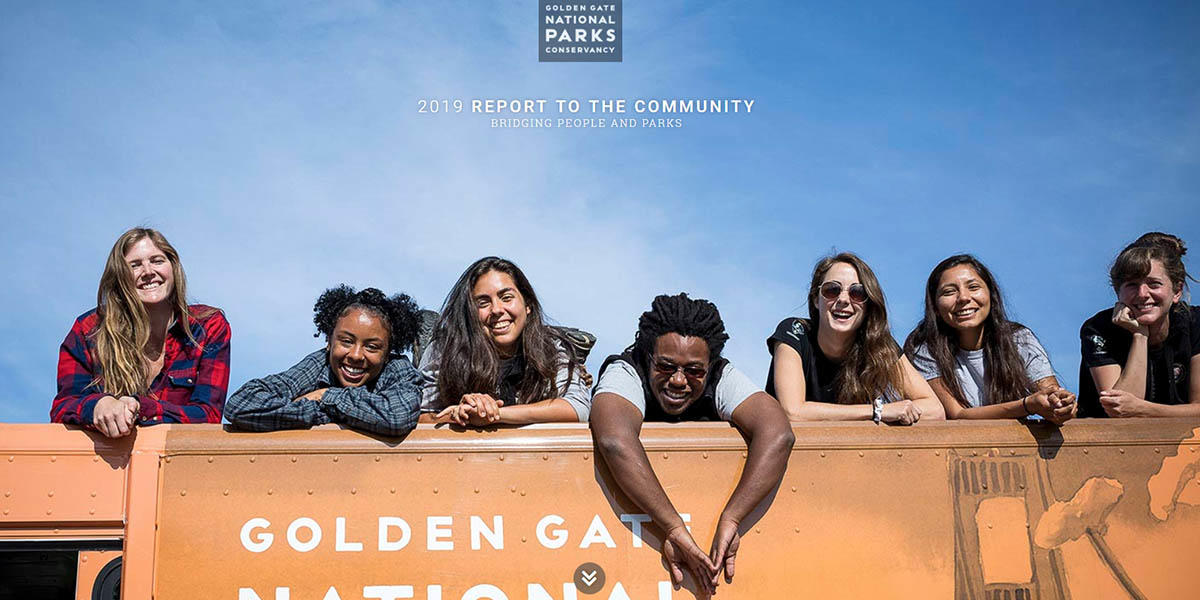 Cover of the Golden Gate National Parks Conservancy's 2019 Report to the Community: 'Bridging People and Parks'
Paul Myers / Parks Conservancy

Past annual reports:
2020 Annual Report (online) >>
2020 Annual Report (PDF) >>
2019 Annual Report (online) >>
2019 Annual Report (PDF) >>
2018 Annual Report (online) >>
2018 Annual Report (PDF) >>
2017 Annual Report (online) >>
2017 Annual Report (PDF) >>
2016 Annual Report (online) >>
2016 Annual Report (PDF) >>
2015 Annual Report (online) >>
2014 Annual Report (online) >>
2014 Annual Report (PDF) >>
2013 Annual Report (PDF) >>
2012 Annual Report (PDF) >>
2011 Annual Report (PDF) >>
2010 Annual Report (PDF) >>
2009 Annual Report (PDF) >>
2008 Annual Report (PDF) >>
2007 Annual Report (PDF) >>
2006 Annual Report (PDF) >>
2005 Annual Report (PDF) >>
2004 Annual Report (PDF) >>