The Golden Gate National Parks Conservancy sends an annual report to the community. It is our most important document, celebrating the impact we've made in the last year. Find our most recent annual report and past reports below.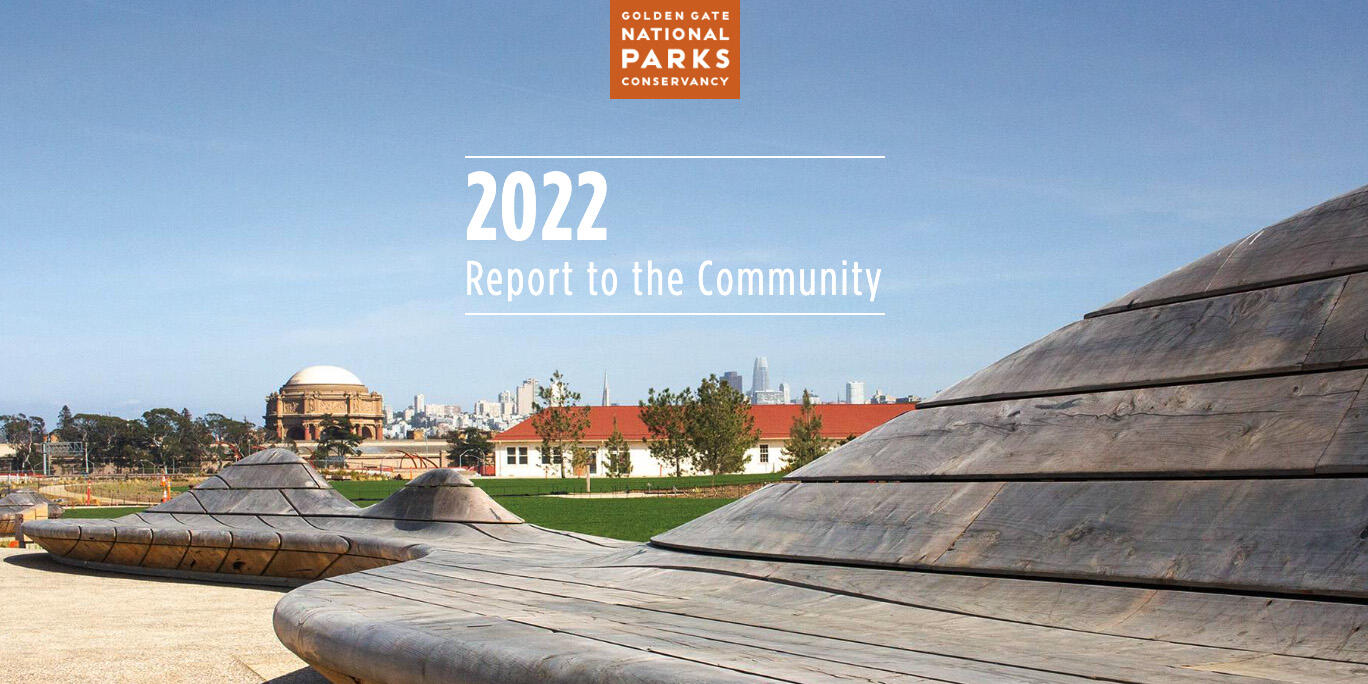 Presidio Tunnel Tops on the cover of the Golden Gate National Parks Conservancy's 2022 Annual Report to the Community.
Russell Bombon / Parks Conservancy

Golden Gate National Parks Conservancy 2022 Annual Report to the Community
In this year of milestones, including the 40th anniversary of the Parks Conservancy, Presidio Tunnel Tops builds on our history towards a bright future for people in parks. Soon we can walk from Crissy Field, a true gem 20 years after its transformation, up to the Main Post of the Presidio. Young people are already gathering at the revamped Crissy Field Center and jumping off to park connections across the GGNRA. Community groups are making Presidio Tunnel Tops their own through programs like Presidio Activators and special site tours.
Check out our full 2022 Report to the Community here, including a special video with a sneak peek inside the renovated Crissy Field Center, and stories that will introduce you to park champions Amy Meyer and Laura Yin. Thanks to people like Amy, Laura, and YOU, we have these spaces, free and open to all, for people to create forever memories. Celebrate all we've accomplished together with our special report!
2022 Annual Report to the Community online presentation >>

Past Annual Reports
Read about the work we all do to preserve our natural and cultural resources for future generations, cultivate an enduring community of stewards, and ensure that our national parks are wholly accessible, inclusive, and relevant for all.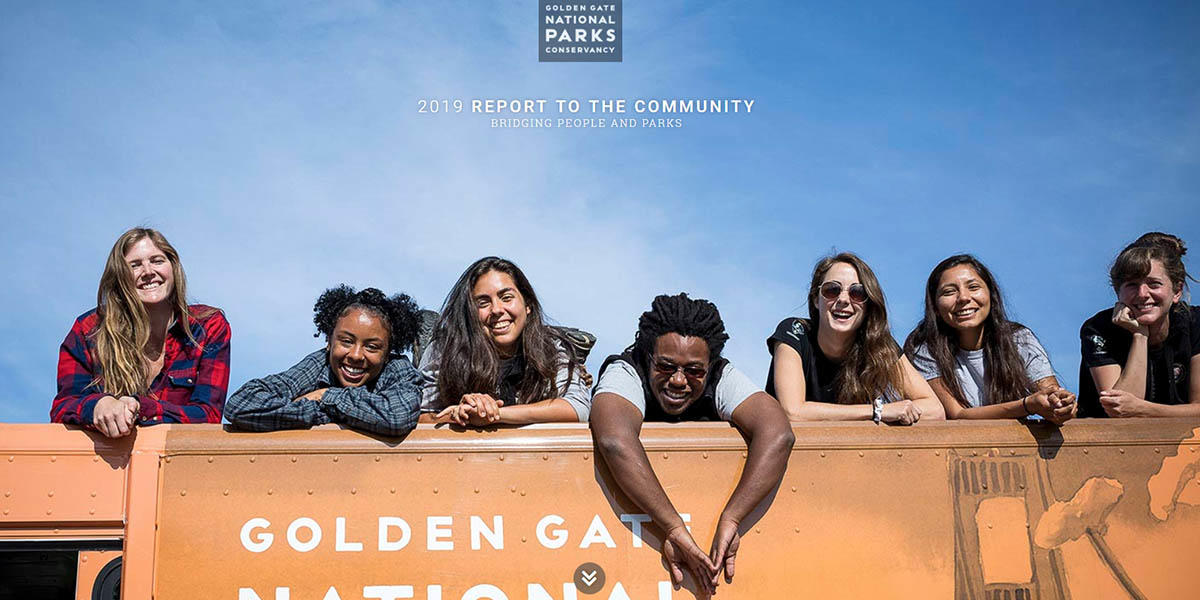 Cover of the Golden Gate National Parks Conservancy's 2019 Report to the Community: 'Bridging People and Parks'
Paul Myers / Parks Conservancy

Past annual reports:
2021 Annual Report (online) >>
2021 Annual Report (PDF) >>
2020 Annual Report (online) >>
2020 Annual Report (PDF) >>
2019 Annual Report (online) >>
2019 Annual Report (PDF) >>
2018 Annual Report (online) >>
2018 Annual Report (PDF) >>
2017 Annual Report (online) >>
2017 Annual Report (PDF) >>
2016 Annual Report (online) >>
2016 Annual Report (PDF) >>
2015 Annual Report (online) >>
2014 Annual Report (online) >>
2014 Annual Report (PDF) >>
2013 Annual Report (PDF) >>
2012 Annual Report (PDF) >>
2011 Annual Report (PDF) >>
2010 Annual Report (PDF) >>
2009 Annual Report (PDF) >>
2008 Annual Report (PDF) >>
2007 Annual Report (PDF) >>
2006 Annual Report (PDF) >>
2005 Annual Report (PDF) >>
2004 Annual Report (PDF) >>