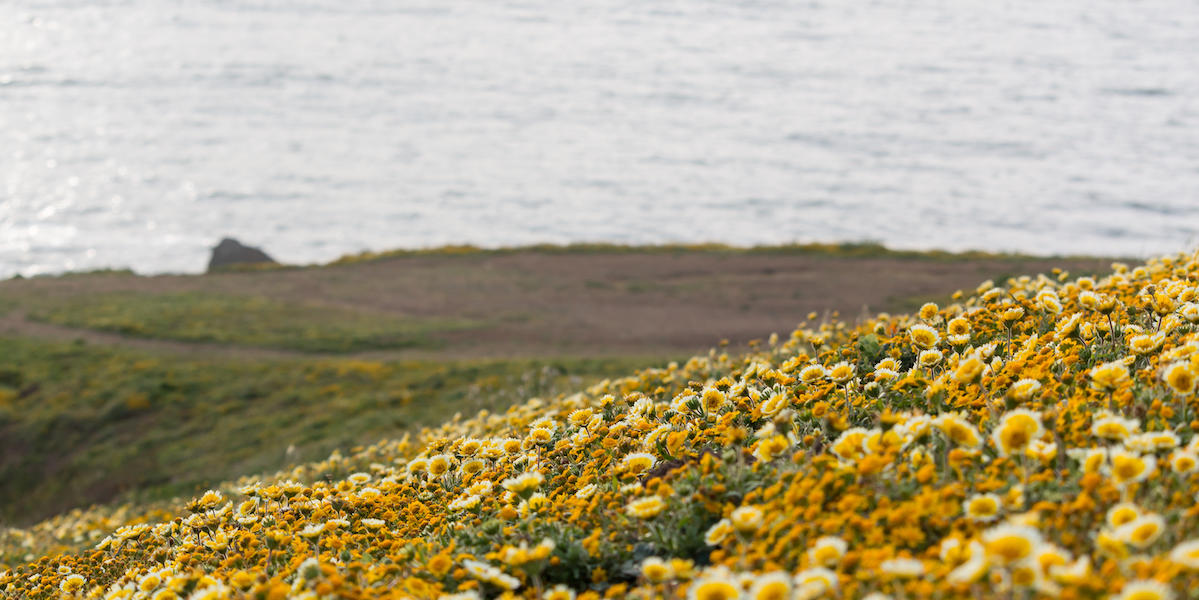 Wildflowers at Mori Point
Ryan Curran White/Parks Conservancy
Normally, in late April, we'd invite you all to join us for various events in the parks to celebrate Earth Day, the City Nature Challenge, and National Park Week. But April 2020 isn't a normal year. This year, since we're all sheltering in place, we invite you to celebrate these milestones from your home or backyard.
Until we're able to invite you to join us outside again, here are the different ways to honor your Bay Area national parks:
Check out our online resources to bring home the parks and our programs
Need more time in nature while you're hunkered down at home? Bookmark our Online Resources to Bring Home the Parks page to find our latest items to keep you engaged with the parks from the comfort of your house! We know you love your parks, and now you can explore these nearly 84,000 acres online any time.
Experience the parks without leaving your home. 
See the National Park Service tools for virtually visiting the parks
From audio experiences and nature sound galleries to coloring books and an educator's portal, our partners the National Park Service (NPS) have ways to connect with the GGNRA from a distance through digital opportunities and activities to do in your own home or neighborhood. 
Take a virtual visit from our friends at the NPS.
Conduct a species inventory in your own backyard!
A BioBlitz is when community members like you participate in community science inventory of flora and fauna species you might see in a certain area.
You can host a kind-of BioBlitz in your backyard, your front yard, off your fire escape—wherever you want. The sky's the limit! Literally: Track migrating birds outside of your window or on your block and input them into the database or just write them down for your memory.
Learn how to become a community scientist by surveying your own backyard.
Participate in the City Nature Challenge from April 24-May 5
The 2020 City Nature Challenge takes place April 24-May 5 and will celebrate its 5th anniversary. This year, the City Nature Challenge will not be a competition, just a celebration of nature and community collaboration. Choose how much or how little you want to participate, based on what feels safe for you while following all current local and federal guidelines.
Read more about the San Francisco Bay Area challenge.
Why do one park craft? Do them all!

Alex Grant/Parks Conservancy
Do park-themed crafts from recycled household items
We've got some craft projects that'll bring the magic of the outdoors inside your home. From coloring book pages to national park-themed craft ideas, we've got something for all ages that'll keep you busy. All you need is a heap of imagination—the directions are designed to be adaptable to the supplies you might have around the house.
Bonus points for those who make these crafts using 100% recycled products! Let's get crafty!
Get inspired, do art
Better yet, are you a creative maven just needing inspiration?  To spark innnovation, we have photo galleries of the parks to scroll through, video to watch, pages about endangered species, and guides to each park site in the Golden Gate National Recreation Area.
Download coloring book pages of the Golden Gate Bridge and SF
Unplug and unwind with free downloadable pages of the Views of San Francisco: A Calming Coloring Book. Immerse yourself in San Francisco's neighborhoods, natural spaces, and colorful history with intricate illustrations by designer Charles House. Take it with you while you explore San Francisco, home to our beloved Golden Gate National Parks.
Download the free excerpts from the Views of San Francisco Coloring Book (1 MB PDF).
Host a virtual viewing party and watch OpenRoad TV's episode about the GGNRA and the Parks Conservancy
In November 2019, NBC Bay Area aired an hourlong special edition of Doug McConnell's OpenRoad TV all about the Golden Gate National Recreation. You can watch the episode on the NBC Bay Area website. But why watch it alone? Invite your friends to a Zoom viewing party and watch it all together. You'll learn new things about the natural world around you and meet a cast of local heroes who fought to preserve these special open spaces we all cherish.
Watch the episode on NBC's website.
Golden Gate Bridge during a sunset

Mason Cummings/Parks Conservancy
Take your next video chat to the parks!
Take your Google Hangouts or Zoom virtual backgrounds from boring to soaring by transporting you and your video-chat-mates to sites around the Golden Gate National Parks. You are one download away from surrounding yourself with the epic arches of the Golden Gate Bridge, the calming greenery of Muir Woods, or the refined masonry of Fort Point.
See our gallery of downloadable virtual backgrounds and screensavers. 
Take a virtual tour of the parks and help us spot sightings and oddities
Using Street View by Google Maps, you can scale various virtual trails throughout the Golden Gate National Recreation Area, giving you 360 panoramas of the parks. You can walk the windswept hills of Milagra while enjoying sweeping views, see the second-growth redwoods of Phleger Estate, marvel at the Golden Gate Bridge in all its epic beauty, and hike all over the Marin Headlands. You can even take a stroll along three beaches along the Marin County coast!
The footage is miles and miles, containing an astounding amount of photos and moments preserved in time. We need your help spotting any animal sightings or otherwise. Who knows what you could find! There are countless "Easter eggs" to discover! Send media@parksconservancy.org a screenshot of sighting and any details about its location.
Take a personality quiz
Care to test your trail tool knowledge or find out what kind of bird personality you have? We have quizzes for park lovers of all ages. 
Become a Parks Conservancy member
The parks have been there for us in tough times, let's be there for them. Help us get the parks ready for when we reopen – we need your help to get back to work right away. Our members support and benefit all of our programming and efforts to get people from all backgrounds outside and enjoying the parks.
That's right—you (or a loved one!) can help support the Golden Gate National Parks' ancient redwood forests, historic landmarks, and open spaces that belong to us all. Any contribution is welcomed, we have membership options available at a menu of levels and monthly donations.  
Members also receive fantastic benefits year-round and enjoy the tremendous satisfaction of being a steward of a national treasure. See a full list of benefits that come along with that gift membership.
April 16, 2020