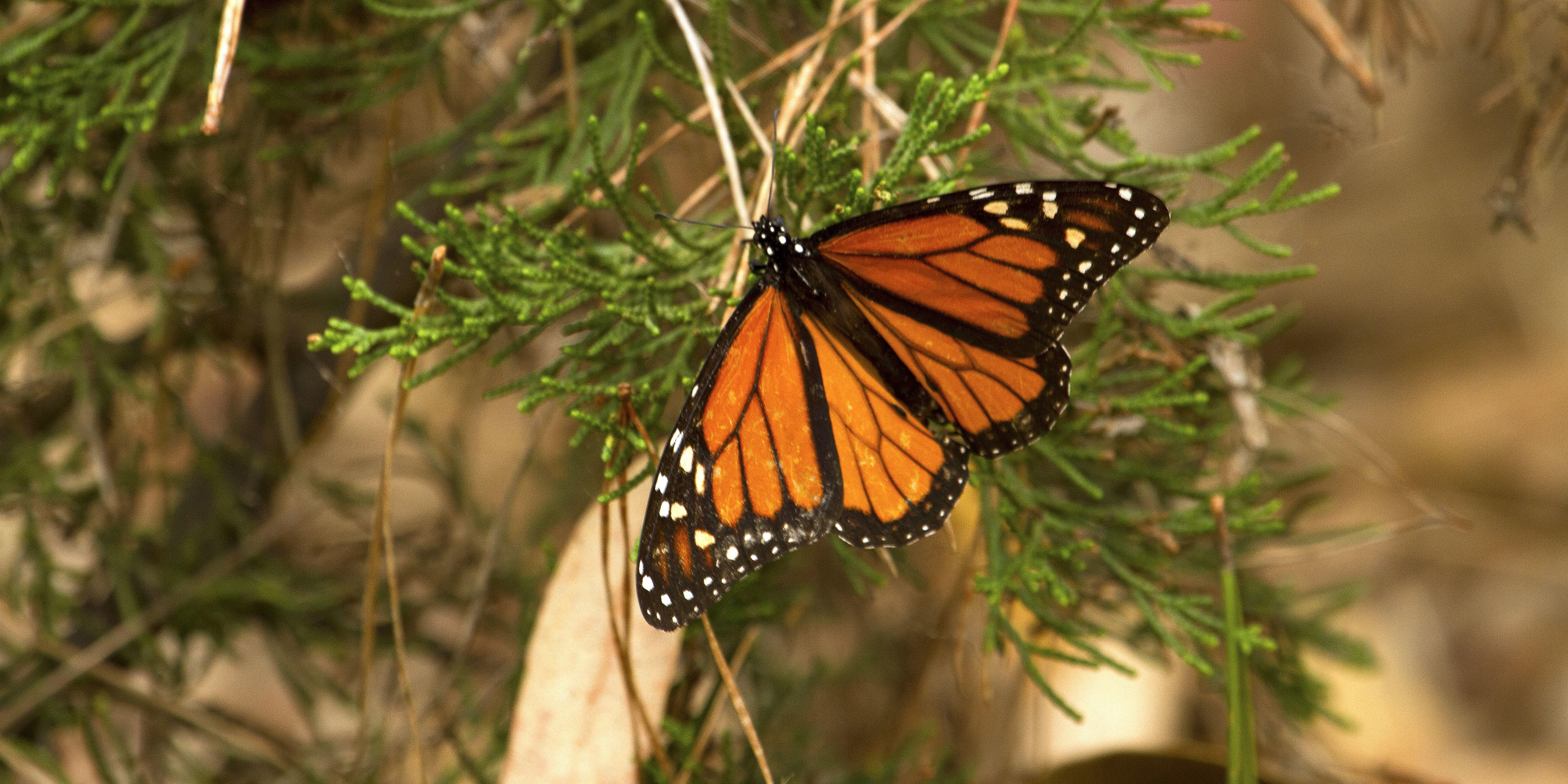 A monarch butterfly rests on the branch of a tree.
Kirke Wrench / NPS
What's outside your front door? In your backyard? Around the block?
Get outside and find out!
In times of great uncertainty, reconnecting to nature and grounding yourself in the outdoors can be a calming practice. It can also be a way to stay engaged with your neighbors and the wider community you live in–six feet apart, of course!
Here are a couple of suggestions on how to get started:
Become a Citizen Scientist
Citizen science (aka community science) is when community volunteers collect and share data in collaboration with scientists. By observing and documenting the world around them, these volunteers contribute a diverse set of data that answers real world questions.
iNaturalist, a free mobile app powered by the California Academy of Sciences and National Geographic, allows citizen scientists—that's you—to contribute to open source databases used by professional scientists and policy makers around the world. You can do this by simply observing the world around you and sharing what you see.
The City Nature Challenge, which took place this year from April 24-May 5, is a citizen science event that celebrates nature and community collaboration. You can read about the San Francisco Bay Area challenge here and use the map and community generated photos of various plants, insects and birds to inspire your own observations and documentations.
BioBlitz your backyard
BioBlitz, a community science event that the Golden Gate National Parks Conservancy has hosted in the parks, is a public program that anyone can opt into at any time. In a BioBlitz, people of all ages and backgrounds come together to volunteer as citizen scientists.
Here's how it works: During a designated amount of time, volunteers find and identify as many species as they can in a specific area. These can happen anywhere and in any space, whether it's the Presidio of San Francisco or just outside your front door.
You can host a kind-of BioBlitz in your backyard, your front yard, off your fire escape—wherever you want. The sky's the limit! Literally: Track migrating birds outside of your window or on your block and input them into the database or just write them down for your memory.
Go on a timed scavenger hunt
Get curious about what grows and lives in your neighborhood. What can you see during a five-minute walk?
Download the mobile app Seek to get a realtime ID on plants, insects, fungi, and anything else in your neighborhood. Every month, the app features new Citizen Science Challenges in which you can participate.
For a low-tech option, challenge yourself to spot the colors of the rainbow in your neighborhood. Does red Franciscan paintbrush grow in the park near your house? Have you seen orange California poppies in medians near your home? Let Roy G. Biv be your guide on a nature walk. And read this early spring wildflowers viewer's guide for inspiration.
While we may not be able to come together physically right now, there are still ways to learn from and marvel at the world around us separately, but together. Listen for the sounds of birds in your neighborhood; smell the fragrance of blossoming flowers outside. Nature is all around you, be a part of it!
April 2, 2020