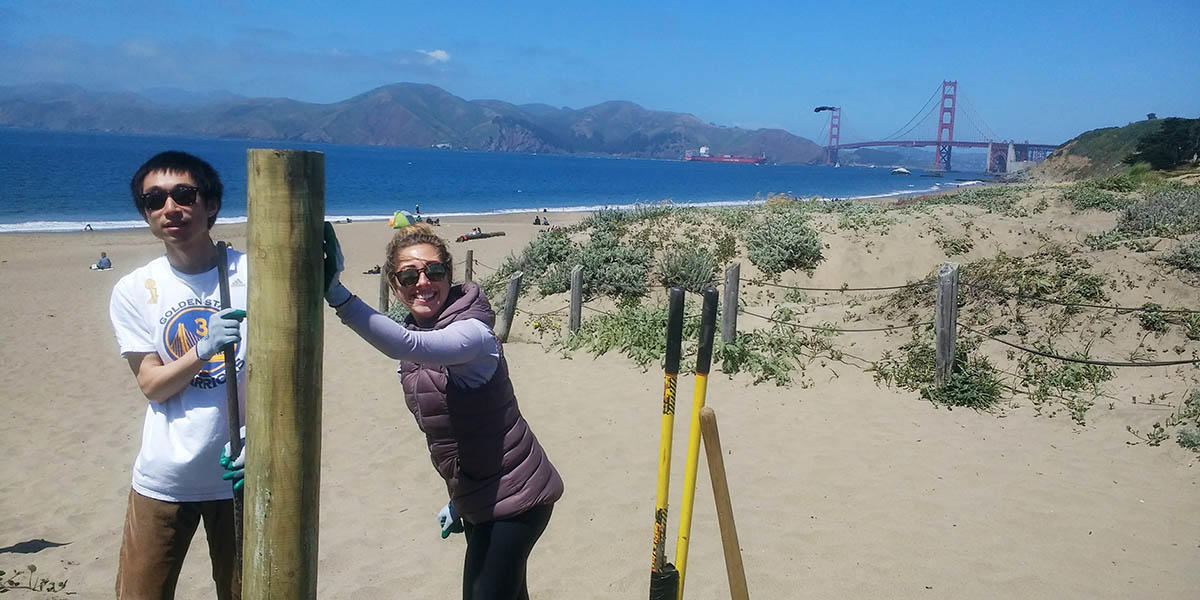 Trail Crew volunteers help install fence posts at Baker Beach.
Elizabeth Aldenderfer / Parks Conservancy
By Elizabeth Aldenderfer
Park Stewardship Trail Program Intern
May was a month of changes at the trail shop, and new experiences for volunteers.
First and foremost, the mighty group of Trail Maintenance interns have scattered far and wide for greener pastures. From Yosemite to St. Louis, from education to restoration, their new endeavors showcase their neverending excitement and curiosity of the world. Not to worry though—a new group of trail stewards are making their way to San Francisco soon. They will be starting in the first week of June, and will be introduced in next month's newsletter.
I always love observing park sites through the eyes of someone seeing them for the first time: The light in their eye, skip in their step, questions and curiosity and wonder. The Trail Stewardship team hosted three large volunteer groups in May. Many participants in our recent programs exuded this childlike energy, and came ready to take care of these natural spaces without even knowing what the project entailed. Their enthusiasm to hike a mile in, move buckets of dirt, dig holes, and carry fence posts was infectious, and a reminder for me to practice gratitude that I get to work in these places every day.
If you're a data person, here are the numbers: two volunteer groups ventured to Baker Beach to finish over 500 feet of fencing along the trail and beach. That's about 60 posts and 1,000 feet of cable. Trail crews in Oakwood Valley are working on a new staircase, and volunteers helped to fill in and tamp 24 of those steps. Both of these spaces are now safer for the people and habitats who call it home. Volunteers and community members are truly the heart of these spaces, so thank you to all who were able to work with us in May, and we hope to see everyone soon!
 
June 5, 2019