Adventure Guides testing out the Presidio Adventure Passport.
Parks Conservancy
Create your own adventure in the parks with the help of the Leo Helzel Adventure Guides. Launching at the opening of Presidio Tunnel Tops in spring 2022. These youth leaders will be based at the Field Station and Outpost within the new 14 acres of public green space, serving as park educators and guides for other youth, families, and community programs.
The Adventure Guide program is a work-based learning experience for a small cohort of young leaders and provides professional development opportunities for young people in the park while also helping visitors get curious about and connect in nature. Since January 2021, a cohort of 13 youth leaders have received training in public speaking and managing visitors and safety to support successful, fun, healthy engagement with visitors.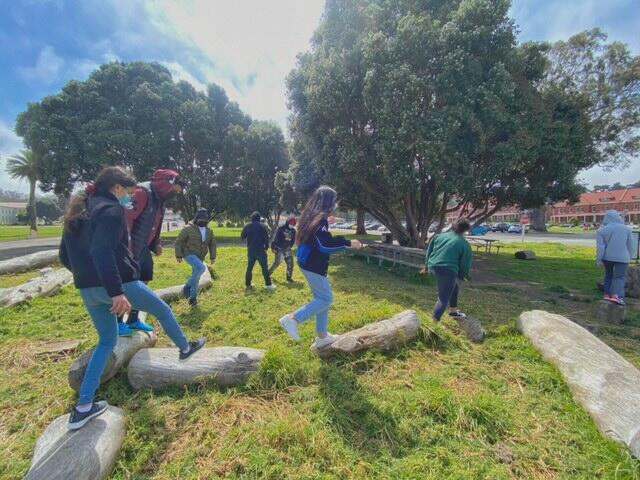 Adventure Guides adventuring in the Presidio.
Parks Conservancy
While developing their leadership skills and exploring their interests, Adventure Guides will help facilitate new pathways to adventure for park visitors. This fall, the Adventure Guides have been leading community groups through the space, in preparation for the grand opening next year.
To quote a Booker T. Washington Community Center participant: "This is the best day of my life, can I come back anytime?" Starting in spring 2022, you can! Come out and explore different parts of Tunnel Tops, learning historical and ecological information from the Adventure Guides along the way.
The Adventure Guide program is made possible due to the generous support of the Helzel Family Foundation. The Helzel Family Foundation has enabled the Parks Conservancy to expand work-based learning opportunities for local youth who are playing a significant role in the design and development of the visitor experience for the new Tunnel Top parklands opening in Spring 2022.
October 21, 2021