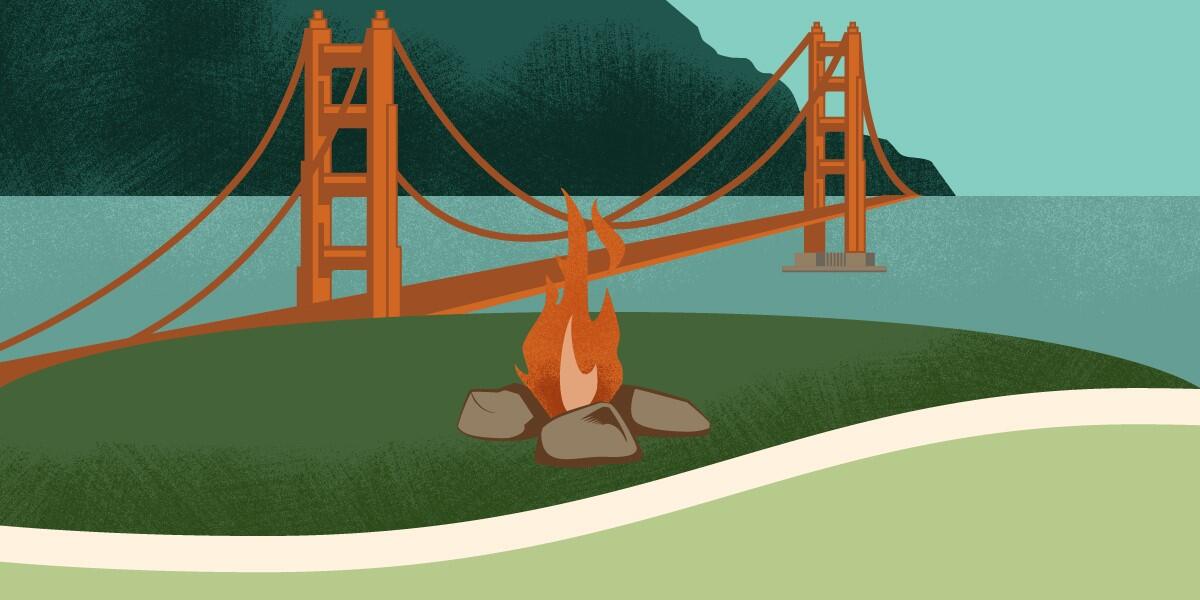 The 20th Annual Trails Forever Dinner is on Friday, September 30th.
Join us on the NEW Presidio Tunnel Tops for a celebration of 20 years of Trails Forever, 40 years of the Parks Conservancy, and 50 years of the Golden Gate National Recreation Area! This strolling dinner party offers spectacular views, hearty culinary stations, full bars including warm beverages, casual seating around heat lamps and fire pits, and plenty of entertainment to encourage exploration throughout this 14-acre site.
Trails Forever Committee
Co-Chairs 
Ali Fried
Amanda Hoenigman
Alex Lyon
Melanie Peña
Kelly Anderson
Suzanne Badenhoop
Linda Behnke
Genny Biggs
Halle Cane
Lisa Congdon
Martha Ehmann Conte
Danelle Ebbel
Josselyn Eccleston
Allison Eisenhardt
Tracy Falconer
Elizabeth Fattouh
Randi Fisher
Kim Newell Green
Kelly Halper
Mindy Henderson
Melanie Hoefer
Katy Hope
Linda Howell
Emilie Lynch
Maggie Mack
Mackenzie Mayle
Leslie Olrich
Su-Moon Paik
Julie Parish
Charlotte Haas Prime
Jane Prior
Susie Hall Sawyer
Holly Teliska
Clayton Timbrell
Stephanie Tuttle
Jennifer VanderMarck
Missy Lahren Waytena
Robyn Wilkinson
Christine Willand
Mary Wolfe
Cathy Ye
Honorary Committee
Janice Barger
Catherine Bradford
Mark Buell
Nancy Hellman Bechtle (in memorium)
Martha Ehmann Conte
Allison Eisenhardt
Randi Fisher
Julie Flynn
Jessica Parish Galloway
Julie Haas
Mindy Henderson
Linda Howell
Kelly Halper
Kathy Kimball
Anne Dickerson Lind
Stephanie Mellin
Julie Parish
Charlotte Haas Prime
Amy Metzler Ritter
Staci Slaughter
Thank You to our Sponsors! 
 
Trail Blazers
Allie and Wally Hays
Pisces Foundation
 
Trail Builders
Linda and Andrew Ach
John Atwater and Diana Nelson
Suzanne Badenhoop and Guy Lampard
Julie and Greg Flynn
Evelyn and Walter Haas, Jr. Fund
Patsy Ishiyama
The Miner Anderson Family Foundation
Julie and Will Parish
Gordon Ritter and Amy Metzler Ritter
 
Trail Trekkers
Darren and Samantha Bechtel
Eliza Brown and Hal Candee
Ali and Rocky Fried
Diana Kapp and David Singer
Mimi and Dan Kingsley
Melanie Peña and Mark Perry
The Sanger Family Foundation
Chris Schaepe and Jenny Chiu
Dale Stancliff, Jr. Fund
 
Trail Nomads
Dan and Stacey Case Family Foundation
Kathrin Dellago and Doug Dossey
Allison and Jesse Eisenhardt
James Greene
Kathryn Hall and Tom Knutsen
Andy and Emilie Lynch
The Marchetti Family
Robert and Cristina Morris
Noelle Montgomery and Dan Janney
Katie Albright and Jake Schatz
Andrew and Elizabeth Spokes
Lynn and Pete Wendell
 
Trail Stewards
Christina Adams
Alcatraz City Cruises
Claire and Eric Alt
Anonymous
Matt and Janice Barger
Tom and Lily Beischer
Helen Berggruen
Bob Brown and Su-Moon Paik
Shawn and Brook Byers
Halle and Casey Cane
Charles and Margaret Charnas
City National Bank
Jane and Chris Cote-Cook
James and Penny Coulter
Greg Dalton and Lucia Choi
Michael and Holly Cuggino
Rebecca S. Draper Fund
Will Evers and Melinda Ellis Evers
The Fish Benoist Family Fund
Casey and Keith Giarman
John and Marcia Goldman
Holly Hagens and Tod Sisitsky
Kelly and Mike Halper
Amber Hill and David McCloskey
Melanie and Kurt Hoefer
Amanda and Vince Hoenigman
Kerry and Sean Honey
Martha Kropf
Lynn and David Lewis
Michael and Alison Mauze
Mike Montgomery and Sarah Ives
Meridee Moore
Devon and Kelly Porpora
Josh Prime and Charlotte Haas Prime
Staci and Jamie Slaughter
Clayton and Erica Timbrell
Leslie Walker and Bob Coey
Grace Won and Richard Holden

Trail Makers
Kelly and Sig Anderson
Amy Banse and Joe Dworetzky
Kirsten and Michael Beckwith
Linda and Nils Behnke
Lisa Bransten and John Rumsey
Doug and Shannon Cogen
Christine Comaford
Carla and David Crane
Kerry and Richard Daniel
Cathy and Sandy Dean
Lauren and Matt Dillard
Andrea Evans and Chris Lehane
Ahmed and Elizabeth Fattouh
Kate Ditzler and Stuart Gasner
Stacey Dunn-Emke and John Gnuse
Camelia and Matt Field
Sarah Flynn and Don Libbey
Sarah and Joe Gallo
Curtis and Christine Gardner
Carrie and John Goodman
Martha and James Gregg
Jennifer and Randy Gridley
Tom and Liz Hale
Michelle and Jody Harris
Charlene Harvey
Jennifer and David Hatfield
Linda and Larry Howell
Bill Hudson
Michelle Keene and Mark Tellini
Kathy Kimball
Megan Collins Koch
The Landa Family
Randall Laroche and David Laudon
Marie and Barry Lipman
Susan Lowenberg and Joyce Newstat
Alex and David Lyon
Maggie and Carter Mack
Evan Marwell and Tracy Leeds
Rob and Mackenzie Mayle
Cathy and Howard Moreland
Anna Morfit
Jeff and Shay Morris
Patricia Munter and Jeffrey Loomans
Maureen Offer and Alex Hanley
Leslie and Scott Olrich
Diane Parish and Paul Gelburd
Laura and David Perry
Mrs. Holly Peterson
Cameron Phleger and Michael Horwitz
Rynn Pressick and Christian Sowul
Janie and Weston Richardson
Helen and Allan Ridley
Beverly Riehm and Randy Borcherding
Shipley and Tony Salewski
Ivan Samuels and Maribel Guevara
Charles Slaughter and Molly West
Dana Marohn Spiliotis and Charles Spiliotis
Louis and Mary Stervinou
Susan Gilmore Stone and Prescott W. Stone
Tom and Kristin Sverchek
Ellen and Steve Taylor
Michael Texido and Melinda Henderson
Jerry Tone and Martha Wyckoff
Susan and David Tunnell
Mariana Gantus Wall and Douglas Wall
Abbey and Paul Walker
Alexandra and Spencer Wells
Lisa and Greg Wendt
Matthew Werdegar and Monique Shaulis
Mary and Michael Wolfe
Alexis Woods and Daniel Donahoe
Anne and Montgomery Woods
Roger and Ruth Wu
 
Trail Hikers
Anonymous
Kyle and Christian Baker
Ann and Chris Barber
Bob and Stacey Basso
Cindy Black
Josie Brownback
Lesley Bunim and Michael Jensen
Kelli and Steve Burrill
Halle and Casey Cane
Felicia Chiu and Luke Teeple
Lisa Congdon and Randy Single
Curzon Family
Marnie Burke de Guzman and Rene de Guzman
Rick and Erin Darwin
Amy Dunphy and Anthony Keris
Josselyn and Matt Eccleston
Tracy and Cameron Falconer
Liz and Chris Faralli
Susie and Alan Greinetz
Leslie Haddock and Kevin Linker
Cheryl Haines
Kimberley Harmon
Miranda Heller and Mark Salkind
Ross and Vicky Hiatt
Katy and Tom Hope
Michelle and Justin Hughes
Monali and Bill Jhaveri-Weeks
Karen and Ramsey Jishi
David Katz and Betsy White
Debbie and Scott Kay
Heather Keenan
Michael and Laura Kim
Susie Kinkead and Jerry McMahon
Caitlyn and Dan Krebs
Celia Lenson and Dr. Richard Lenson
Jacopo and Robyn Lenzi
Suzanne and Tim Leonoudakis
Ann Marinovich
Elaine and Edward Miranda, M.D.
Shannon and Shawn O'Neill
Devangi and Akki Patel
Jim and Vicki Penny
Pam and Jack Preston
Louisa Ritter
Toby and Sally Rosenblatt
Pam and Chris Rupright
Rich Rusnack and Laura Moon
Tracy and Michael Simmons
Elaine and Graham Smith
Drs. Jill Spangenberg and Jerry Barakos
The Ken and Barbara Strong Donor Fund
Maureen Sullivan
Tricia Tanoury
Emily and Chad Taylor
James and JoAnn To
Stephanie Tuttle and Ramsey Walker
Nancy and John Valente
Missy Lahren and Bill Waytena
Sharon and Russell Woo
Christine Willand and Richard Wood
Carlie Wilmans
Cynthia Woods
Cathy Ye and Stephen Altamirano
Anna Maria Zara and Bob English