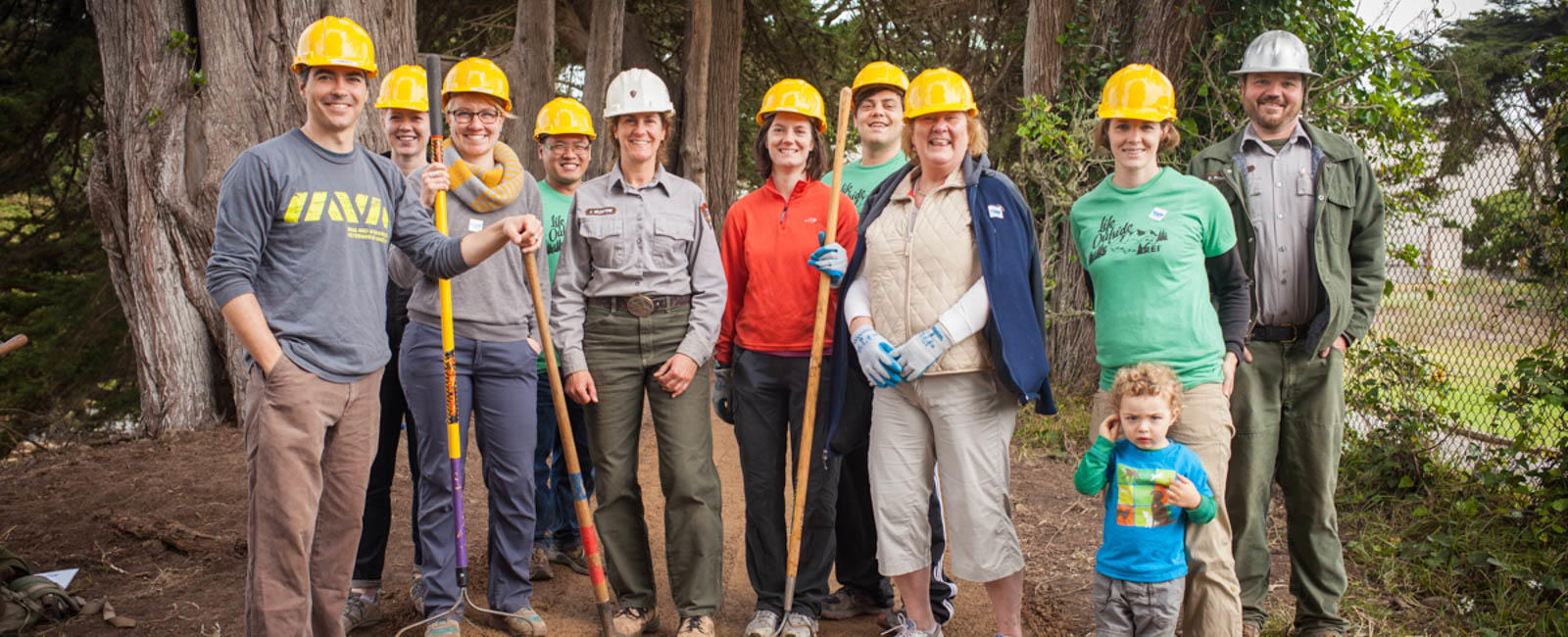 Trail Stewardship Volunteers
Maria Durana/Parks Conservancy
Date & Time: 3rd Saturday of each month, 9am-12pm
Meeting Location: 
A combined effort between the Parks Conservancy and the National Park Service's Golden Gate Trail Crew, the Trails Stewardship Team engages numerous volunteers in the act of restoring and maintaining 125 miles of trails within the Golden Gate National Parks.
Volunteer activities vary from season to season, but include tasks such as retreading trail, restoring native habitat, moving materials, replacing fence, brushing trail, and constructing new trail structures. This program is great for those who want a great workout, love being outdoors, are not afraid to get dirty, and enjoy meeting new folks!
Individuals and Families
Drop-in individuals are welcome. Registration is not required for participation, but highly encouraged.
Groups
Groups of five or more may require special arrangements and must be confirmed in advance. Visit our Groups volunteer page to learn more.
Age, Skills, What to Bring:
Volunteers ages 15 and up are welcome.
Bring your completed Volunteer Agreement Form (PDF). Volunteers under the age of 18 must have the parent/guardian approval section signed.
We'll be working rain or shine. Wear clothes that can get dirty. Long pants and closed-toe shoes are required. Bring layers for changing weather and rain gear if necessary.
Bring a personal water bottle and sunscreen.
No experience necessary. Training and tools will be provided. Fulfills community service requirements.
The Golden Gate National Parks Volunteer Program is a cooperative parkwide effort of the Golden Gate National Parks Conservancy, the National Park Service, and the Presidio Trust.
Point Lobos Avenue, Great Hwy
San Francisco,
CA
94121
,
Event Type
Audience Type
Past Event Dates
Sat, 12/19/2020 9:00AM

-

Sun, 12/20/2020 11:55AM
Sat, 11/21/2020 9:00AM

-

Sun, 11/22/2020 11:55AM
Sat, 10/17/2020 9:00AM

-

Sun, 10/18/2020 11:55AM
Sat, 09/19/2020 9:00AM

-

Sun, 09/20/2020 11:55AM
Sat, 08/15/2020 9:00AM

-

Sun, 08/16/2020 11:55AM
Sat, 07/18/2020 9:00AM

-

Sun, 07/19/2020 11:55AM
Sat, 06/20/2020 9:00AM

-

Sun, 06/21/2020 11:55AM
Sat, 05/16/2020 9:00AM

-

Sun, 05/17/2020 11:55AM
Sat, 04/18/2020 9:00AM

-

Sun, 04/19/2020 11:55AM