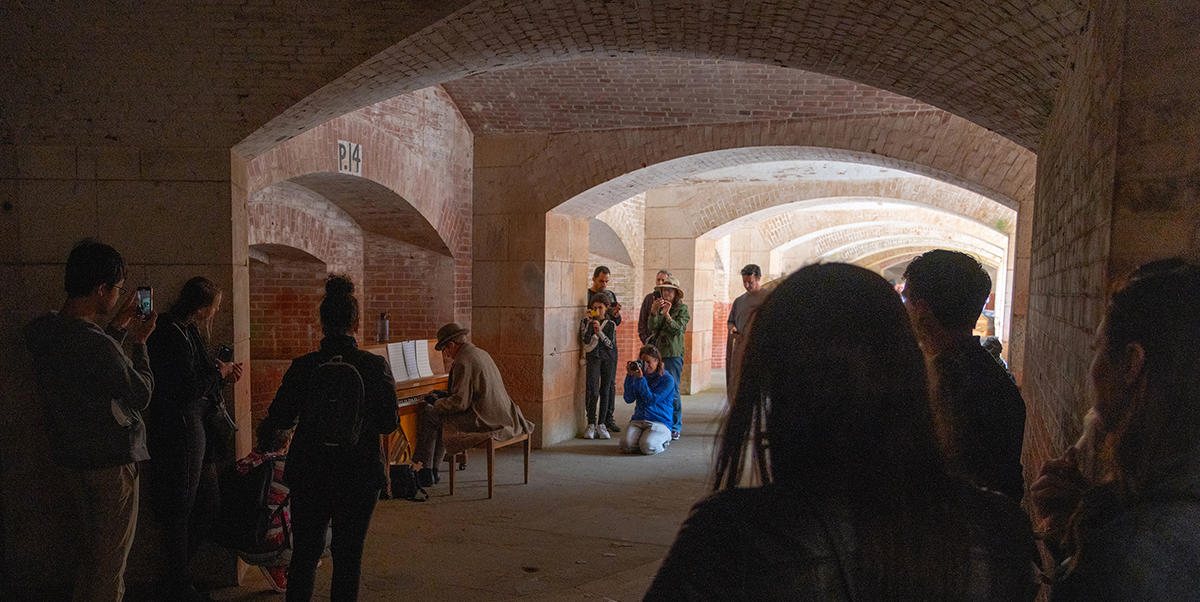 Pianist performing at Fort Point
Photo by Jason Martineau
We're doing something that we've never done before: In partnership with our friends at PianFrancisco, Art in the Parks will be putting pianos in one of San Francisco's oldest and most iconic buildings, Fort Point! Art in the Parks brings creative programs that are unexpected, inspirational, and transformative in the Golden Gate National Parks. These free pop-up performances invite passersby on the trails to stop and enjoy the music--and the scenery!
Free Piano Concerts
Saturday, August 24, 1:30 PM - 3:30 PM
Sunday, August 25, 1:30 PM - 3:30 PM
On Saturday and Sunday afternoons, we'll be joined by renowned pianists from San Francisco and National Park Service rangers for an afternoon of classical music and fascinating stories about Fort Point's colorful past. Enjoy this unique tour of the historic site and get to know your park through music. Entry to the Fort and the concert is free.
Located under the Golden Gate Bridge, Fort Point was built over 150 years ago to protect the San Francisco Bay from potential intruders. It's an architectural gem that offers breathtaking views of the world's most photographed bridge. Visit nps.gov to learn more about Fort Point.
Visit the pianos
Friday, August 23 - Sunday, August 25
10:00 AM - 5:00 PM
In addition to the scheduled concerts mentioned above, the pianos will be inside Fort Point throughout the weekend. Stop by, get inspired, and play some tunes! 
Parking and Directions
Location: Fort Point is located at the south anchorage of the Golden Gate Bridge at the end of Marine Drive on the Presidio of San Francisco.
Parking: There is limited parking at Fort Point. Additional parking is available near the Warming Hut, a ten minute walk to the Fort. Click here for more information on how to drive to Fort Point.
Public transportation: MUNI 28 bus or PresidiGo (Crissy Field Route): Get off at Golden Gate Bridge stop. Walk fifteen minutes, following trail signs northeast of the plaza to Fort Point at the base of the bluffs. The PresidiGo also stops at Crissy Field at Mason St and Crissy Field Ave, a fifteen minute walk to Fort Point.
What should I bring?
Fort Point can be chilly and very windy; wear warm layers and comfortable shoes.
Food and beverages (other than water) are not allowed inside the Fort. 
San Francisco,
CA
94129
,
Event Type
Past Event Dates
Sun, 08/25/2019 10:00AM

-

Mon, 08/26/2019 4:55PM
Sat, 08/24/2019 10:00AM

-

Sun, 08/25/2019 4:55PM
Fri, 08/23/2019 10:00AM

-

Sat, 08/24/2019 4:55PM