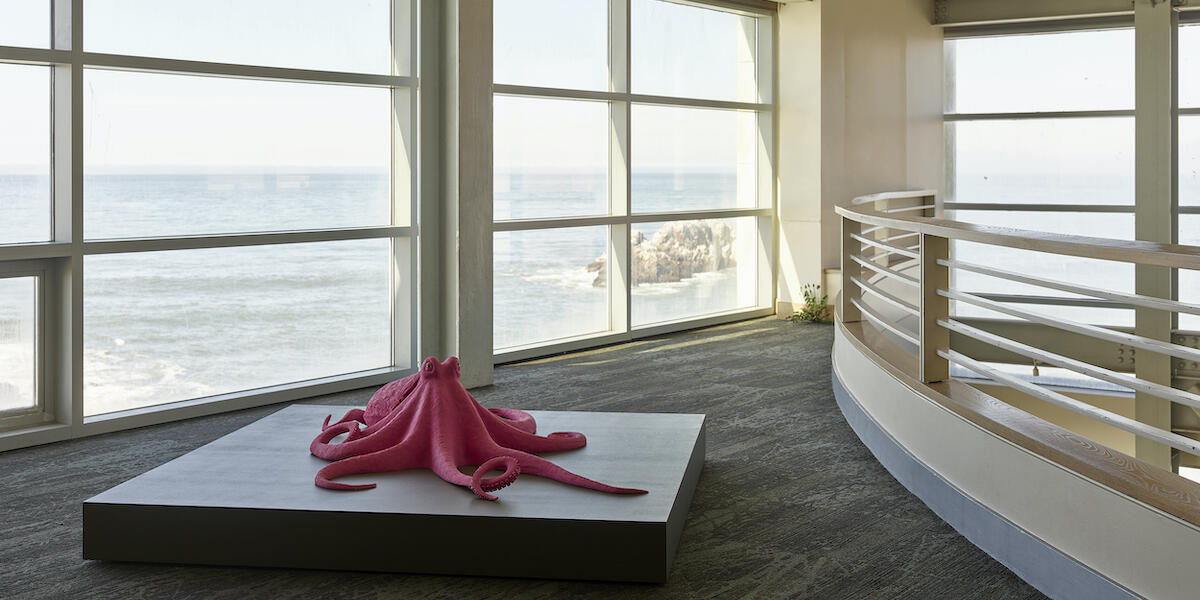 A new art exhibition from the FOR-SITE Foundation, "Lands End." Seen are the pieces "Octopus" by Carsten Holler and "Weed #414" by Tony Matelli.
Robert Divers Herrick / Courtesy of FOR-SITE Foundation
Visitors can find immersive experiences now at the Lands End building adjacent to Sutro Baths. 
A new art exhibition from the FOR-SITE Foundation, Lands End, "invites visitors to wade into an immersive environment where their charge is twofold: to discover artwork in unlikely places and to consider the planet's health. By bringing together a group of artists from around the world, the exhibition strives to remind viewers of our interconnectedness via global currents of water and air, and to encourage them to partake in all the fresh ideas and perspectives that emerge from the rising tides as we head deeper into this tumultuous century." 
A free, timed ticket is required for entry, reserve your ticket. Find more info on Lands End, and visit another free FOR-SITE project in the parks by finding Andy Goldsworthy's pieces in the Presidio. Past FOR-SITE projects include @Large: Ai Weiwei on Alcatraz and Home Land Security. 
Visitors can also enjoy the Museum at The Cliff and view projected video artwork on the side of the building, courtesy of Western Neighborhoods Project and artist Ben Wood. The exhibit includes photos and video from the archives of the Western Neighborhoods Project, the GGNRA Park Archives and Records Center, the Prelinger Archive, and the general public. To submit your own photos, please contact Ben Wood for more info: wood.ben1@gmail.com. 
Both Lands End and the Museum at the Cliff are on display at 1090 Point Lobos Ave. in San Francisco until spring 2022, check their respective websites for exact dates.