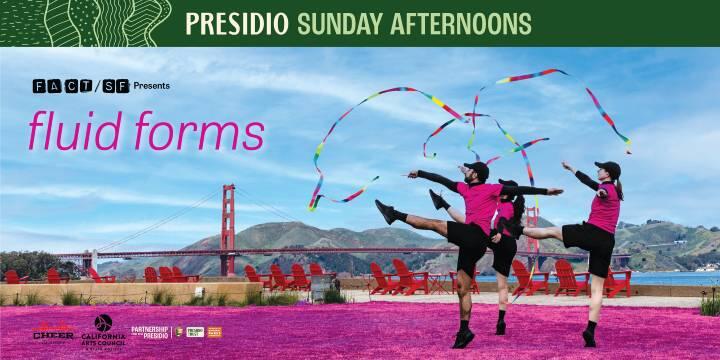 FACT/SF presents Fluid Forms
San Francisco dance company FACT/SF premieres its latest work, fluid forms, at Presidio Tunnel Tops on Sunday, June 4, 12 to 3:30 pm and Sunday, June 11, 12 to 2 pm.
As one part of FACT/SF's Queer Athletic Futurity project, fluid forms is a free, public dance performance about sports, inclusion, and the adjacent possible. Parkgoers are invited to watch from one area or follow dancers as they flow throughout the park and perform a dance piece created in response to and specifically for the Presidio Tunnel Tops environment.
On June 4, each performance lasts approximately 30 minutes and starts at the following times:
12pm
1pm
2pm
3pm
And be sure to join us on Sunday, June 11, at 2 pm for "Fantastic Field Day" – an all-ages, intentionally inclusive, accessible, and radically Queer sports event that challenges how we look at conventional forms of athleticism – immediately following the performance of fluid forms at Presidio Tunnel Tops.