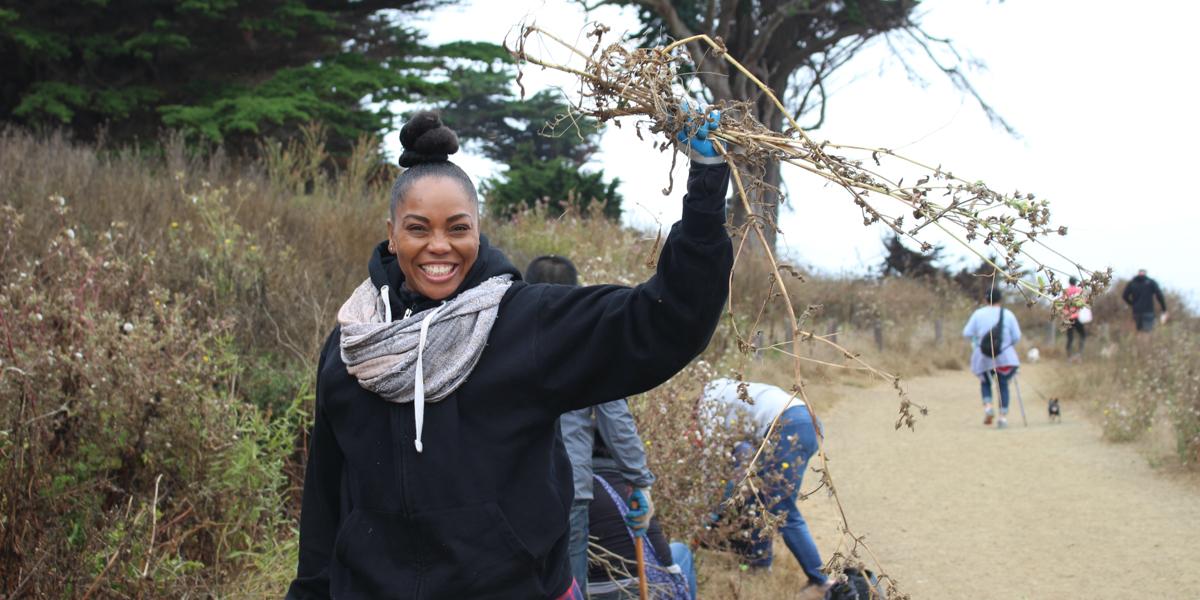 Volunteer working with Stewardship San Mateo
Maria Durana
To ensure the safety of staff and volunteers, registration is required for this event. 
When: Third Thursday of the month; 9:30 am - 12:30 pm
Where: Rancho Corral de Tierra; Specific meeting location will be listed in the confirmation email.
Come help restore natural habitats at Rancho Corral de Tierra by removing invasive species and reducing fire risk!
Age, Skills, What to Bring:
Volunteers ages 10 and up are welcome. 
Bring your completed Volunteer Agreement Form (PDF). Volunteers under the age of 18 must have the parent/guardian approval section signed.
We'll be working rain or shine. Wear clothes that can get dirty. Long pants and closed-toe shoes are required. Bring layers for changing weather and rain gear if necessary.
Bring a personal water bottle, sunscreen, and lunch.
No experience necessary. Training and tools will be provided. Fulfills community service requirements.
COVID-specific Guidelines:
Stay home and DO NOT attend if you:

Have any illness symptoms
Have tested positive for COVID-19
Suspect you have had contact with a COVID-19 positive case

Face coverings and social distancing are encourage, but not required.
The Golden Gate National Parks Volunteer Program is a cooperative parkwide effort of the Golden Gate National Parks Conservancy, the National Park Service, and the Presidio Trust.
Past Event Dates
Thu, 09/21/2023

9:30AM

-

12:30PM
Thu, 08/17/2023

9:30AM

-

12:30PM
Thu, 07/20/2023

9:30AM

-

12:30PM
Thu, 06/15/2023

9:30AM

-

12:30PM
Thu, 04/20/2023

9:30AM

-

12:30PM
Thu, 03/16/2023

9:30AM

-

12:30PM
Thu, 02/16/2023

9:30AM

-

12:30PM
Thu, 01/19/2023

9:30AM

-

12:30PM
Thu, 12/15/2022

9:30AM

-

12:30PM
Thu, 11/17/2022

9:30AM

-

12:30PM