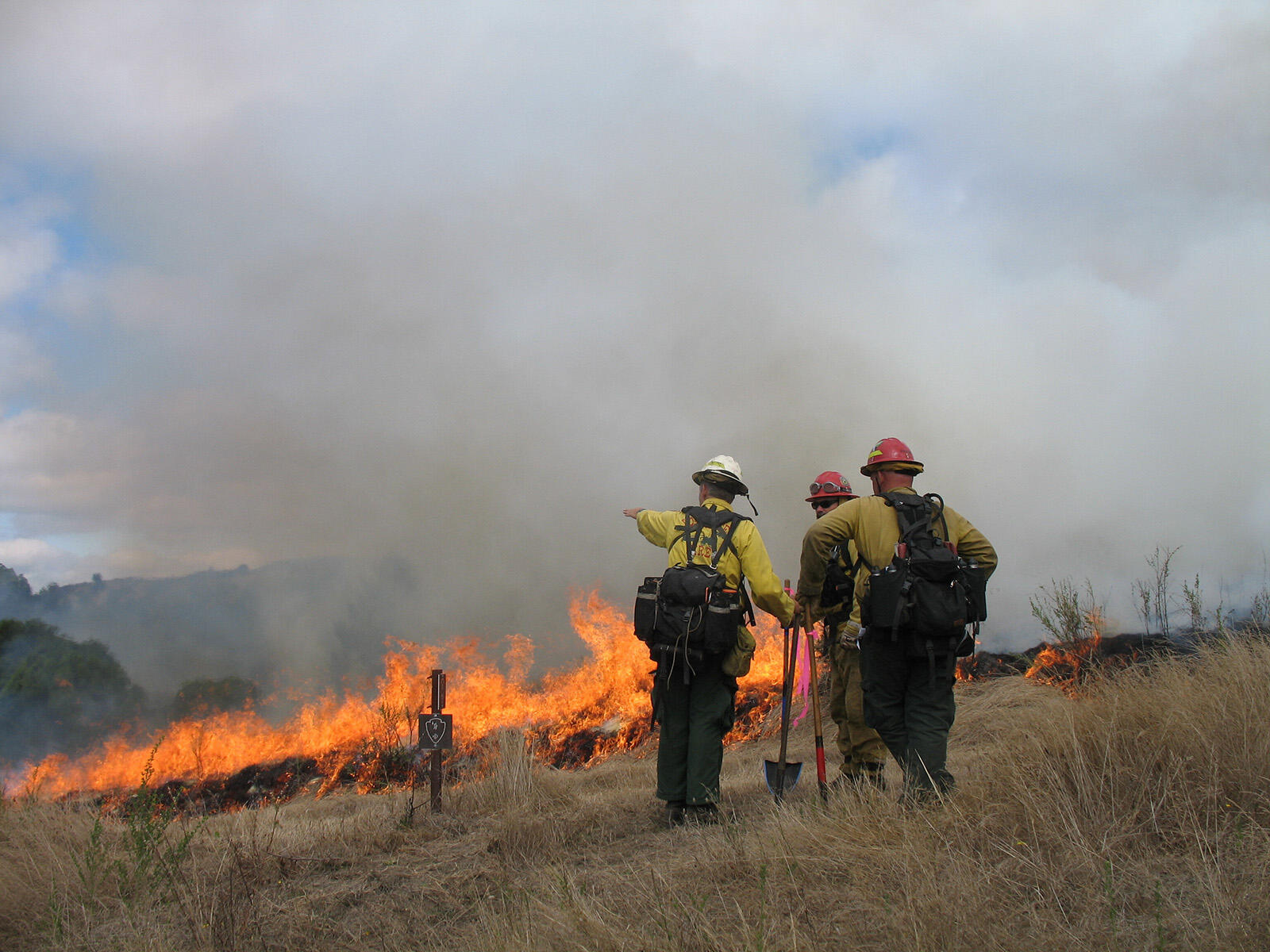 There are some sites in Golden Gate where it may make sense to use prescribed burns for restoration, like to promote rare California native grassland ecosystems.
NPS
As autumn nears, park managers in the Golden Gate National Recreation Area are shifting priorities towards wildfire resilience and protecting communities along the wildland-urban interface: the high-risk zone where human development meets flammable vegetation.
It seems like reducing this flammable vegetation would be a first step. But the story is more complicated: it's not just high fuel loads driving wildfire risk.
Autumn typically brings the hot, dry Diablo winds that drove the devastating 2018 Camp and Kincade fires. Strong winds can topple power lines and ignite fires, then spread fire quickly once it's started. Longer dry seasons and increasing temperatures—both products of climate change—have doubled the number of extreme-risk days for California wildfires. 
In other regions where lightning is more common, abnormally high fuel loads stemming from decades of fire suppression create a recipe for destructive wildfires. Prescribed burning—the practice of preemptively creating a fire with a trained fire crew poised to control the burn—reduces fuel on the landscape and can prevent more severe fires. Removing extra-flammable invasive species can similarly mimic this effect without actually starting a prescribed burn. 
But new research suggests that while prescribed burns may reduce fire severity and otherwise help restore many California native plant communities, they don't stop fires propelled by high-velocity winds.
The only way to prevent these fires, which are usually ignited by humans or infrastructure failings, is to never start them. 
But because some missteps are inevitable, park staff are focused on reducing potential impacts to human communities. Landscaping approaches like maintaining "defensible space" around structures and strategically-placed fuel breaks near human development can prevent fire from crossing the wildland-urban interface.
As our sense of "normal" shifts, parks are discovering new ways to collaborate, learn, and mobilize to build a fire-smart future.
July 23, 2020