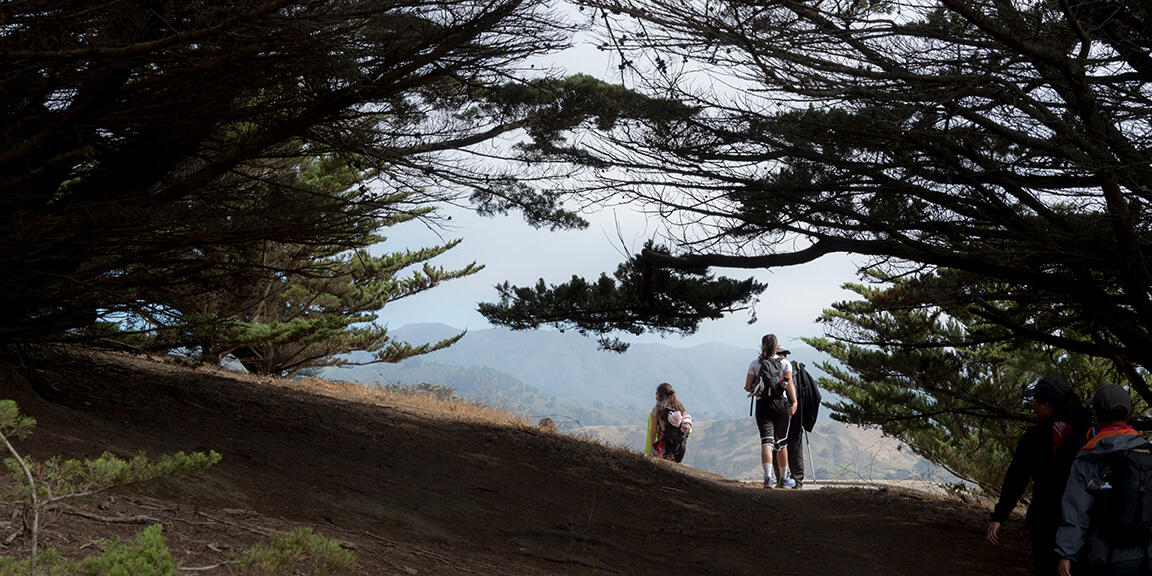 Hikers move down a trail at at Rancho Corral de Tierra.
Alison Taggart-Barone/Parks Conservancy
On Oct. 27, 1972, a collection of former military, private, and public lands spanning three Bay Area counties was united and officially designated as public parklands for all. Those lands are the Golden Gate National Recreation Area, and we're celebrating the milestone 50th anniversary year of their founding!
The parks and the people in them are always evolving and adapting: What we study, how we interpret and honor history, where we work and why. In our newer park sites in San Mateo County—Mori Point, Sweeney Ridge, and the newest addition to the GGNRA, Rancho Corral de Tierra—we have new opportunities to talk about history and to tell the stories of the parks.
Fun stories, like did you know the recipe for Monterey jack cheese originated in the GGNRA? According to the 1931 cookbook "Eating Around San Francisco," Italian immigrant and farmer Stefano Mori, originated the recipe on his Mori Point property. Born and raised in Italy, Mori and his wife had learned how to make cheese as a part of their upbringing and continued to make it in their adulthood on their farm. A friend of the family visited, learned how to make the cheese, and went on to manufacture it at a commercial scale on the Jack ranch in Monterey.
Important stories, like reinterpreting the landing of the Portolá Expedition in the traditional tribal villages and territories of the Ramaytush Ohlone people, not as a moment of discovery but as the beginning of the colonization and the loss of lives, homes, and traditional ways of life for these Indigenous people.
Time allows us to think deeply about cause and effect, what has happened, what can happen, and what will happen next. Stories in the park stretch out into the future from the past. In 1994, an archeologist investigating Seal Cove just west of Rancho Corral de Tierra found remnants of a stone tool that was radiocarbon dated at 5,500-8,000 years old, suggesting the presence of previously unknown, possibly nomadic people. This finding showed that humans were in the area 500-2,500 years earlier than when the Ohlone were thought to have arrived.
From where we stand in contemporary times, we can continue to learn and appreciate where we've been and where we're going. This is just the first 50—here's to the next: we can't wait to see what we all do with more time.
A land acknowledgment we use in San Francisco:
We are standing in the traditional territory of the Yelamu, a local tribe of the Ramaytush Ohlone peoples of the San Francisco Peninsula. The Yelamu understood the interconnectedness of all things and maintained harmony with nature for millennia. Beginning in the 18th century Spanish, Mexican, and American colonization displaced and eradicated Native peoples across California, including the Yelamu; however, a few other Ramaytush Ohlone families did survive. Today, they maintain a strong cultural and spiritual connection to their ancestral homeland, seeking to fulfill their responsibilities as stewards. Let this land acknowledgement stand as a commitment to honoring the original peoples of this land and to uncovering the truths of the past that shape our present and future.
December 2, 2022