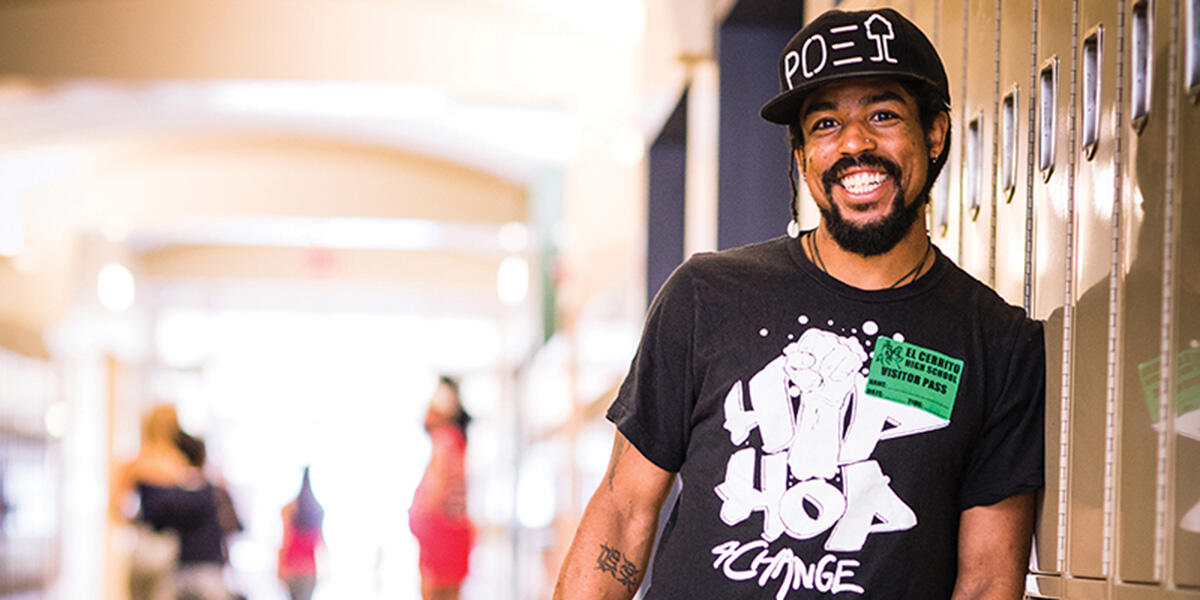 Khafre Jay is Founder and Executive Director of Hip Hop for Change and one of 13 people on the Presidio Activator Council.
Courtesy Khafre Jay
The Presidio Activator Council, a group of local leaders and professionals from diverse backgrounds, is spending the year imagining and co-creating welcoming and inclusive public events and opportunities at Presidio Tunnel Tops.
Khafre Jay, Founder and Executive Director of Hip Hop for Change, an Oakland-based nonprofit creating cultural experiences and connections in Bay Area parks and beyond with youth, is one of 13 individuals invited by the Parks Conservancy, NPS, and the Presidio Trust to join the Activator Council. Using hip hop as a vehicle for education, empowerment, cultural innovation, and a tool with which to advocate for solutions to socio-economic injustices, Hip Hop for Change has touched the lives of over 25,000 youth since its founding in 2013.
We caught up with Jay to learn about his work and the importance of parks in his life.
What made you want to do what you currently do?
I wanted my community to take back our social and political power with hip hop and I wanted to show our youth how important, powerful, and beautiful hip hop is—it's the most positive force we have in our community. Hip hop is social justice, it's diverse and dynamic, and we are reclaiming that.
What is your earliest memory of feeling belonging in the outdoors?
Candlestick Regional Park in Hunter's Point was my park. Growing up, my family used to have days in the parks playing baseball, barbecuing. It was just cool: I could run around and have fun. So many places didn't feel like mine, but I never worried about that there.
Why do you think the parks and the outdoors are important?
Nature is healing: Being outside, fresh air, playing in nature, getting connected to the earth is so important for people. Getting connected to the earth is so important for people, for humanity. The day when people of color can feel comfortable in every park in the city, that's a day when we'll be better off as a society.
How would you like to see the culture of the outdoors change?
I don't think the outdoors has a culture, I think people who control access to the outdoors do. The outdoors has always accepted every life form; the culture that limits access to people of color needs to change. But Mother Nature is fine.
What do parks represent to you?
Parks represent clean air, being around trees, making sure my daughter is safe. Parks can be painful reminders of inequities but they can also be beautiful reminders of our connection to the land and to each other.
Make sure to RSVP for the 6th Annual Environmental Justice Summit, hosted by Hip Hop for Change, at the Presidio on Aug. 20. See you there!
May 18, 2022