2017 Art and Land Symposium
Valuing the Aesthetics of Nature: The Role of the Visual Artist in the American Conservation Movement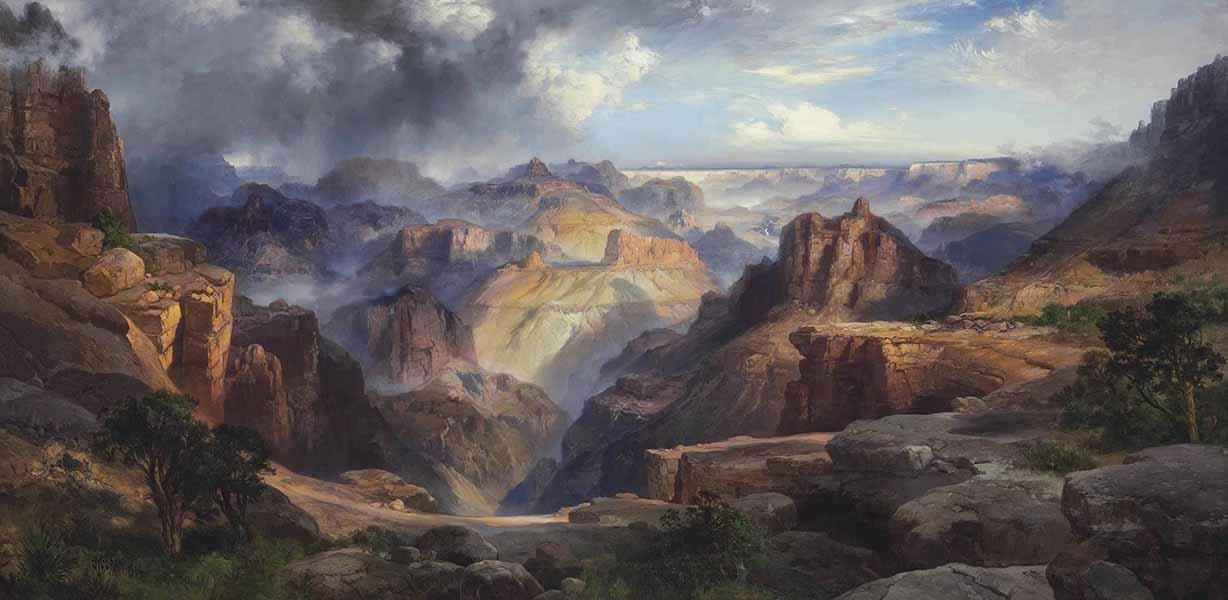 The Grand Canyon of the Colorado, Thomas Moran (1837-1926)
This two-day symposium, held in August 2017 explored the critical role that 19th and 20th century visual artists played in the American conservation movement, and considered how their work can inform land managers, conservationists, planners, and policymakers in addressing contemporary pressures on the American landscape. Read the descriptions below and click on the title link to watch the corresponding video. 
# 1 Welcome and Introduction: William Plouffe, Of Counsel, Drummond Woodsum, Portland ME and President, Maine Appalachian Trail Land Trust
Laying out the philosophical project of the symposium and highlighting the place of visual artists in the American conservation movement, Plouffe notes artists as "interpreters of, commenters on, and advocates for what is beautiful in nature."
# 2 Ecocriticism and American Landscape Artists: J. Barrington Matthews, Ph.D. student, The College of William and Mary
Reevaluating several familiar Hudson River School landscape paintings through an ecocritical lens, Matthews suggests an ecocritical approach – one drawing attention to the anthropocentric histories and interpretations of paintings by Thomas Cole, Frederic Edwin Church, George Inness, and others – provides rich opportunities for both the continued enjoyment of 19th century landscape painting while deepening our present-day ties to the nonhuman world.
# 3 Frederic Church's Landscapes of Maine: John Wilmerding, Sarofin Professor of American Art, Emeritus, Princeton University
Wilmerding tracks Church's involvement with Maine throughout the course of his career, from his time as student under Thomas Cole, to his later years in the 1870s when he returned to his Katahdin Lake camp in Millinocket. "Church, above all [other artists]…helped define the Maine landscape, and made possible what is today Acadia National Park".
#4 What's Art Got To Do With It? The Hudson River School, the Picturesque, and the National Park Aesthetic: Rebecca Bedell, Associate Professor, Art Department, Wellesley College
Following developments of the picturesque from 18th century England and the work of the Reverend William Gilpin, through English landscape architecture and estate planning, to the mode's adoption by Frederick Law Olmsted, Bedell shows how a particular landscape aesthetic was incorporated into some of the United States' early public parks, including New York's Central Park, Yosemite, and later Acadia National Park, noting that the "aesthetics of our national parks draw upon a long history of picturesque theory and design," including the impulse to preserve.
# 5 Landscape Photographers--Early and Modern Perspectives: Tyler Green and Barbara Bosworth
Tyler Green, author of a forthcoming Carleton Watkins biography (UC Press) and Barbara Bosworth, Professor of Photography, Massachusetts College of Art and Design share a panel on the role of early and modern photography in conservation.
Carleton Watkins: A New History of the Yosemite Idea: Drawing on research for an upcoming book project, Tyler Green offers a new interpretation of Carleton Watkins' Yosemite photographs and of the movement to create the Yosemite Park. Tying together the writings of Thomas Starr King, Edward Baker, and Ralph Waldo Emerson, Green identifies a call for an anti-slavery, cultural Unionism at the dawn of the Civil War. "It was only when Yosemite was attached to a cause, that both Yosemite, and ultimately the conservation idea took off."
To Be At The Farther Edge: Photographs Along the New England Trail: Barbara Bosworth shares her captivating large-scale photographs taken as part of her artist residency on the New England National Scenic Trail. "My work centers on the idea that we are not separate and removed from the land and nature, we are part of it, we are shaped by the landscape as we shape the land."
# 6 The Modernists: A Changing Expression of Natural Beauty: David Little and Elizabeth Finch
David Little, Author and Artist, Portland ME and Elizabeth Finch, Lunder Curator of American Art, Colby College Museum of Art and co-curator of "Marsden Hartley's Maine" share a panel on Modernist painters working in Maine.
Recalling his own experiences as a painter, Little notes that in the moments of creation artists are "embraced by the view… in the act of painting a place, landscape painters are in effect preserving it, at least for the record." Little traces the history of involvement of artists in the project to preserve Mount Desert Island as a national park, as well as later artist-in-residency programs at Acadia National Park and elsewhere. Drawing on the Colby College Museum of Art's exhibition Marsden Hartley's Maine, curator Elizabeth Finch shares the history of the Modernist Hartley - "The Painter From Maine." Much like earlier generations of landscape painters, Hartley found a unique source of "Americanness" in the scenery of the Northeast. Showing examples of Hartley paintings of both Katahdin and the Maine coast, Finch identifies Hartley's engagement with both the nonhuman world – primordial nature – as well as the human logging industry.
# 8 Art-Focused National Historic Sites: Ryan Polk, Betsy Jacks and Linda Cook
Key staff from three National Park sites interpreting American artists share a panel discussing their parks' history and interpretive strategies: Ryan Polk, Curator, Marsh-Billings-Rockefeller National Historical Park; Betsy Jacks, Executive Director, Thomas Cole National Historic Site; and Linda Cook, Superintendent, Weir Farm National Historic Site.
Art and Conservation at Marsh-Billings-Rockefeller NHP and Saint Gaudens NHS: Curating a collection that includes Bierstadt, Cole, Church, and Kensett paintings - as well as photographs by Carleton Watkins, Ryan Polk illustrates the deep ties of interconnectedness between visual artists and leaders in the American conservation movement that was discussed in some of the symposium's other panels.
Cedar Grove: Thomas Cole's Home and Studio: Betsy Jacks described a suite of interpretive tools mixing high- and low-tech, including a state of the art facility suitable for museum loans and staging exhibitions of artwork, digital display screens which recreate the home's historic viewshed, and a scenic view trail through the surrounding Catskills, leading visitors to historic painting sites.
J. Alden Weir and American Impressionism—Weir Farm National Historic Site: Linda Cook describes her effort to create "a national park for the arts" which interprets the life of J. Alden Weir and other American impressionists. Working within the National Park Service's established preservation framework, Cook details their efforts to catalog and preserve the site's "painters' light," or historic lightshed.
# 9 The Role of the Law in Protecting Scenic Landscapes: John Copeland Nagle, Professor of Law, Notre Dame University School of Law
Describing "the paradox at the heart of environmental law" Nagle notes the "value which people care about most in the environment [visual scenery], is the one least likely to give rise to any effective legal protection." Citing 1916's Organic Act establishing the National Park Service, Nagle points to the directive to preserve scenery, and asserts that "scenic values should be restored… to the upper pantheon of environmental values," alongside pollution controls, preservation of wilderness, and other concerns.
#13 The Psychology of Natural Beauty: Sean Gobin, Captain, U.S. Marine Corps (Ret.); Director, Warrior Expeditions
Turning toward the psychological impacts of experience with the natural aesthetic, the founder and executive director of Warrior Expeditions, Sean Gobin, detailed the work of his organization in facilitating long-distance expeditions for returning veterans. A former Marine Corps Captain and combat veteran, Gobin completed a thru-hike of the Appalachian Trail on his separation from the Marine Corps, finding the experience invaluable in readjusting to life after war, and following in the footsteps of Earl Shaffer, a veteran of the second World War and first thru-hiker of the Appalachian Trail, who set out on his endeavor to "walk off the war."