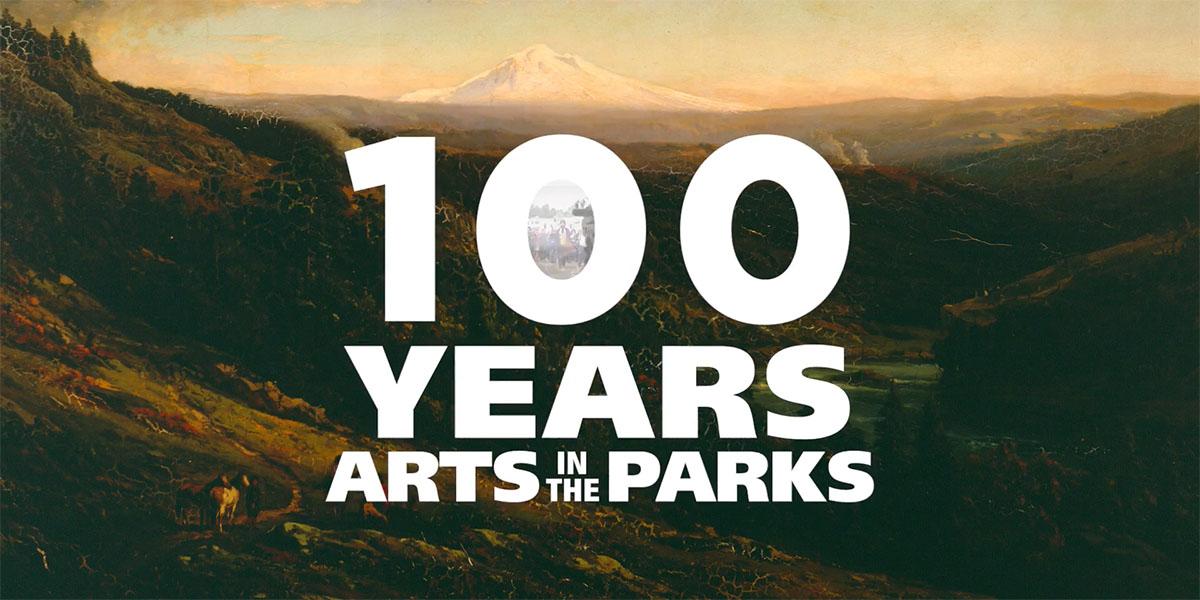 100 Years of Arts in the Parks
"100 Years of Arts in the Parks" celebrates how artists inspired the creation of the national parks and are helping to re-imagine the parks today.
Each of these short videos features an astonishing collection of art inspired by the national park system's equally incredible range of natural, cultural and historic park sites. Art works were generously shared by more 150 artists and arts organizations from national parks across the country. We thank them all.
Further information about the art and participating arts organizations featured in each video, including credit information and websites, is provided lower on the page.
Videos by BAYCAT, a nonprofit media production studio that brings diverse talent into the creative industry. To learn more: http://baycat.org/baycat-studio/
IN THESE PARKS
Written and performed by spoken word poet Trey Amos, "In These Parks" expresses both the joy and meaning that can be found in the almost limitless range of experiences to be found at more than 400 natural, cultural and historic park sites and is an invitation to "find your spark" at a national park.
THE ARTIST'S EXPERIENCE
"The Artist's Experience" offers reflections on the national park experience from composers, illustrators, installation artists, musicians, painters and sculptors: the sources of inspiration they find in parks, its deep impact on their work, and the power of art to alter our sense of a place.
THE YOUTH EXPERIENCE
"The Youth Experience" follows a group of young people on national park visit in their city, where they explore the environmental art of Andy Goldsworthy and learn how to express their own national park experience through the art of photography.
21ST CENTURY PARKS
"21st Century Parks" looks at the role of artists in creating new park experiences that more welcoming, meaningful and relevant to a wider range of visitors. Recent installations by artists Ai Weiwei, JR and Maya Lin at parks in California, New York, and Oregon exemplify the impact of art on park visitation.
Video Credits & Supporting Organizations
Download a full list of credits for artworks in each video
BANDALOOP seamlessly weaves dynamic physicality, intricate choreography and the art of climbing to turn the dance floor on its side. Founded by choreographer and artistic director Amelia Rudolph, BANDALOOP honors nature, community and the human spirit by bringing dance to new audiences, activating public and natural spaces, and re-imagining what dance can be.
BAYCAT Studio empowers under-served youth and young adults in the Bay Area, helping them find their place in the world through education, employment and entertainment in digital media.
Confluence Project is a donor-supported nonprofit that connects people to place through art and education. We work in collaboration with Northwest communities, tribes and celebrated artist Maya Lin to create reflective moments that can shape the future of the Columbia River system. We share stories of this river through six public art installations, educational programs, community engagement and a rich digital experience.
The FOR-SITE Foundation is a non-profit organization dedicated to the idea that art can inspire fresh thinking and important dialogue about our natural and cultural environment. Through exhibitions, commissions, artist residencies, and education programs, we support the creation and presentation of innovative art about place.
KUED is Utah's premier public broadcasting station airing quality programs 24 hours a day. KUED entertains, informs, and enriches our viewers with exceptional content and is a valued community resource.
The mission of Lenora Lee Dance is to create and present large-scale multimedia performance works integrating dance, original music, video projection, text and installation that connect various styles of movement and music to culture, history and human rights issues.
Save Ellis Island is committed to preserving the national treasure that is Ellis Island and establishing innovative education programs that celebrate the spirit of immigrants everywhere. Unframed by renowned artist JR will be on display throughout the hospital complex. The exhibit features life size historic photographs of Ellis Island immigrants installed on 16 interior walls.
We Players presents site-integrated performance events that transform public spaces into realms of participatory theater. We bring communities together, reclaiming local spaces for public discourse and civic celebration through art. Extending the transformative powers of performance beyond the stage, we invite our collaborators and audience to engage fully and awaken to the spectacular world around us.
Yosemite Renaissance is a non-profit organization for the arts of Yosemite. The organization hosts the Yosemite Artist-in-Residence Program and an annual juried exhibition with over 4,500 participating artists from across the country since its founding in 1984. Its goals are to bring together the works of contemporary artists that establish a continuum with past generations of Yosemite artists and help re-establish visual art as a major interpretive medium of the landscape and a stimulus to the protection of the environment.