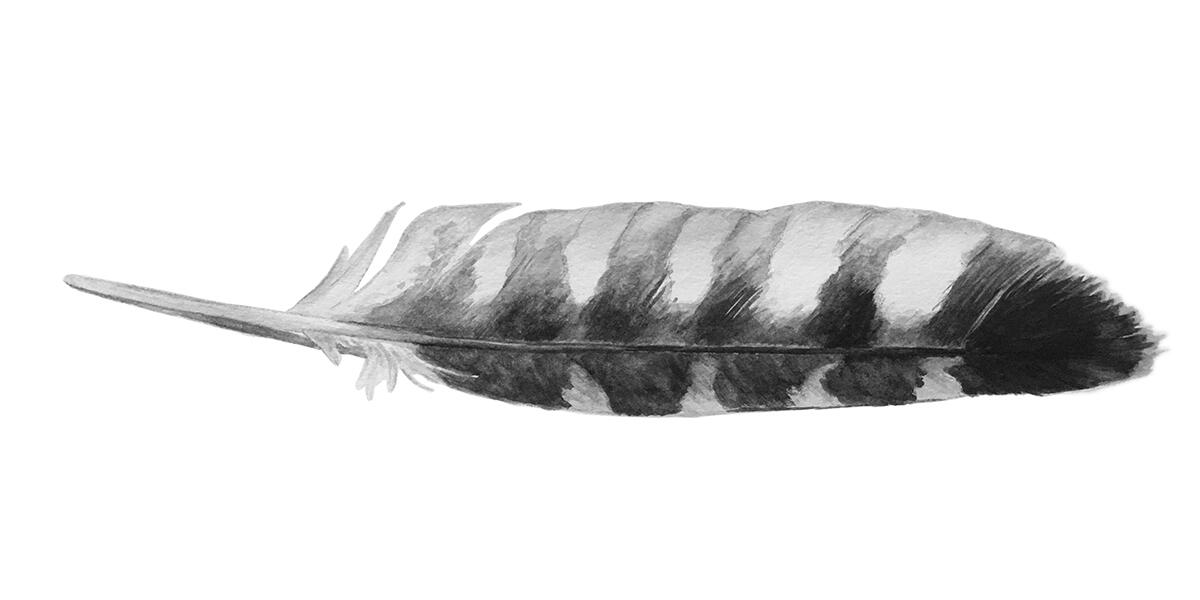 Red-shouldered hawk feather
Illustration by Lora Roame
It is no surprise that, as a forty-year-old Community Science program, the GGRO's scientific publications and presentations should be steeped in collaboration and partnership. It's not readily apparent from the list below, but the research on this page alone includes collaborators from Colgate University, State University of New York, Syracuse, Hamilton College, Cornell University, University of Florida, University of Georgia, University of California – Davis, National Audubon Society, and the National Park Service. Thanks to all our reasearch partners, and particularly to Dr. Joshua Hull of UC Davis, and Dr. Chris Briggs of SUNY Syracuse, for their leadership.
Publications
Bourbour, RP. 2022. The foraging ecology of raptors migrating along the coast of California revealed with eDNA metabarcoding. PhD dissertation. UC Davis.
Briggs, CW, KA Dudus, TE Ely, LA Kwasnoski, and CJ Downs. 2022. Hemolytic parasites affect survival in migrating Red-tailed Hawks. Conservation Physiology 10 (1). DOI: 10.1093/conphys/coac075
Claunch, MN, CJ Downs, LA Schoenle, SJ Oakey, TE Ely, C Romagosa, and CW Briggs. 2022. Snap-freezing in the field: effect of sample holding time on performance of bactericidal assays. Intergative and Comparative Biology. DOI: 10.1093/icb/icac007
Presentations
Bourbour, RP. Sept 2022. Beak and talon swabs reveal dietary trends of Sharp-shinned Hawks banded during fall migration. Western Bird-Banding Association Conference. UC Davis, CA.
Bourbour, RP. Oct 2022. Combined citizen science datasets reveal interactions between raptors and prey within a migration corridor. Citizen Science and Birds: People Powering Ornithology. British Ornithologists Union Zoom conference.
Ely, TE, DE Varland, and JA Smallwood. Oct 2022. Banding and Auxiliary Marking Workshop. Raptor Research Foundation conference. Ft. Lauderdale, FL.
Fish, AM. March 2022. The need for conservation biologists: a lens from four decades of raptor research and community science. Empowering Indigenous Communities Symposium. Bear River Tribe of the Rohnerville Rancheria/Yurok Tribe. Loleta, CA.
Fish, AM. Nov 2022. Revealing the Pacific Raptor Flyway – a forty-year retrospective of the GGRO. Keynote. 26th Annual Central Valley Bird Club Symposium. Stockton, CA.
Golden Gate Raptor Observatory
The 2022 season summary of the Golden Gate Raptor Observatory