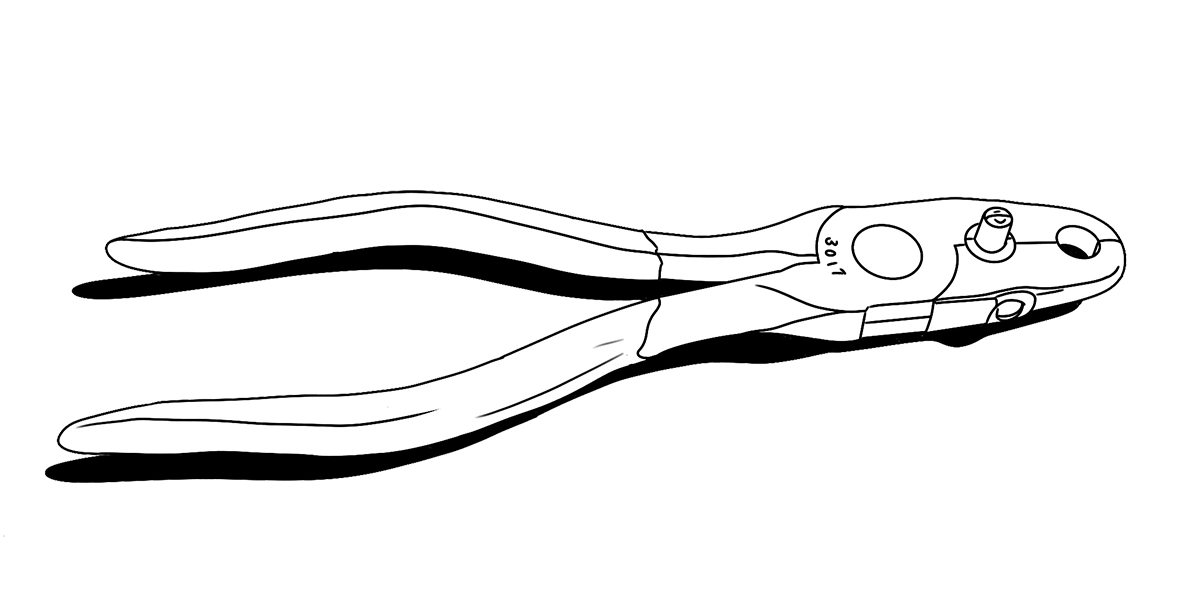 Banding pliers
Illustration by Lora Roame
In 2022, the GGRO Banding Program had huge accomplishments before the field season even started. This was the first season since 2018 that we were able to invite new volunteer apprentices (12) into the Banding Program. During the spring, we lost access to the NPS warehouse (due to heavy metal contamination) where our blinds were stored, but volunteer banders Craig Nikitas, Paul Romanak, and Lynn Bantley stepped in and took on the monumental task of rebuilding three banding blinds, ensuring that we would have a fall field season.
This migration season we banded 601 raptors of nine different species. Cooper's Hawk (197) and Sharp-shinned Hawk (238) numbers were considerably lower than average and only one Northern Harrier was banded. The second wave of Red-tailed Hawks did not happen, but we banded 127 by the end of the season. We also banded low numbers of American Kestrels (10) and Merlins (8).
Despite the lower numbers, we continued to collect invaluable data. We placed color bands on 101 Redtails, 7 Redshoulders, 5 Peregrine Falcons, and we collected over 600 feather samples. We recaptured one Cooper's Hawk that was banded in 2021. No Turkey Vultures were wing-tagged this season, but we had over 160 sightings of tagged vultures. We also had band encounters or resightings 27 Red-tailed and 4 Cooper's Hawks.
There have been changes to the GGRO Banding Program in the past few years that impact our banding totals. Field hours during the general season and daily schedule were adjusted to ensure that staff can always be on-hand to provide support for the volunteers. In 2021 and 2022, we operated three blinds instead of four. During the years 2013, 2018, and 2019, we had low banding season totals, and in 2020 banding operations were completely shut down due to Covid-19. While these physical changes have reduced the number of banding hours for recent
seasons, they do not impact the program's goals and purpose.
The GGRO Banding Program is here to collect accurate data, samples, etc. on each individual raptor that we band, and we accomplished this goal in 2022, despite the below-average season.
Banding
Raptors banded in the Marin Headlands, California, during autumn.
Species

Average

2010-2019*

2021

2022

Northern Harrier

5.2

6

1

Sharp-shinned Hawk

314.2

184

238

Cooper's Hawk

423.9

283

197

Northern Goshawk

0.2

0

0

Red-shouldered Hawk

15.2

22

12

Broad-winged Hawk

2.1

1

1

Swainson's Hawk

0.3

0

0

Red-tailed Hawk

219.6

195

127

Ferruginous Hawk

0.1

1

0

Rough-legged Hawk

0.1

1

0

American Kestrel

28.1

7

10

Merlin

27.7

16

8

Peregrine Falcon

3.5

5

7

Prairie Falcon

1.0

1

0

Total Banded

1041.2

722

601
Data compiled by Teresa Ely. If you would like to use these data, please contact us: ggro@parksconservancy.org
* From the early 1990s through 2019, on most days, we used four banding blinds in the GGRO Banding Program. In 2021 and 2022, we only used three blinds, therefore this chart shows the ten-year banding average for only the three blinds, making comparisons more valid. Numbers have not been adjusted for changes in banding season start and end dates in recent years, nor for changes in daily start and end times.
Golden Gate Raptor Observatory
The 2022 season summary of the Golden Gate Raptor Observatory