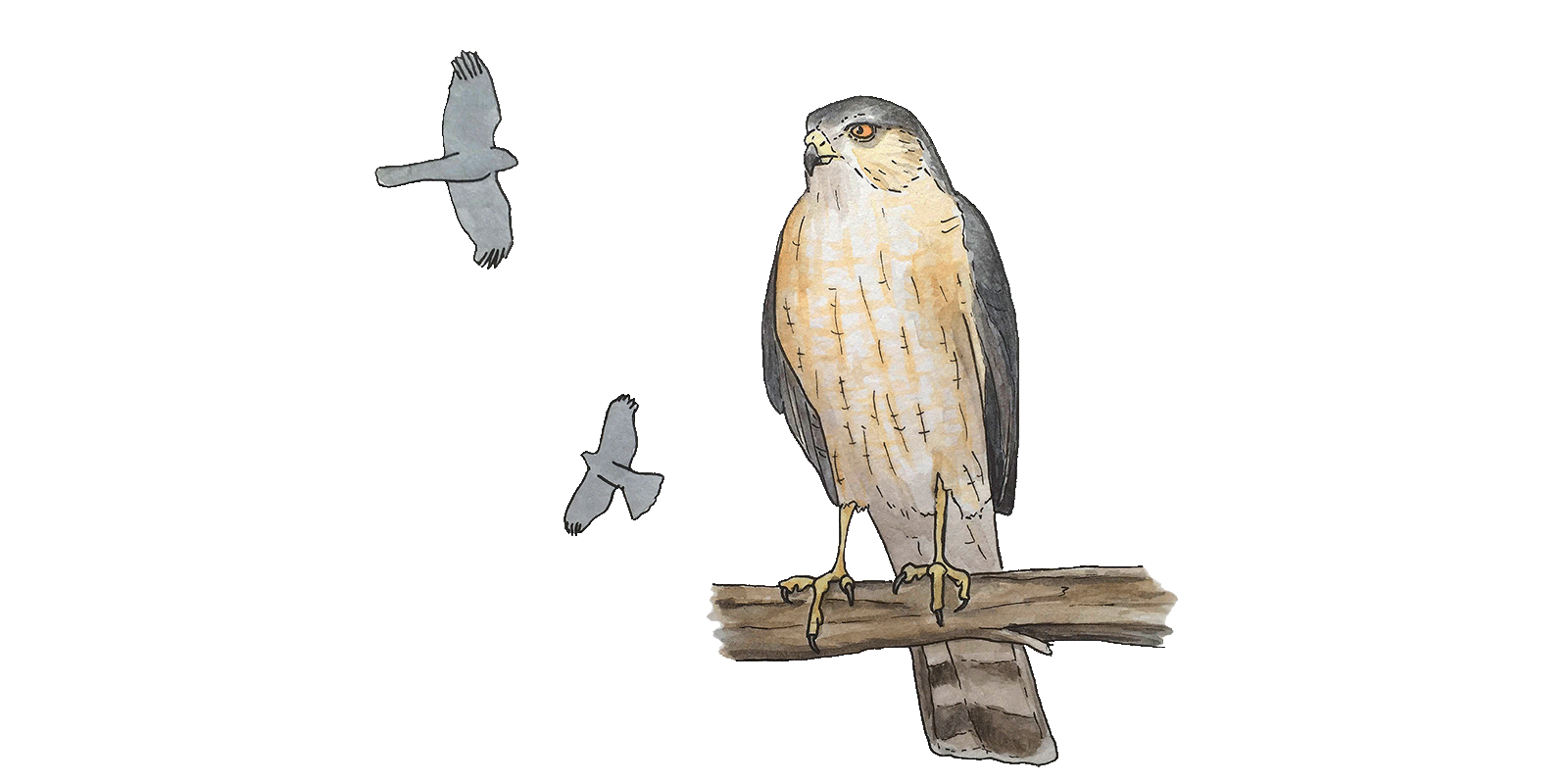 Sharp-shinned Hawk Illustration by Lora Roame
From 1990 to 2019, Golden Gate Raptor Observatory (GGRO) staff and interns held weekend "HawkTalks" at high noon on Hawk Hill. These included: a raptor identification mini-class; an overview of GGRO findings; and – if the birds complied – the release of a live, recently-banded hawk. With staff reductions following the outbreak of Covid-19, we had to let go of some GGRO activities, and, sadly, the HawkTalk was among them.
Although full interpretive talks weren't possible in 2022, we did arrange our weekend schedules so that one GGRO staff person would also be a greeter to informally talk to people about the migration on Hawk Hill, and the results were wonderful. Hawk Hill visitors were enthusiastic and full of questions; they were one of the true highlights of the 2022 season. The Golden Gate Bridge vista is one of the most-visited places in the National Park system, yet many of these travelers have no idea that they are visiting the biggest raptor migration in the Pacific States. Then a Peregrine tears across the sky and someone is hooked for life.
August 15th to December 4th, we tallied 8348 people on the hill, with an average rate of 21.6 visitors per hour (VpH). Interestingly, weekday rates were 16.5 VpH, while weekends and holidays were double that, at 33.4 VpH.
In 2022, school groups continued to use Hawk Hill as a landscape to teach about migration, community science, and raptor ecology: Independence High School, Downtown High School, and USF among them. We are thrilled that our Parks Conservancy colleagues at the Crissy Field Center kept the innovative Migratory Story program moving forward in 2022. Bilingual science instructors met with more than 200 kids from nine San Francisco Unified School District classes to explore the raptor migration and the universality of migratory movements among all living things. In February 2022, Parks Conservancy Associate Director of Youth Education, Francis Taroc, was featured in Audubon magazine back in February 2022 in an article about Migratory Story, and the intersectionality of bird conservation work. The Paths We Take | Audubon Magazine
GGRO had an increasing digital presence in 2022. During the migration season, Teresa Ely, Laura Echávez, and Krista Fanucchi created more than 100 Instagram posts and stories to fan the flames of interest in Hawk Hill and the raptor flight. GGRO director Allen Fish was interviewed by Michael Hawk (no relation) on the top of Hawk Hill for an episode of Nature's Archive. Raptor Migration from Hawk Hill | Nature's Archive Podcast
Like so many organizations, our outreach work largely shifted from wild landscapes to online during the pandemic, however, 2022 was a great reminder of the lasting impact that happens when people see wildlife outside in a natural place. We look forward to accelerating our Hawk Hill offerings in 2023 and ahead, to make the best use of this magnificent migration, and location, to impact people.
Allen Fish, GGRO Director
Teresa Ely, GGRO Senior Biologist and Banding Manager
Conservation and Community Science Department
Golden Gate National Parks Conservancy
Golden Gate Raptor Observatory
The 2022 season summary of the Golden Gate Raptor Observatory