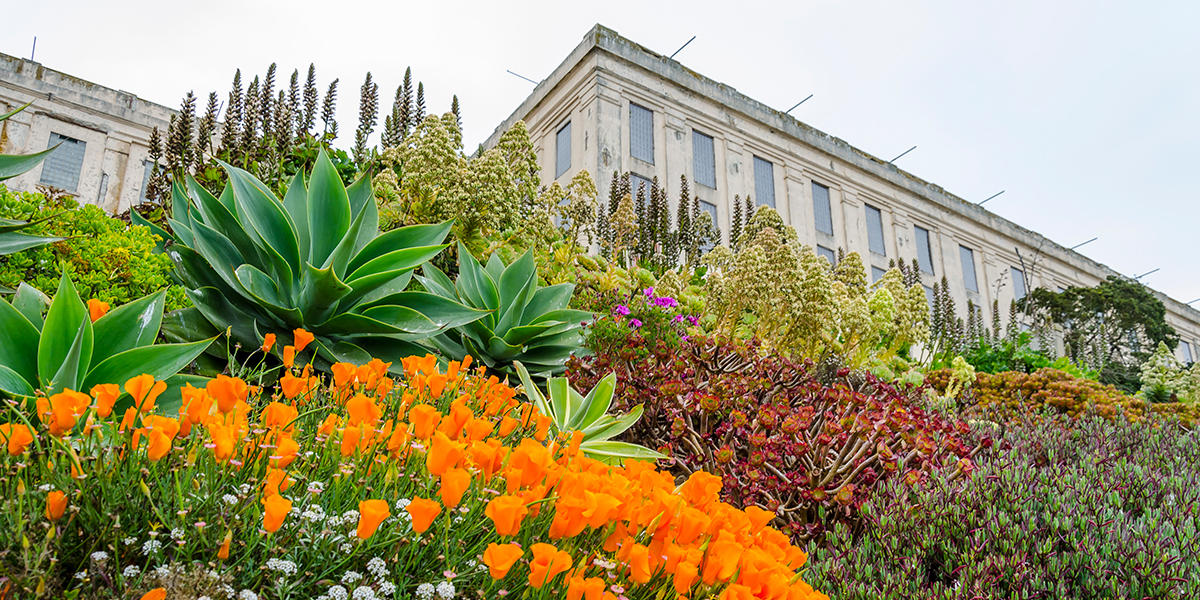 Gardens at Alcatraz
Alison Taggart-Barone/Parks Conservancy
Getting to the Island
Alcatraz Island is open to visitors every day year-round except for Thanksgiving, Christmas and New Year's Day. Although there is not an entrance fee, there is a charge for the ferry service, supplied by a private company under contract to the National Park Service. For additional information on schedules, prices, parking, and to purchase tickets in advance (tickets are made available about 90 days in advance) please visit the Alcatraz City Cruises website. Alcatraz frequently sells out, as much as a week in advance, in summer and near holidays.
When to Visit
The best time to visit the Alcatraz Historic Gardens is from January to September, and especially in the spring. The gardens are open for viewing, however, all year round. The weather can be unpredictable so be prepared for wind, cold, or rain.
A self-guided garden tour brochure is available for purchase in the island's bookstores.
Alcatraz's current visitors experience an island that is alive with colorful plants gathered decades ago from around the world, and complemented by newly-introduced plants. These historic gardens not only illustrate the importance of gardens to the human spirit, but also the ecological benefits and aesthetic possibilities of sustainable gardening.
Make sure to check out the Parks Conservancy's award-winning "Doing Time: The Alcatraz Cellhouse Tour." The audio tour is included with the purchase of an Alcatraz tour ticket.