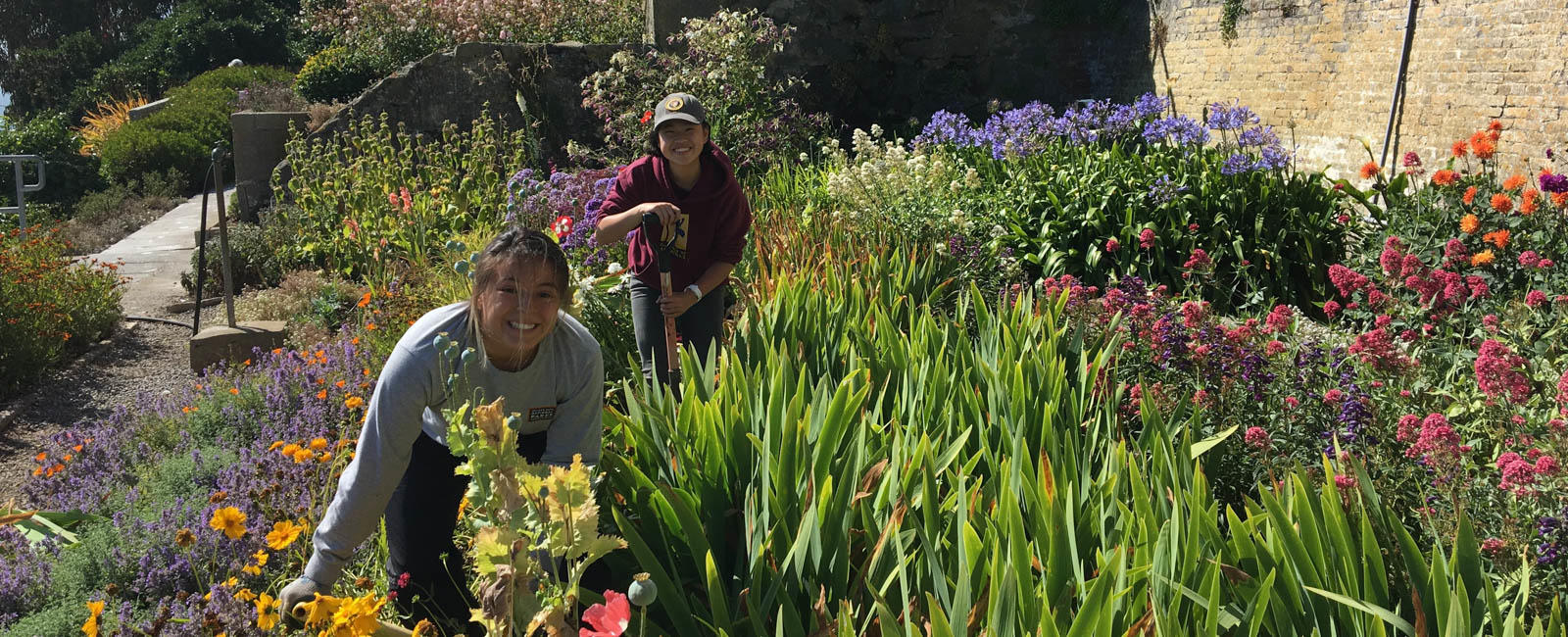 Volunteers tending the Alcatraz Historic Gardens
Shelagh Fritz/Parks Conservancy
COVID-19 Response: Latest on Volunteer Programs
The Parks Conservancy, along with our partners at the National Park Service and Presidio Trust, have been significantly impacted by the global health pandemic. Resumption of park volunteer programs will be delayed as we adjust staffing to ensure a positive volunteer experience. Up-to-date volunteer opportunities will be reflected on the calendar of events for individuals and families and our list of available projects for groups of 5 or more.
The Alcatraz Gardens Stewardship Program aims to preserve the historic gardens once tended by the island's military and penitentiary residents. For more than a century, gardens were an important part of everyday life for officers, families, and prisoners confined to Alcatraz by sentence or duty. Many of the plants selected by these unheralded gardeners proved to be excellent choices for the harsh and barren environment, flourishing through the four decades of neglect that followed the prison's closing.
Join Us For A Program!
When: Wednesdays and Thursdays, 9 am–1:30 pm
Volunteers help care for the restored gardens with activities such as weeding, pruning, composting (award winning!), planting, propagating, and seed collecting. As an added bonus, garden volunteers arrive on Alcatraz before other visitors, so you can experience the island during the most tranquil time of day. Please note, this program requires a two month minimum commitment.
Do you enjoy speaking to people from around the world? Do you enjoy gardens? Do you enjoy sharing history? If yes, come join our team of docents for Alcatraz Gardens!
We are looking for volunteers to share our wonderful gardens with island visitors.
What all is involved? Commit to two shifts each month for at least one year. We host weekly walking garden tours on Fridays and Sundays as well as 'Ask the Gardener' casual garden viewing on Wednesdays and Fridays.
For more information on how to get started, contact Shelagh Fritz, Senior Gardens Program Manager, sfritz@parksconservancy.org.
Corporate groups: If your company or team would like to volunteer on Alcatraz, we have a special program just for you, the Alcatraz Rock Stars program! To sign up please visit our Corporate Volunteering page.
Groups require special arrangements and must be confirmed in advance. Schools and community groups: Fill out the Group Project Request Form.
AGE, SKILLS, WHAT TO BRING:
Volunteers ages 15 and up are welcome.
Adult supervision is required for teens 14 and younger. Read our Youth Policy Guidelines (PDF) for youth under the age of 15.
Bring your Volunteer Agreement Form (PDF). Volunteers under the age of 18 must have the parent/guardian approval section signed.
We'll be working rain or shine. Wear clothes that can get dirty. Long pants and closed-toe shoes are required. Bring layers for changing weather and rain gear if necessary. Also, bring a personal water bottle and sunscreen.
No experience necessary. Training and tools will be provided. Fulfills community service requirements.
The Golden Gate National Parks Volunteer Program is a cooperative parkwide effort of the Golden Gate National Parks Conservancy, the National Park Service, and the Presidio Trust.