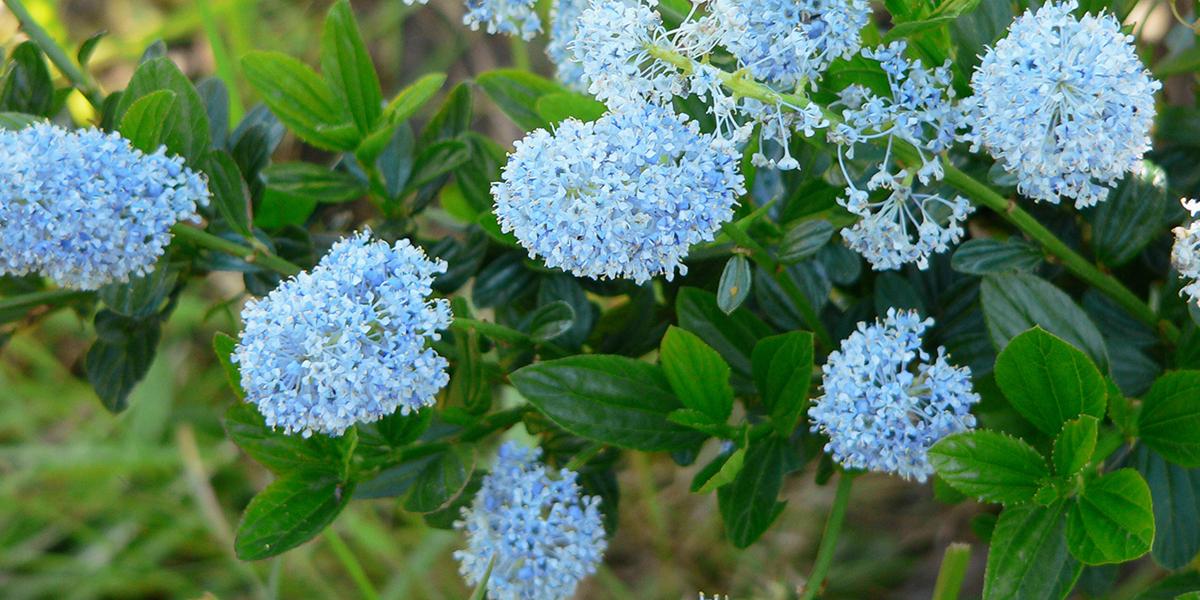 California Lilac, Ceanothus thyrsiflorus
Eric Poelzl/Parks Conservancy
The Big Show is back. One of the most beautiful natural phenomena in our Golden Gate National Parks, the spring wildflower display generally begins in March and reaches its peak in April and May. This year (2012), however, splashes of color are hitting the landscape-sized canvas early.
"On bloom time, it seems to me that plants are mostly responding to temperature," says Betty Young, director of the Golden Gate National Parks Conservancy's six native plant nurseries, which grow plants for restoration projects parkwide. "We have had a warm winter and many plants are blooming early."
And, with the unusually dry conditions, it's likely that the wildflowers will not last as long this season. So now is the time to put the "petal" to the metal and get out to the parks. We asked some of the parks' botanical experts for their favorite wildflower walks, and to highlight a few stars of the show. You can also get started with the Golden Gate National Parks' wildflower brochure, which you can download or pick up at a visitor center.
Milagra Ridge Trail, Milagra Ridge
"Check out the area at the top of the trail staircase for a beautiful show of spring beauties we call 'Rock Ridge Garden!' Be sure to take a gander at the white fuzzy stems and cotton-candy topped flowers of the cobweb thistle (Cirsium occidentale), one of our more understated beauties."   
--Susie Bennett, San Mateo County Natural Resource Specialist, National Park Service
Bluff lettuce (Dudleya farinosa)
Red maids (Calandrinia ciliata) 
Notch Trail, Sweeney Ridge
"If you're hoping to find a place to enjoy wildflowers that feels like it's all yours, visit the Notch Trail, which leads up from the parking lot from Skyline College. Purple, pink, and yellow wildflowers abound along this trail that leads to the top of Sweeney Ridge."
--Susie Bennett, San Mateo County Natural Resource Specialist, National Park Service
Narrow-leaved mules ear (Wyethia angustifolia)
Silver leaf lupine (Lupinus albifrons)
West side of Lands End
"The flowering plants are so abundant, it's like standing under a waterfall of jellybeans—even the butter popcorn flavor."
--Alex Hooker, Park Stewardship Program, Parks Conservancy
Dune tansy (Tanacetum camphoratum) 
Franciscan wallflower (Erysimum franciscanum)
Ecology Trail, between Inspiration Point and El Polin Spring, The Presidio
"With its short distance but abundance of varied ecosystems, this provides you with the most botanical bang for your buck. … In the serpentine grassland, you will see one of the most brilliant displays of spring wildflowers—reminiscent of a Seurat painting!"
--Eric Klein, Park Stewardship Program, Parks Conservancy
California lilac (Ceanothus thyrsiflorus) 
Twin berry (Lonicera involucrata)
California goldfields (Lasthenia californica)
Batteries to Bluffs Trail, Presidio Coastal Bluffs
"With some great elevation change, sweeping views of the Bridge, ocean, dunes, serpentine outcroppings, new restoration projects, and historic army batteries, this is a hike with flowers and vistas not to be missed!"
--Eric Klein, Park Stewardship Program, Parks Conservancy
Sticky monkey flower (Mimulus aurantiacus)
Beach evening primrose (Camissonia cheiranthifolia)
Seaside daisy (Erigeron glaucus) 
Coastal Trail up Slacker Hill, Marin Headlands
"In May, from Conzelman to the top of Slacker Ridge, I have counted up to 40 species of wildflowers—in less than a mile!"
--Betty Young, Director of Native Plant Nurseries, Parks Conservancy
Silver lupine (Lupinus albifrons)
Indian paintbrush (Castilleja affinis) 
Buttercup (Ranunculus californicus)
Wolf Ridge Trail, Marin Headlands
"Another incredible hike to really learn the coastal scrub ecosystem would be from Rodeo Beach up the Coastal Trail to Hill 88 and then down the Wolf Ridge Trail to the Bobcat Trail."
--Alex Hooker, Park Stewardship Program, Parks Conservancy
Coastal larkspur (Delphinium decorum ssp. decorum)
California columbine (Aquilegia formosa)
March 15, 2012