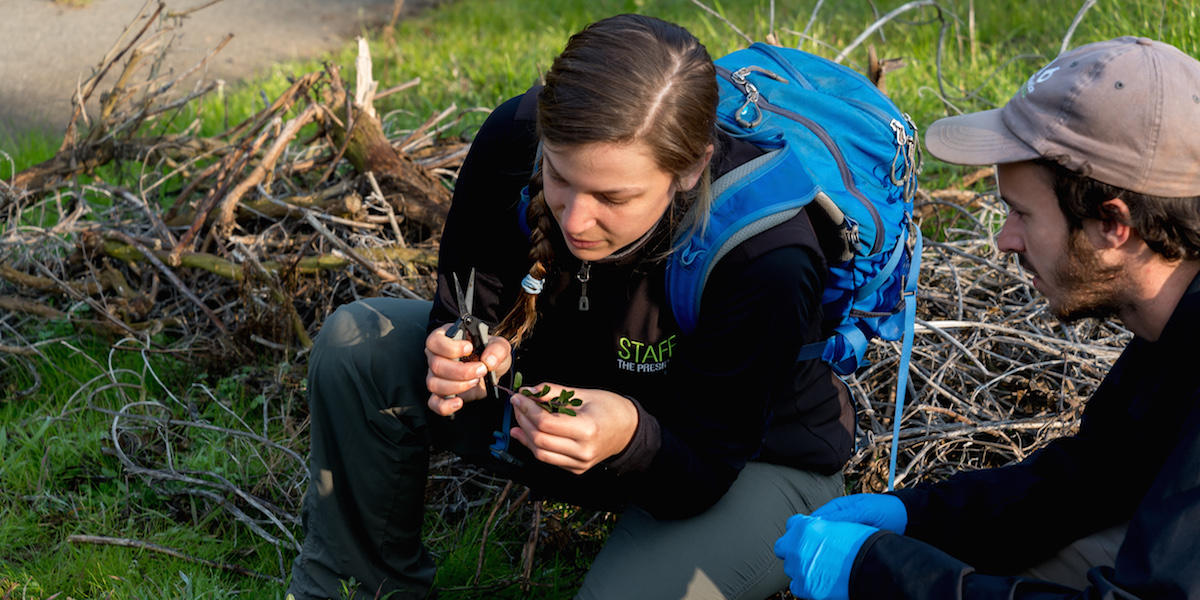 Presidio Native Plant Nursery staff
Alison Taggart-Barone/Parks Conservancy
Amid the thousands and thousands of plants in the greenhouse of the Presidio Native Plant Nursery, two tables of plants luxuriate in the botanic equivalent of a Ritz-Carlton—sitting in an optimized peat mixture, warmed by a heating pad to a steady 60-degree temperature, and shielded from the rain by a translucent plastic tent.
"They don't like to get their feet wet," explains Annette Russell, the Golden Gate National Parks Conservancy staffer who manages the Presidio nursery, which grows native plants for restoration projects in the park.
There's a good reason why these finicky plants—the Franciscan manzanita (Arctostaphylos franciscana) and Raven's manzanita (Arctostaphylos montana subspecies ravenii)—get the VIP (Very Important Plant) treatment: they're federally listed endangered species.
The former, in fact, was considered extinct in its natural range until an eagle-eyed botanist spotted a single plant clinging to survival near Doyle Drive in 2009. After gaining special protection, that "mother" Franciscan manzanita was relocated to a secure (and secret) location in the Presidio, where it continues to thrive as the last of its kind in the wild.
"San Francisco's rare manzanitas are found nowhere else in the world," says Michael Chassé, a biologist with the National Park Service. "Hard work—and a bit of luck—have saved these species from complete extinction."
This month, the next chapter will be written in this remarkable comeback story for the Franciscan manzanita and its genetic cousin, the Raven's—both driven to the brink of extinction by urban development in the 20th century.
Through a natural resource grant procured by Chassé, Parks Conservancy restoration technicians are planting about 200 manzanitas in January, across a swath of serpentine bluff habitat in the Presidio.
Those plants are cuttings that have been growing at the nursery since December 2016, when they were clipped from five genetic individuals (four Franciscan and one Raven's)—including the mother plant discovered in 2009, and others that have been growing "in captivity" at botanic gardens across the Bay Area.
It's been no small feat getting this first "class" of Presidio nursery manzanitas ready for graduation into the field. Bucking their normal protocols for propagation, staff and interns found the optimal growing conditions through trial and error and experimentation. One challenge? Manzanitas typically do best in colder, drier environs.
"We had to adapt to this warm, moist microclimate in the Presidio," Russell says. "We couldn't follow the 'textbook' way of growing these plants."
In addition to keeping "[the plants'] tops cool and their bottoms warm," Russell and her team had to be vigilant for caterpillar incursions and the specter of phytophthora, Sudden Oak Death, and other potentially devastating pathogens. Through their meticulous attention and care, the first class has grown strong enough for out-planting this month.
The second class of cuttings—585 of them—was only recently collected from the Raven's and Franciscan manzanitas in the Presidio, and from other manzanitas at the UC Botanic Garden, Regional Parks Botanic Garden in the East Bay, and the San Francisco Botanic Garden.With continued TLC from Presidio staff and volunteers (as well as a binder's worth of lessons learned), this second class will follow their pioneering siblings into the Presidio restoration sites some time next winter.
Once established in the wilds of the Presidio, the various Franciscan manzanitas will (biologists hope) "exchange DNA" through pollen swapped by pollinators visiting their flowers—thus producing new and genetically diverse and robust offspring.
"Now comes the important task of securing a viable future through restoring critical habitat and diversifying their populations," Chassé explains. "The National Park Service and Parks Conservancy have partnered with local botanic gardens to bring back Franciscan manzanitas, saved from other parts of San Francisco prior to habitat loss, to allow for 'mating' with our remaining individuals. Bumblebees will carry pollen between flowers, and the future of our rare manzanitas will lie in the seeds produced."
At the moment, though, energies are concentrated on establishing the first group of nursery-raised manzanitas in the Presidio.
"Success is having them grow and re-create, to the best of our knowledge, their original condition in the field," Russell says. "We want them to be sustainable in their ecosystem—not just as specimens on a shelf."
Befitting their "celebrity" status, every possible measure has been undertaken to ensure a smooth transition for the manzanitas—their planting sites have been thoroughly weeded to prevent competition, extra compost and nourishment added to their holes by restoration techs, and their "friends"—historically compatible native plants such as coast rock cress (Arabis blepharophylla)—installed as neighbors.
Each individual plant will then be given a hang-tag by which ecologists can monitor its condition, track its history, and manage its most hopeful future.
"They'll retain their VIP status for a long time," Russell smiles.
To help care for the manzanitas and the thousands of other native plants at the Presidio nursery, visit parksconservancy.org/volunteer.
Photos by Alison Taggart-Barone and Mike Hsu
February 1, 2018