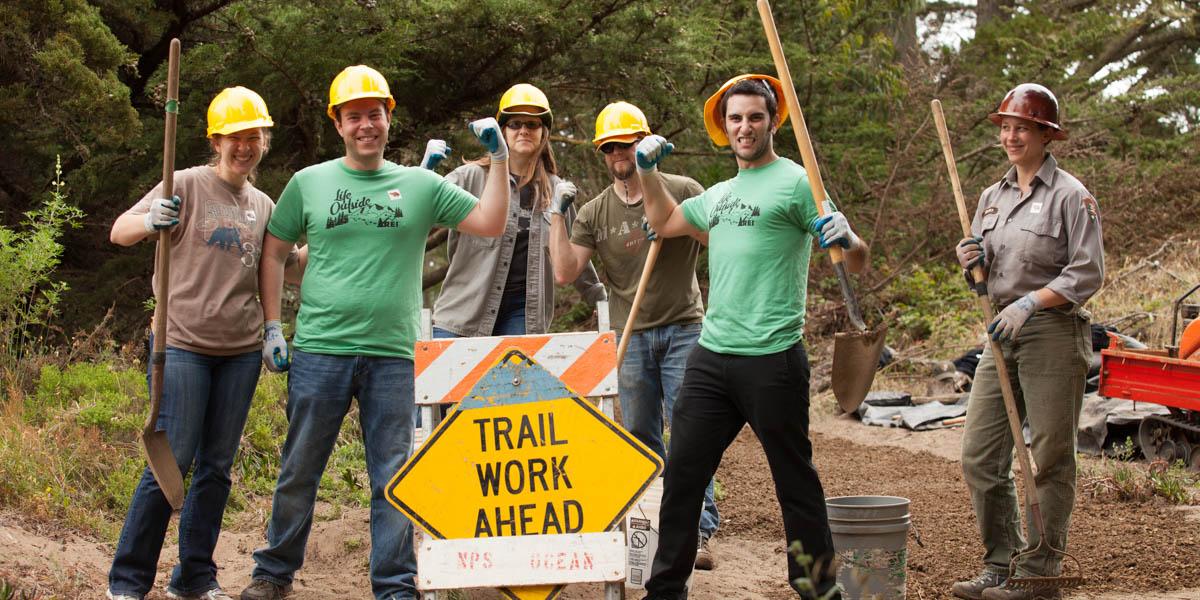 National Trails Day Volunteers
Maria Durana/Parks Conservancy
We are lucky to welcome Jaimie Baxter as the new Trails Stewardship Manager. Before arriving at the Parks Conservancy, Jaimie started her journey among the towering redwood trees of Humboldt County, where she received a Bachelor of Arts degree in Geography from Humboldt State University. During her time at school, she developed strong outdoor leadership skills and gained a passion for teaching others about the natural world.
Most recently, Jaimie worked as a Volunteer Manager and Watershed Crew Leader at the Marin Municipal Water District. While working in Marin she led trail and restoration volunteer programs and delivered educational programming for youth. During her free time Jaimie enjoys exploring the many miles of trail our parks have to offer, and like any true Trail Crew Leader her favorite tool of choice is the almighty chainsaw!
During the summer 2013 our National Park Service Trail Crew is hard at work restoring and maintaining the park's amazing trails, and this means that our volunteer drop-in days are in full swing. You don't want to miss out on the opportunity to help out and welcome our new Trails Stewardship Manager, Jaimie Baxter, to the parks!
Drop-in days occur every third Saturday of the month, from 9 am to noon, and locations vary month-to-month based on ongoing trail projects. Check out our webpage for details or next month's meeting location.
Happy Trails!
July 29, 2013