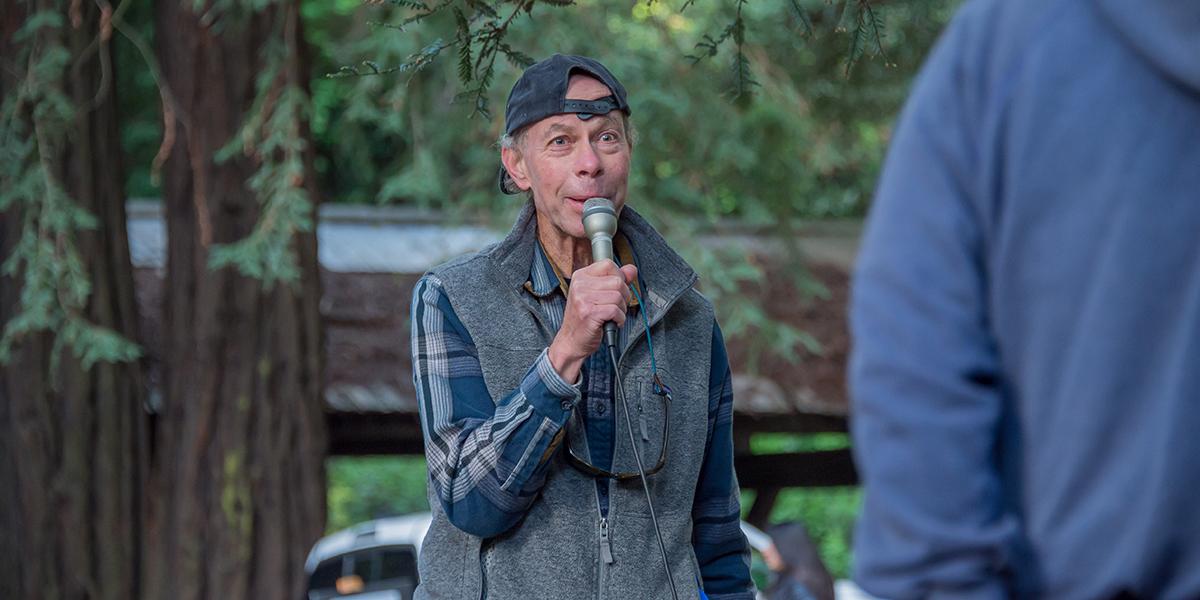 Barry Spitz
Alison Taggart-Barone/Parks Conservancy
First published in 1990, Mount Tamalpais Trails by Barry Spitz is a much-loved classic on the history, pathways, and lore of the beloved mountain. The new 2016 edition, published by the Golden Gate National Parks Conservancy, features new trails, updated information on trail changes, new full-color photos, and improved and expanded maps.
This edition is a special collaboration between the partners of One Tam (Marin Municipal Water District, Marin County Parks, California State Parks, National Park Service, and Parks Conservancy) and the author—in support of restoration, stewardship, and education initiatives on the mountain. Buy your copy in our park store.
Recently, Park E-ventures was honored to chat with Spitz, one of the foremost authorities on Mt. Tam, and gain some ultimate insider knowledge.
This book is incredibly detailed and well-researched. What was your greatest challenge in compiling this amazing resource?
I researched every trail and how they got their names, and "wheeled" every one—measuring with a [surveryor's] wheel every single trail, some of them incredibly steep and rocky. That was the hardest part. I used to—at the beginning—kinda enjoy it. But then, I must say, it got tedious.
So you personally measured all the trails on Mt. Tam?!
Oh yeah. More than once. This is the sixth edition of the book. I didn't re-measure all of the trails every time, but some of them had changes and I had to re-measure them. And some were added. Trails like the Dipsea Trail and Temelpa Trail are super rocky and not easy to measure with a wheel. I went through a couple of surveyor's wheels in the process over the years.
What trails do you recommend, for an easy or moderate walk/hike?
The classic is to drive to the East Peak parking lot and walk the flat—but absolutely stunning—Verna Dunshee loop, which is less than a mile around the summit.
If you're up for more than that: Out of Mountain Home, you can make a nice loop walk to the West Point Inn via the Troop 80 and Nora Trails, and come back on the Matt Davis Trail—or the other way around. And that's about four miles, with beautiful views and a good amount of time in the forest, too. You get two of the big landmarks and they have refreshments at both those places, so you could stop and enjoy the veranda at the West Point Inn or the Mountain Home.
What's your favorite spot on the mountain?
I was there today! It's the top of Bald Hill, which you can reach from San Anselmo or Ross. I just love going up there. There's a fire road going down to Phoenix Lake, which is all [Marin Municipal] Water District [land]. It's a gentle slope, with unbelievably beautiful views of the lake and views of Mt. Tam.
Favorite spots…I could go on and on. I led a class, a long time ago, for San Anselmo Park & Rec, called "Hidden Treasures of the North Side." And there are a lot of really wonderful, wonderful and remote places where you just won't see anybody and it's totally quiet. So I'm a little partial to the north side.
What trail is a hidden gem?
In the new book we expanded the boundaries [of the book's scope] north and south to correlate with the One Tam initiative map, and one of the northern-most trails that was added to the book is the Randall Trail.
I love that one! I went yesterday, after the Dipsea Race [Spitz has been the official announcer for the race for 35 years]. After the race I'm usually too exhausted to do anything but when we drove back on Highway 1 [yesterday], I said to my wife, "Do you mind waiting? You can take a nap; I'm going up the Randall Trail."
It's so beautiful. The lower half is Douglas fir forest and the upper half is redwood forest. And no one there. That's a magical place—and then you hit Bolinas Ridge, another magical spot.
It's opposite one of the Olema Valley trailheads. There's a big sign for the Randall Trail—it's just hidden.
What's one of your first memories of Tam?
I lived in San Francisco when I first moved to the Bay Area [in 1970] and as you know the weather in the summer can be pretty foggy and cold. I remember looking out and seeing Mt. Tam rising in Marin in the sunshine—and that was very appealing. And indeed I did move to Marin [in 1975].
What one word do you associate with Mt. Tam?
I'm not a New Ager, but "spiritual" is applied by a lot of people—and I get it. There's something special about this place. It's just not any other place. Certainly the Native Americans viewed it that way, and the Dalai Lama, when he came to the Bay Area in 1989, held a service on top of Mt. Tam.
What's one thing that you wish more people know about the mountain?
It just wasn't always public; people take these things for granted. In 1900, every bit of Mt. Tamalpais was private. And over the next century, that completely reversed. And it happened due to people who cared and who were passionate and who worked hard.
That's the story I'd like people to know: It just didn't happen. People made it happen. And they need to cherish what they've got—and to keep battling to keep it that way.
July 1, 2016