Spring is one superlative season that'll be sure to delight all the senses. The persistent precipitation this past winter ensured we'd have a floral array akin to any fashion show and a verdant hillside hue as deep as any forest.
Put those rain boots away and whip out the hiking shoes. From yarn-based art at Fort Point to the Give Back Kick Back on Saturday, April 6, here's what's in store from April to June:
Buy tickets to the Give Back Kick Back at Lands End
Kick off the springtime festivities at the Give Back Kick Back on Saturday, April 6. Greet the day with early morning yoga from Downward Drinking Dog, followed by a habitat restoration project at Lands End.
Then replenish your body and soul at the "Kick Back" with all-you-can-eat BBQ, vocal stylings from Bay Area rapper Alia Sharrief, and complimentary adult beverages from Deep Eddy Vodka, Boochcraft, and Sufferfest Beer. Wind down and make new friends in an outdoor lounge hosted by REI.
Volunteers get discounted tickets to the "Kick Back." If you're unable to volunteer, you can still buy a ticket to the afternoon festivities. Get your tickets today.
This event is 21+. You must present a valid ID at check-in.
Celebrate Earth Day across the parks
Flex your environmental might this Earth Day weekend! Events on Saturday, April 20, and Sunday, April 21 encourage the environmental stewards in us all. You can celebrate by joining one of the many volunteer projects in the Golden Gate National Parks. From beach cleanups to a celebration at Pier 33 with Alcatraz Cruises, there's something for everyone. Bring yourself, your friends, and family!
See the full list of volunteer opportunities.
Attend our weekly volunteer opportunities
Every day is Earth Day in the parks! If you miss the Earth Day celebrations in April, don't fret: There are plenty of upcoming volunteer opportunities for you and you squad.
From San Mateo County to Marin County, you can join a drop-in weekly program or plan a group volunteer work day.
And don't forget: A volunteer activity is a fantastic way to spend quality time outdoors with friends and family this spring. Learn more at parksconservancy.org/volunteer.
Peruse the Marin Wildlife Picture Index Art Show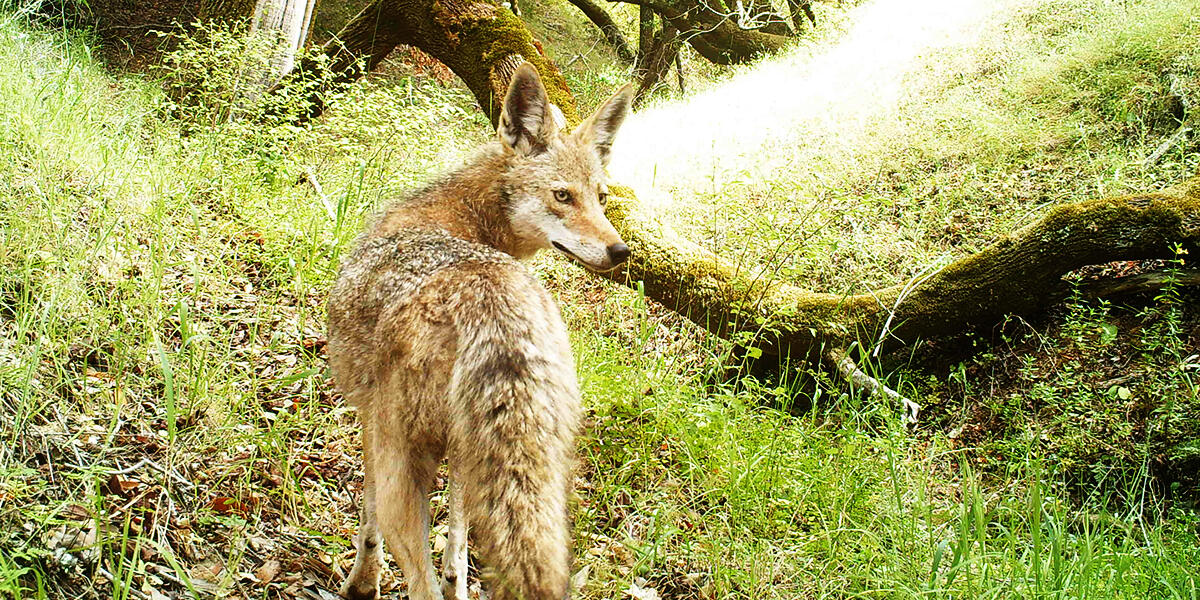 Coyote prowls the grassland habitat of Mount Tam.
One Tam / Marin Wildlife Watch
After three years and four million images, the Marin Wildlife Picture Index Project is releasing its first findings. On Friday, April 12, from 6-8 p.m. at the Marin Art and Garden Center, get a glimpse of what we're learning about our wild neighbors, and enjoy a happy hour with biologists, staff, and community scientists working to understand the health of Mt. Tam's wildlife.
Read more about this milestone and see some of the best photos here.
Take a wildflower walk
Your parks are a floral extravaganza this spring. Hillsides from Mori Point to the Marin Headlands are erupting with colorful displays of California poppies, seaside daisies, Douglas irises, and many more.
And for you Bay Area wildflower hunters, here are tried-and-true places where you can wander among the wildflowers: Mori Point, Mt. Tamalpais, Marin Headlands, and Lands End.
In addition to the tried and true spots mentioned above, you can also join us and our wildflower experts on an upcoming walk!
See the Immigrant Yarn Project at Fort Point
Open now until June 9, this new Art in the Parks exhibit features squares, pieces, pompoms, and blankets made by over 600 contributors from across the country, representing generations of immigrants from every corner of the world, to celebrate both our shared immigrant story and our citizenry.
Experience Future IDs at Alcatraz
Future IDs at Alcatraz is a yearlong installation featuring ID-inspired artwork by individuals with conviction histories, in conjunction with lead artist Gregory Sale, as they conceive and develop a vision for a future self. Future IDs at Alcatraz aims to amplify the voices of individuals returning to society after incarceration in the context of the historic prison-turned national park.
Look for this Art in the Parks project, open now, in the New Industries Building on Alcatraz Island. Entry is included with the purchase of an Alcatraz ticket. Check back to the project's web page for more details.
Be a hawkwatch volunteer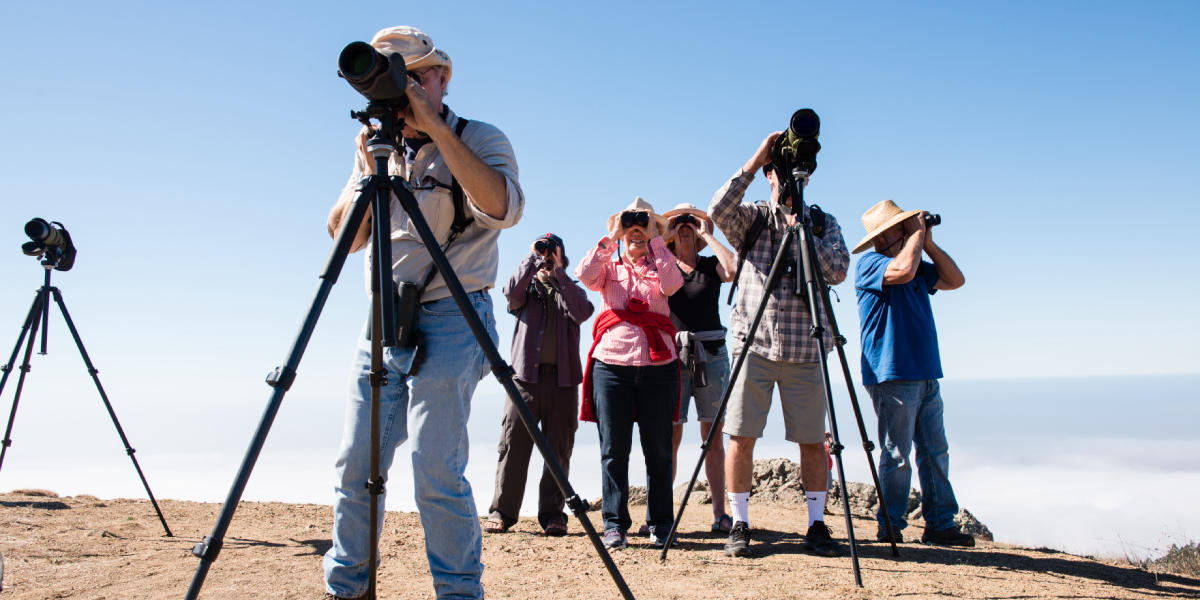 On the lookout for hawks passing by
Paul Myers/Parks Conservancy
The Golden Gate Raptor Observatory (GGRO) is now recruiting new hawkwatchers for the 2019 fall migration season!
We recruit for new banders every two years and our next recruitment will be in 2020.
Attend one of our recruitment meetings to get an overview of the GGRO and what being a hawkwatcher entails, talk to a current volunteer, and meet with the staff. These meetings are the best way to decide if working with us is right for you.
We will host three recruitment meetings—on May 2, May 5, and May 15—to accommodate scheduling conflicts. You only need to attend one of the recruitment meetings.
Read more about the volunteer requirements.
Go to the Crissy Field Next Open House
We invite you to experience Crissy Field in a way you never have before: As an active participant in its evolution. The National Park Service, the Golden Gate National Parks Conservancy, and the Presidio Trust are embarking upon the next chapter of Crissy Field's revitalization—and we're eager for your input and participation! On Saturday, June 1 from 10 a.m.-2 p.m., swing by the FREE, family-friendly event to:
• Look over initial design concepts and share your feedback and ideas
• Discover the untold stories of Crissy Field while creating mini-comic books
• Relax on the lawn with snacks and games
RSVP today for the chance to win a special prize! Note by RSVPing for this event, you are also signing up to receive updates on Crissy Field Next.
March 21, 2019