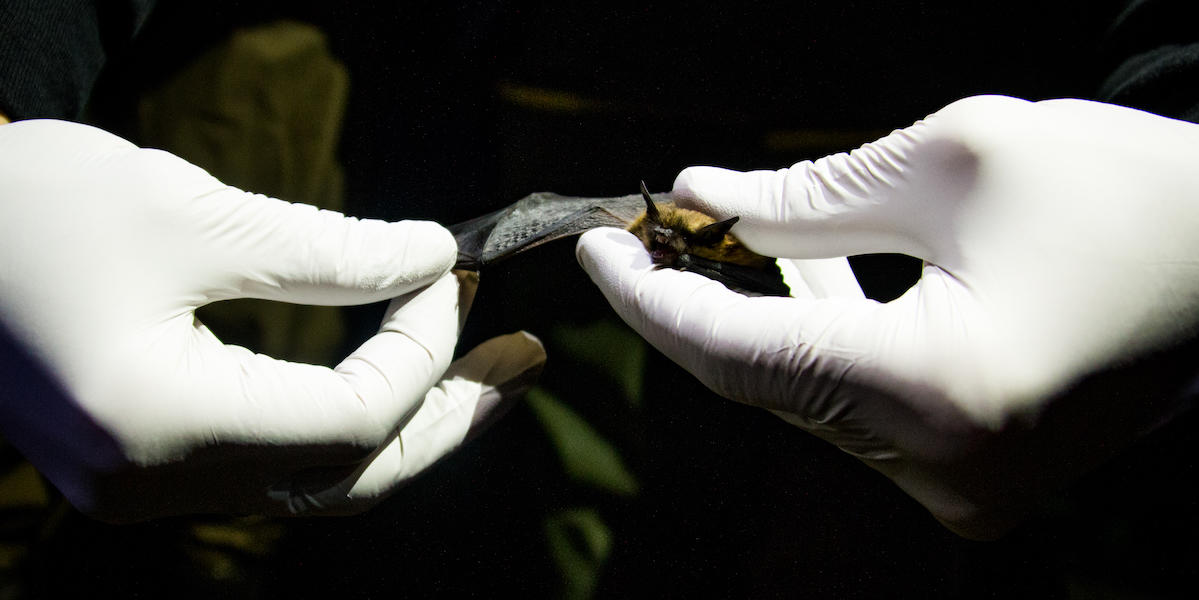 In Marin County, researchers are studying local populations of bats
Ryan Curran White/Parks Conservancy
The local populations of the nighttime flyers we know and love—bats—are in danger. The fungus that causes white-nose syndrome, a deadly disease decimating species of hibernating bats in North America, has been found in California. The fungus has now been found in 33 states and seven Canadian provinces.
White-nose syndrome was first detected in the East Coast in 2005-2006 and arrived In Washington state in 2016, killing millions of bats along the way. This July, the California Department of Fish and Wildlife (CDFW) and U.S. Fish and Wildlife Service announced the fungus was found in the California town of Chester, near Lassen Volcanic National Park. 
Hope is not lost. The fungus was detected at low levels, and, according to the CDFW, "there is no indication the disease itself has taken hold in the local bat populations." 
But that's where the monitoring efforts of the local populations in Marin County comes into play. Over the last four years, the partners of One Tam teamed with the United States Geological Survey to conduct a three-phased scientific research project to better understand local bat colonies using techniques like acoustic monitoring, mist-netting, and radio telemetry. By monitoring these populations and understanding their roosting habits, researchers will be more nimble at detecting and understanding the spread of white-nose syndrome moving forward. 
So what can you do to help bats in the face of such an invasive scourge? According to the CDFW, while white-nose syndrome appears to spread through "physical bat-to-bat contact or infected environment-to-bat contact," humans can potentially spread the fungus to new locations as it may attach to clothing or gear in caves or bat roosts. Fungal spores are resilient and can survive for long periods of time, meaning your gear could stay contaminated for weeks or months, or even longer. 
If you plan to visit—or have recently visited—a cave or bat dwelling, let's do our fanged friends a life-saving favor and follow these tips:
Decontaminate all clothing and gear immediately after visiting a cave or bat roost by using appropriate cleaning and disinfection protocols (see the U.S. Fish and Wildlife Service Decontamination Protocol on their website).
Bring a change of de-contaminated, clean clothes and shoes to change into after your activity and before entering a vehicle to leave.
Wear different footwear entirely at each cave or rock-climbing area.
Wash your hands and any exposed skin after your visit to a rock-climbing destination or cave.
If you happen to see a sick or dead bat, fill out this form on the CDFW website. 
Want to go the extra mile? Read about One Tam's bat monitoring efforts in Marin County and stay tuned for bat-related community science events, or join a volunteer workday to help restore bat habitat.
They need our help, now more than ever. 
July 19, 2019