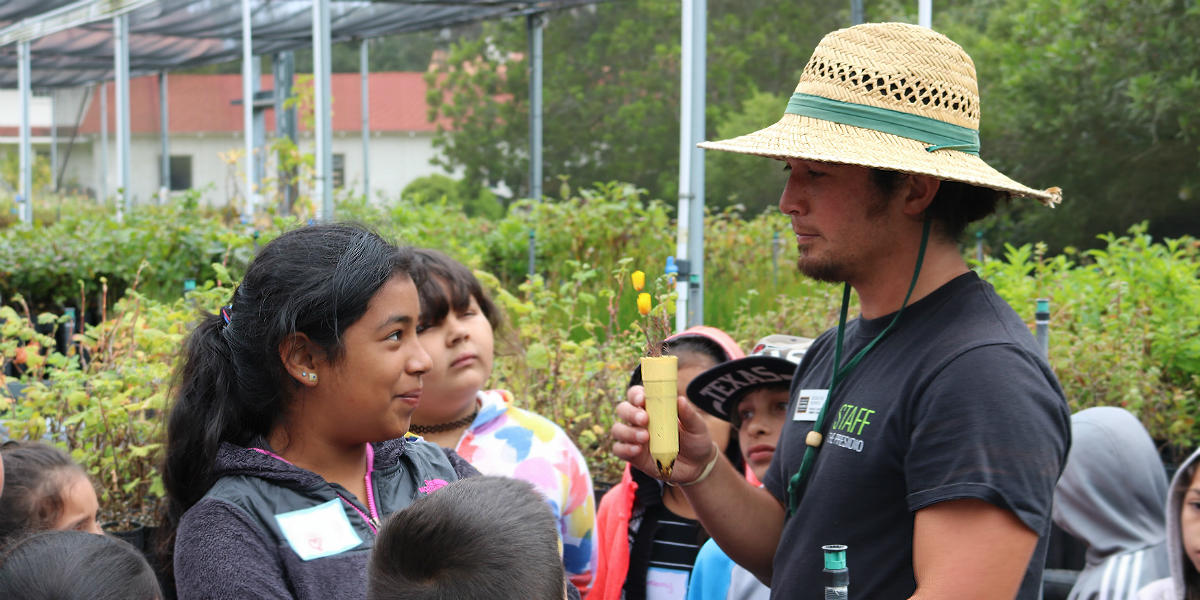 Students check out a California poppy being grown at a nursery.
Parks Conservancy
How do people, plants, and pollinators affect each other?  How are these things connected? And why should we care? Awaken the field ecologist in your students as they delve into these questions at one of the park native plant nurseries (Presidio, Fort Funston, and the Marin Headlands).
A pre-visit to the classroom reviews the pollination process and sparks student conversation on our connection to plants and pollinators.
At the nursery, students further explore these connections through hands-on activities. Students explore the concepts of co-adaptation by creating their own pollinators. A behind-the-scenes nursery tour leads students on a plant's journey of being grown for habitat restoration. Students then put learning into action through a service activity that directly benefits the plants, pollinators, and people of the park.
Finally, an in-classroom post-lesson encourages students to explore ways to help plants, pollinators, and people in their own community.
Grade:  4
Time:  3 hours + pre-site and post-site classroom visits
Standards:
Next Generation Science Standards
4-LS1-1, 4-LS1.A, 4-LS1.D, 4-LS1-2
Common Core State Standards English Language Arts
SL.1.3; W.2, W3.3
To apply:  Applications open in early fall for that academic year