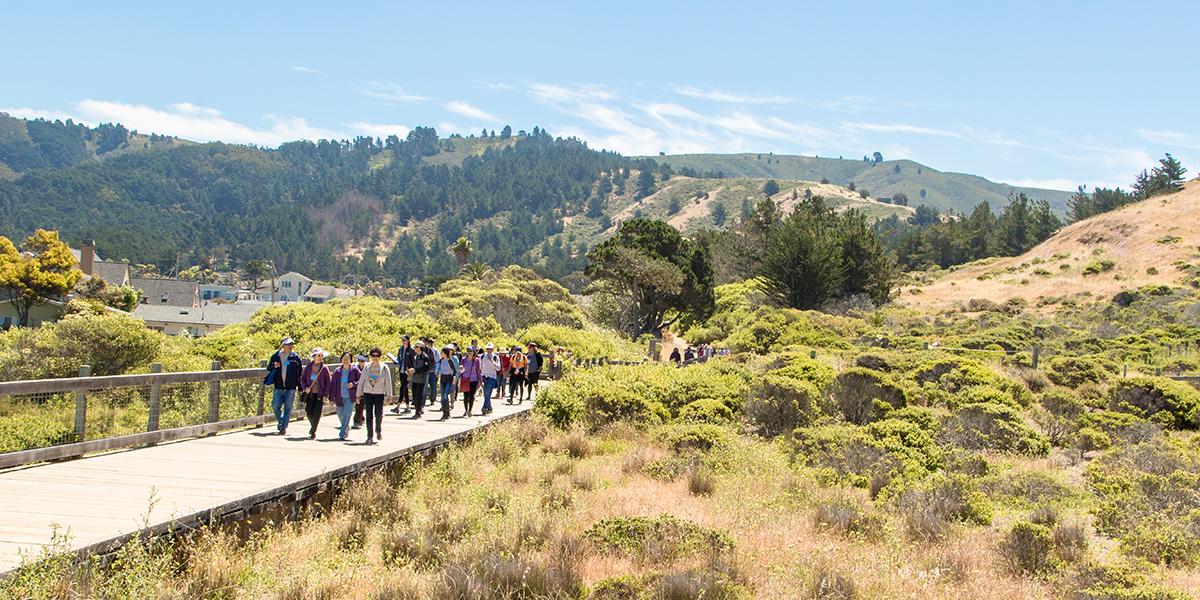 An elevated wooden deck trail was constructed to maintain visitor access while protecting wetlands and providing safe passage for wildlife at Mori Point
Kirke Wrench/National Park Service
Located along the rugged coastal bluffs of Pacifica, Mori Point is home to 110 spectacular acres of coastal scrub, grassland, and riparian habitats, sweeping seaside panoramas, and abundant spring wildflower displays. The site is also a refuge for threatened California red-legged frogs and the most endangered land reptile in North America—the San Francisco garter snake.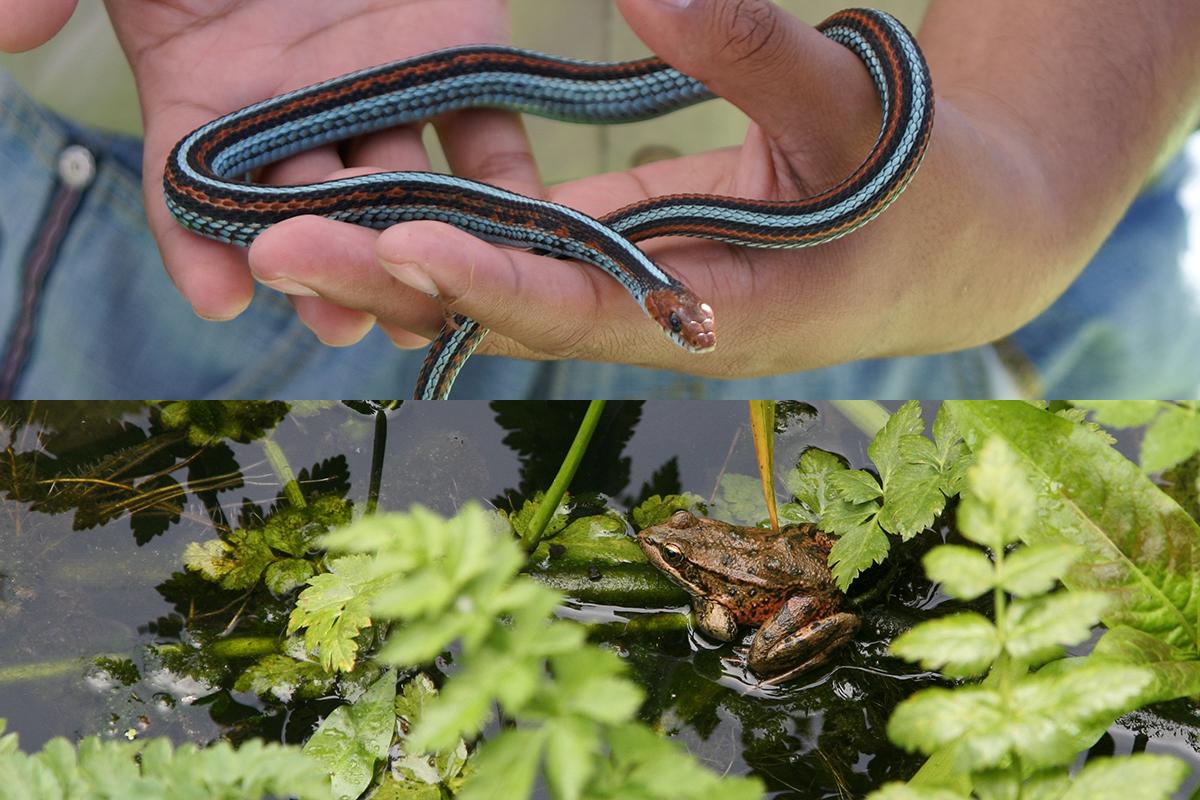 Work at Mori Point has restored vital habitats for the highly endangered San Francisco garter snake and its favorite prey—the threatened California red-legged frog
Anonymous (snake), Will Elder/National Park Service (frog)
A history of intensive recreation had taken a heavy toll on Mori Point prior to the National Park Service acquiring the site in 2004. A large network of informal trails crisscrossing the hillsides had eroded its soils and changed the natural flow of water into the wetlands below. Invasive plant species had permeated important grassland and wetland habitats.
In 2007, the Golden Gate National Parks Conservancy teamed up with the National Park Service to repair this past damage, restore critical habitat, and improve the overall trail system and the experiences of park visitors.
Project Highlights
Restored 33 acres of wetland, grassland, and coastal scrub habitat, including four new ponds to provide breeding habitat for California red-legged frogs and foraging grounds for the San Francisco garter snake
Built an elevated trail to maintain visitor access while ensuring that wildlife can safely travel from low ponds and wetlands to uphill grasslands
Constructed decks and a viewing platform with benches for wildlife watching
Created a more sustainable trail network, including an accessible loop and a key missing link of the California Coastal Trail
Installed new directional and interpretive signage throughout the site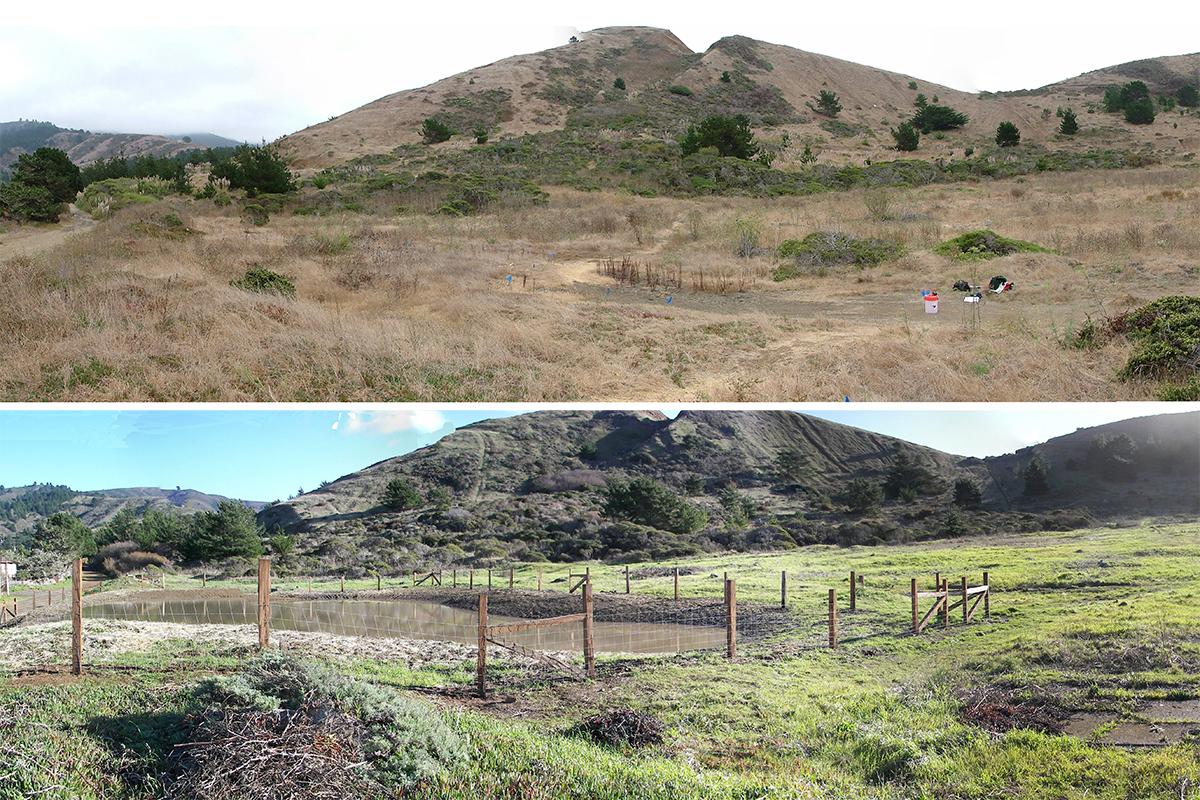 Before (top) and after (bottom) of the site of a new frog pond and improved trail (top left)
Parks Conservancy
Continued Care
Although the initial restoration is complete, the Conservancy's Park Stewardship Program continues to engage thousands of students and community volunteers in Mori Point's long-term care and protection.
Each year they plant thousands of native wetland and upland plants and remove countless invasive plants, monitor endangered species, and continue the restoration of this spectacular landscape. Learn more about how you can join the effort to restore Mori Point.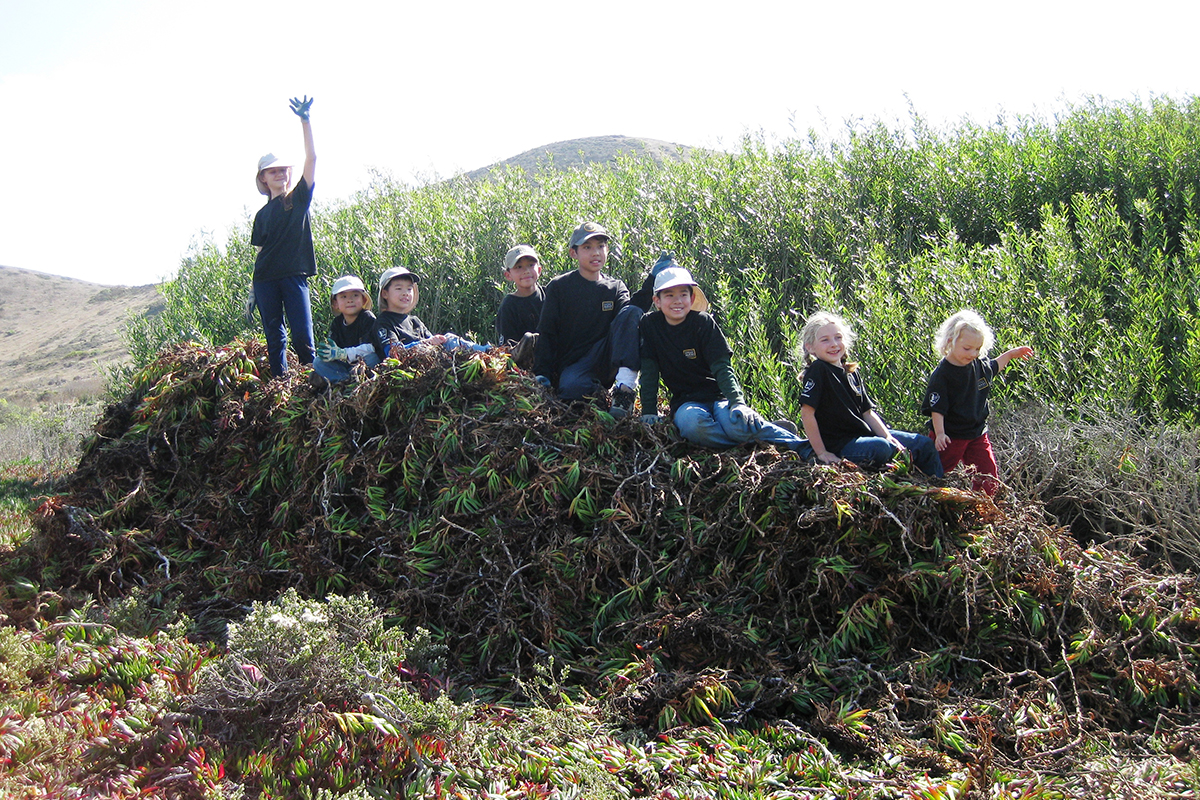 Volunteers of all ages continue to help protect and restore Mori Point
Parks Conservancy
Thanks
In addition to donations from thousands of individual community members, restoration at Mori Point has received support from the following:
Gordon and Betty Moore Foundation
S. D. Bechtel, Jr. Foundation 
Silicon Valley Community Foundation
Disney Worldwide Conservation Fund
Oracle
California State Coastal Conservancy
California State Parks OHV grants program
National Fish and Wildlife Foundation, Nature Restoration Trust
National Park Service Challenge Cost Share Program
Federal Transportation Funds
American Recovery and Reinvestment Act