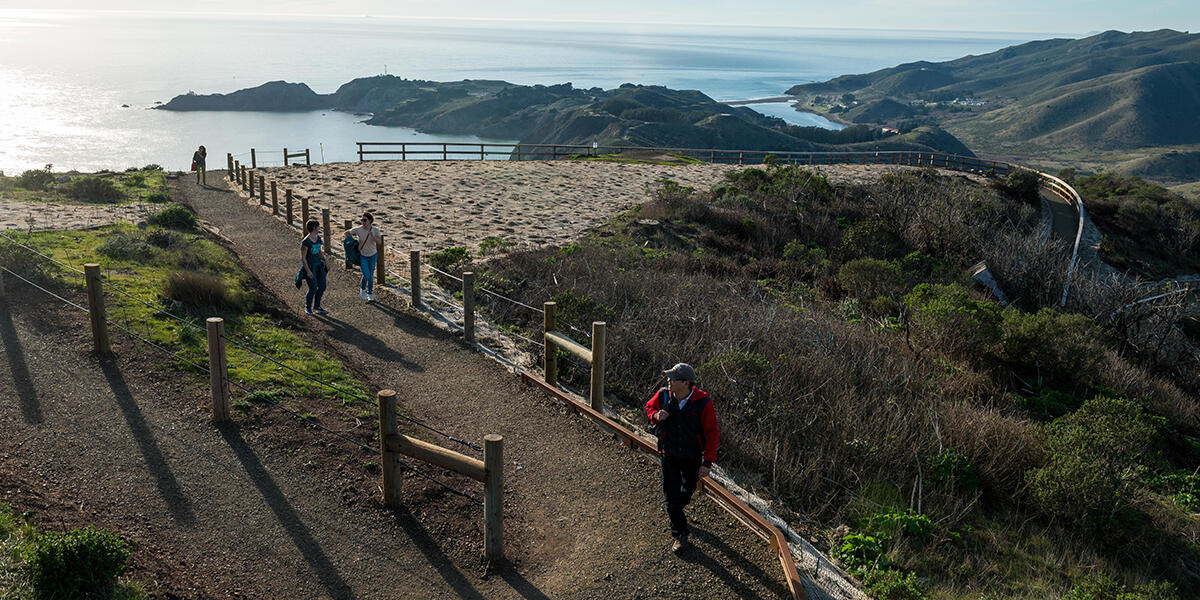 Hikers explore a newly built segment of the Hawk Hill Trail
Paul Myers/Parks Conservancy
Thanks to a spectacular new trail, even more visitors can enjoy the soaring, hawk's-eye view from Hawk Hill.
In September 2017, the National Park Service (NPS) Trail Crew completed a dramatic realignment of the trail to the top of that fittingly named promontory above the Golden Gate Strait.
Now, some of the most eye-popping vistas in the Bay Area—beloved by Golden Gate Raptor Observatory staff and volunteers who annually monitor the fall migration from Hawk Hill—are available to individuals with a wide range of abilities.
There are views out toward Rodeo Valley, and then you look to the north and you see Hill 88 and the ridge between the Marin Headlands and Tennessee Valley, and finally you come to the top of the hill, with views out toward the ocean and the Golden Gate. It gives you a full 360-degree experience.
The upper segment of Hawk Hill Trail is now "outdoor accessible" by the federal-land guidelines dictated by ABAAS (Architectural Barriers Act Accessibility Standard), with less steep grades and "resting areas" that provide relatively flatter stretches.
Elevation Profile