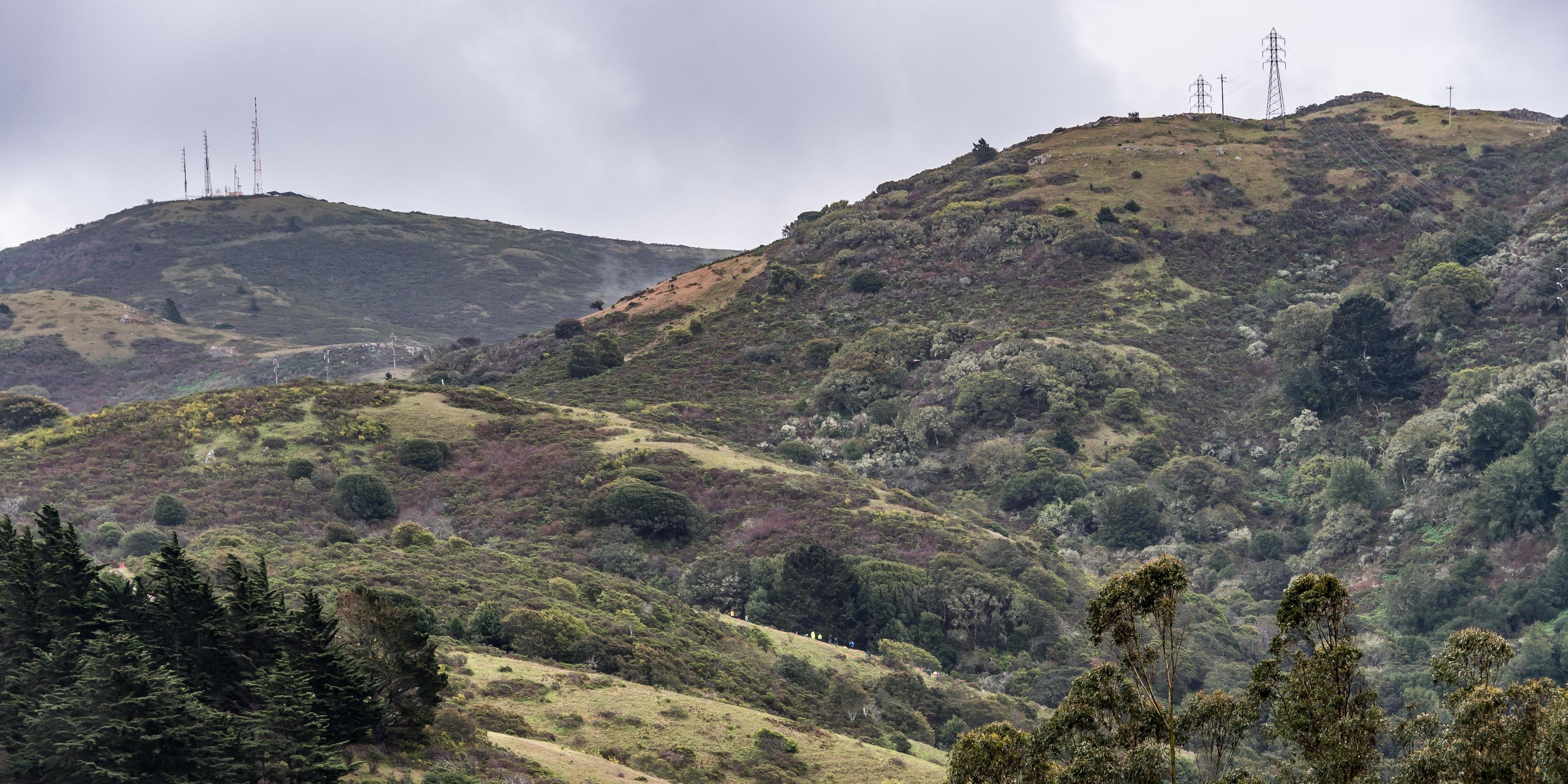 Habitat restoration volunteers work on Alta Ridge
Alison Taggart-Barone
Within the blissfully remote Marin Headlands, Tennessee Valley has become a prime destination spot for casual hikers, bikers, and riders. Down the valley, mountainous sentinels stand guard over a tiny idyllic beach and a sensational framed view of the Pacific.
But to experience the lonesome solidarity that nature can offer, one must venture out of the valley and feel lost on the winding fire roads far above.
The Oakwood Valley Trailhead begins almost a mile up the road from Tennessee Valley, and is often ignored despite the shady tree cover and unpaved, meandering trail. In the summertime, the flora changes from green to gold, and eventually one can see fennel, sagebrush, and blackberry bushes. The way becomes steep, but near the top the foliage shrinks away from where it intersects with the Alta Trail, and the views of Mt. Tamalpais, Sausalito Bay, and Angel Island are spectacular.
The Alta Trail follows the ridge toward San Francisco, though it soon turns northward onto Bobcat Trail. The fire roads here are partially covered in gravel and wide enough for cars, though are quite often deserted.
Taking a right onto the Miwok Trail, and following it to the left, brings visitors up to the Sausalito VDR, an old traffic control system that seems to more represent totem worship than Cold War technology. Still used in cases of emergencies, the site is fenced off with a charming (though quite serious) warning sign against trespassers.
From the hill top, one of the highest in the Marin Headlands, snippets of San Franciscan sprawl become visible over the southernmost ridge, and on a clear day the Golden Gate Bridge as well.
A little further on, the view to the west opens up and most of Tennessee Valley comes into view. The valley received its name after a ship missed the Golden Gate due to heavy fog and wrecked itself on the rocky Marin shoreline. The crew and passengers (550 in total) of the SS Tennessee escaped to safety on the now-popular beach.
Miwok Trail hits Old Springs Trail and runs downhill past yellow tongue and red tubular flowers, over sturdy wooden bridges and down rocky steps. It cuts back and forth down to Miwok Stables and the Tennessee Valley parking lot. Merely follow the trail by the side of the road (be wary of dangerous drivers!) to finish off the loop!