A mountain bike ride on Mount Tamalpais usually starts with a steady climb up from a trailhead at its base. Riders tackling this off-road terrain must navigate over rocks, dips, and sharp bends along the way. Many of these trails are well-traveled by motivated cyclists from around the world. Mt. Tam is recognized by many as the birthplace of modern mountain biking and has become a cycling epicenter.  
The adrenaline-chasers who developed the sport here in the 1960s and 70s did not have a well-worn path to follow, and their pursuit to take bikes off-road was as determined as an ascent up the mountain itself.  
The Marin Museum of Bicycling outlines these early days, starting with a group of teenagers who "rode 1930s-40s vintage single-speed balloon tire bikes on Mt. Tam." Soon after, Velo Club Tamalpais (VCT) was riding bikes they modified with scavenged parts, including parts adapted from motorcycles. This club also organized the first mountain bike race they called "Repack." They found bikes in junkyards and ripped off the fenders, kickstands, chain guards, and tanks and called them "klunkers." 
Wende and Larry Cragg, members of VCT, are responsible for photographing these formative days on Mt. Tam. The film "Klunkerz," which featured much of the Craggs' work, describes how mountain biking took off thanks to the "communal spirit" of the times: "The process of continual modification, each riffing off each other's innovations, was a critical factor in the evolution of the modern mountain bike." 
This continual modification led Joe Breeze, Tom Ritchey, Gary Fisher, and Charlie Cunningham to build some of the first modern mountain bikes. Soon, people started to notice this new breed of bikes on the trails. Intrigue and demand grew for this new way to experience trails and the outdoors, gaining speed around the rest of the country and the world.  
"Mountain biking has gotten more Americans on bicycles than ever before," said Joe Breeze. "It has exposed generations to the beauty of the outdoors, and many have come to protect it. Bicycling gets us where we need to go, right in our everyday lives, while improving our health and that of the planet. Cycling puts a smile on our faces for many reasons."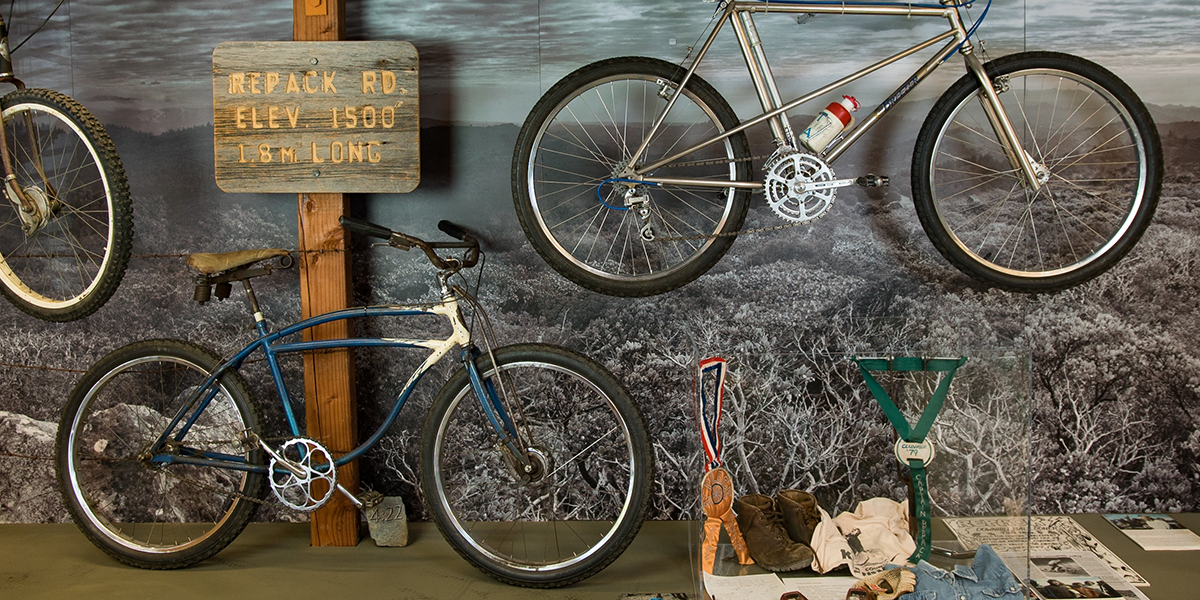 Display of original balooners at Marin Museum of Bicycling
Joe Breeze
Early examples of off-road cycling outside Marin pushed the limits of where bikes and people could go, before its evolution on Mt. Tam.  
"People have been riding off road on bikes since the advent of bicycling in the 1860s—there weren't roads to speak of," said Breeze. 
"In 1897, a regiment of 20 Black U.S. Army soldiers rode bicycles from Fort Missoula in Montana to St. Louis, Mo., as an experiment to see whether the bicycle could serve a useful purpose in the Army," Mike Higgins wrote in a blog post about the 25th Infantry.  
Higgins compiled primary resources from each day of the trip to piece together what the 41-day, 1,900-mile journey might have been like. The soldiers rode Spaulding army bicycles with puncture-proof tires through the elements and terrain of places like Yellowstone National Park to complete their trip.   
Today, mountain biking is deeply woven into the fabric of Marin County. The Marin Headlands have joined Mt. Tam as a world-class destination for cycling. Multiple bike shops can be found in every town in the county. The mountain biking community here is growing, with several leaders working to welcome more people into the sport. 
Kate Courtney, a professional mountain bike racer who grew up in Kentfield, has trained on the slopes of Tam from a young age. Courtney represented the United States in the 2020 Tokyo Olympics and is the 2018 world champion. In an effort to open doors for youth in the NorCal High School Cycling League, Courtney started a scholarship fund with four $10,000 college scholarships. 
Trips for Kids Marin is a national group based in San Rafael that is working to make mountain biking more inclusive in the parks and beyond. Their mission is to provide transformative cycling experiences for youth around the Bay Area through trail rides, bike donations, and mobile bike workshops. They earn some of the funding and supply bikes for their programs through their downtown bike shop called Re-Cyclery, where they refurbish and sell used and donated bikes.  
Just south in San Francisco, the Bike Kitchen is a nonprofit bike shop run by volunteers that provides all the tools and parts one might need to fix or build a bike. Their mission is "to teach people of all ages and backgrounds how to repair bicycles." They host a "WTF Night" that offers women, trans & femme-specific hours to provide a safe and supportive learning environment.  
The 25th Infantry of Black U.S. Army soldiers, the innovators on Mount Tamalpais that made off-road cycling a sport, and the local leaders working to expand access and inclusivity have all shaped what mountain biking is today on Mt. Tam. Like an exciting descent after an uphill climb, the mountain biking community here has a lot to ride for as the sport continues to evolve.   
One Tam provides maps and information that detail the biking, hiking, and equestrian trails on Mount Tam. Download the full map here. The National Park Service, California State Parks, Marin Municipal Water District, and Marin County Parks manage these lands—each has their own maps that outline mountain biking access on the mountain.  
We'll share some top level points from our Trail Etiquette 101 article for you to follow if you choose to mountain bike on GGNRA trails. When bicycles meet bipeds, it's common practice for the biker to yield to the hiker. Don't expect the hiker to yield. As a rider enjoying the mixed-use trails throughout the Golden Gate National Parks, you should also practice the following:
Call out as you ride down steep slopes or blind switchbacks
Let others know if there are other bikers following you
Keep speeds low around other recreationists, especially ones with children
Slow down when sightlines are poor
Stay on designated official trails
Thanks for helping to keep our trails safe and fun for all!