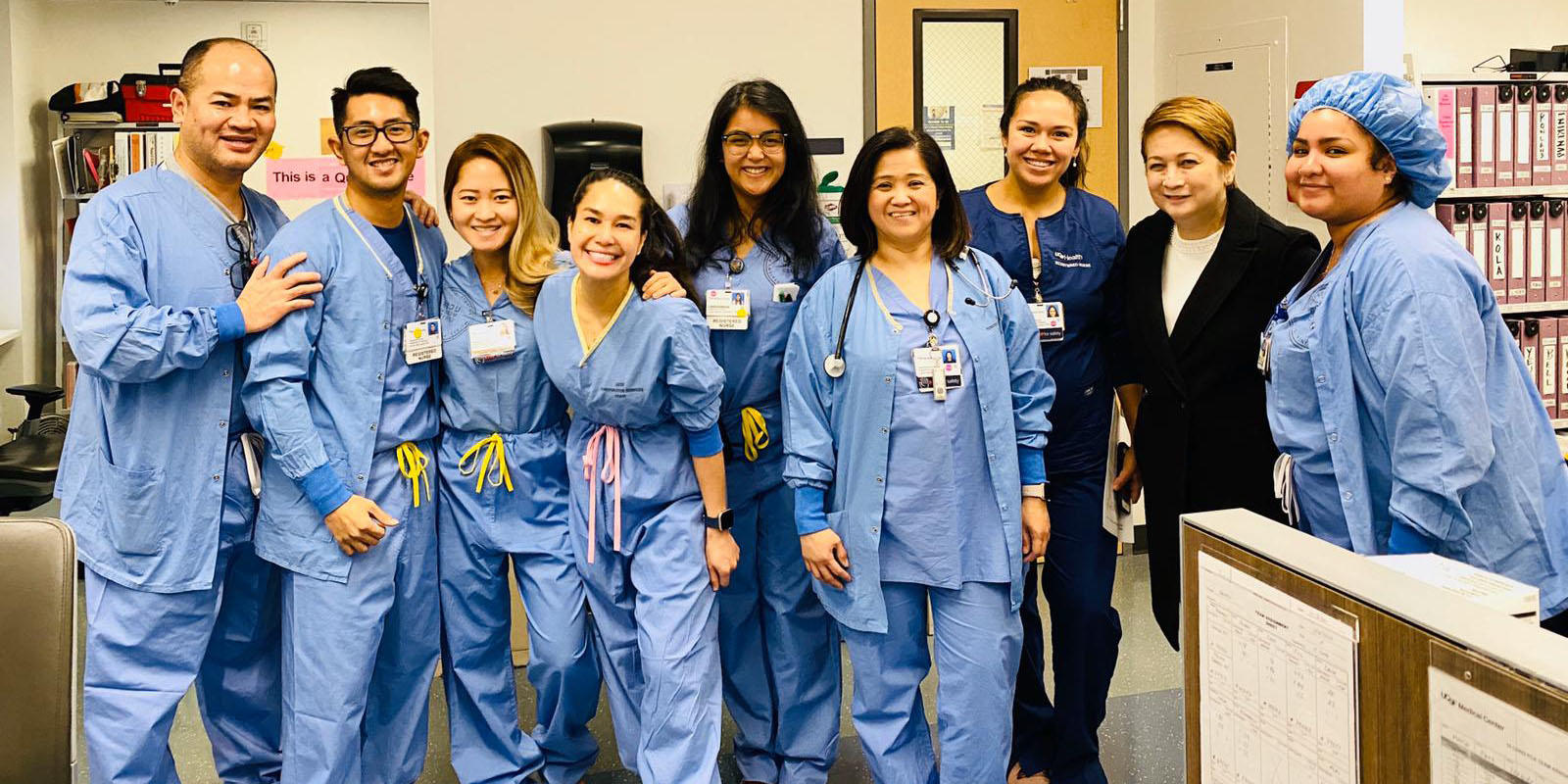 Lana Salvador (center) with her fellow healthcare workers in San Francisco.
Courtesy Lana Salvador
It was 2010 when Lana Salvador first heard about Linking Individuals to their Natural Community (LINC), a Parks Conservancy summer internship for youth in the San Francisco Bay Area. At the time, she was a high school senior with little experience in restoration, conservation and in nature in general, but thought it could be useful as a pre-college experience. "It just kind of fell into my lap," she said. 
Ten years after completing the program, the lessons that she learned in LINC continue to inform the way she lives her life in San Francisco. Currently, Lana works as a respiratory isolation nurse at UCSF Health, a new position created to help fight the novel coronavirus. 
"It's a learning process every time I show up to work," she said. "This is all very new. There's a lot of struggle and it's hectic, but I have to be able to stay calm and maintain a positive attitude."
Lana's life has drastically changed in just a few months, but she's still using the lessons learned from that summer with LINC. 
"LINC taught me about self-care and how I'm no good to anyone if I'm not taking care of myself," she said. 
Some of those self-care lessons from LINC include finding ways to stay calm, creating a game plan, staying flexible and trying to stay positive with her coworkers. 
We know that spending time outdoors has proven health benefits, and we also know that nature can be a great teacher. LINC makes explicit the lessons learned in nature by creating volunteer and bonding opportunities for young people in the great outdoors. The Golden Gate National Parks are one of the world's largest urban parks. For many people, it's easy to overlook the wilderness nestled within a city's limits, with its high rises, transit hubs and closely nestled apartment buildings.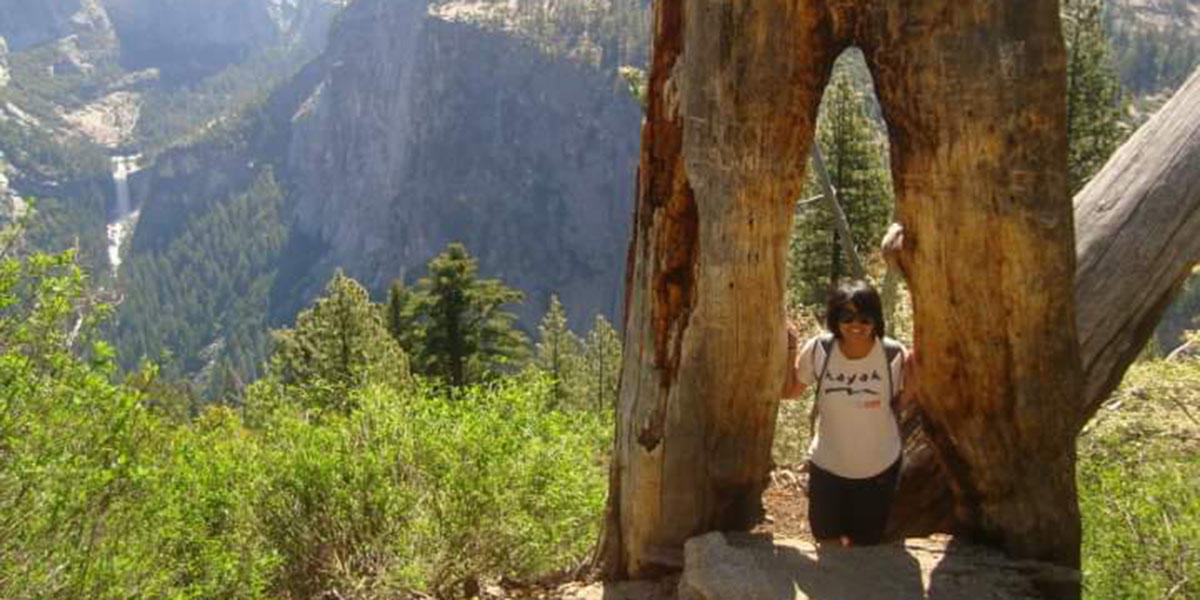 Lana on a trip to Yosemite with LINC.
Courtesy Lana Salvador
Early in the six-week stewardship program in 2010, Lana travelled with the LINC crew to Yosemite. During that camping trip, she recalls bonding with her cohort, a diverse group of people from many different backgrounds, some she thinks she never would have met without the program. That sense of connection and community extended from that trip into other LINC activities, which included tracking restoration progress, monitoring endangered species, and participating in trail restoration, which Lana recalls as the hardest, physically.
"We would be tired but cracking jokes and reminding each other of why we were doing the work," she said. "It was really positive, which made it easy to keep going even though it was hard."
Lana recalls working in the Presidio Nursery with her cohort and seeing the seedlings, the beginning of life for so many of the plants that populate our parks. 
"It taught me how delicate our ecosystem is and how hard it is to maintain," she said. "I'm more self-aware in my everyday choices."
Right now all of our everyday choices are helping to keep our extended community safe. By staying home and maintaining social distance while completing essential activities, you are helping to minimize risks for healthcare workers like Lana. 
Right now, healthcare workers desperately need Personal Protective Equipment, or PPE. If you have access to extra PPE or would like to help these workers in another way, please visit UCSF's Novel Coronavirus (COVID-19) Resources for suggestions on how to help.
May 11, 2020